SINGAPORE



Geography and Landscape
Geography
The Republic of Singapore (officially: Republic of Singapore; Malay: Republik Singapura; Chinese: Xinjiapo Gonghegno; singa = lion, pura = city) is an independent city-state in Southeast Asia, consisting of the main island of Singapore Island (541 km2) and 58 other islands, of which about half are inhabited.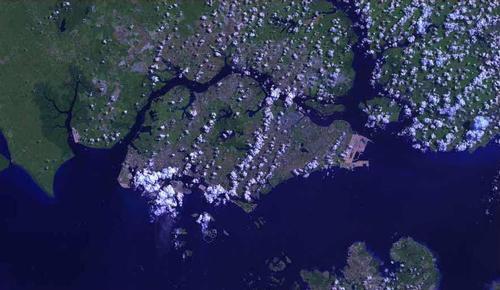 Singapore Satellite PhotoPhoto: Public Domain
Other important islands are Pulau Tekong (24 km2), Pulau Ubin (10 km2) and Sentosa (3.5 km2). Singapore is located 137 km north of the equator on the Straits of Malacca. North of Singapore are Thailand and the Malay Peninsula. Brunei and the Malaysian provinces of Sabah and Sarawak are located to the east of Singapore. South of Singapore are many islands of the Indonesian archipelago and islands of the Philippines are northeast of Singapore. Singapore is separated from the Malay Peninsula by the Johor Strait and from Indonesia by the Singapore Strait.
Landscape
Most of the forests and open spaces are found in the central part of Singapore Island. The western part is an area of sedimentary rock with hills and valleys. The southeast is flat and sandy. The highest point in Singapore is Bukit Timah (163 meters). Half of Singapore Island is built up with houses, condominiums, skyscrapers and office buildings.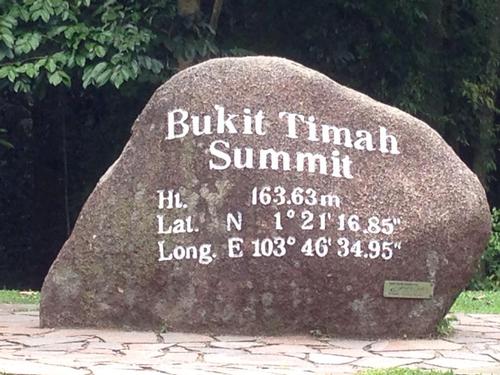 Boulder on top of Bukit Timah, Singapore's highest pointPhoto: Leonard Reback CC BY-SA 3.0 no changes made
Large tracts of land are still created by building dams and draining marshes. Forty percent of the land consists of parks, plantations, military areas and water reservoirs. Four percent of Singapore is covered by forests.
Several rivers flow to the coast from inland. The Seletar is the longest at 15 km! The main river is the Singapore River around which the heart of the city is built.
Singapore is connected to the peninsular of Malaysia by two highways: in the north by the one-kilometer elevated causeway, and in the west by the second link.
---
Sources
Beliën, H. / Maleisië : Singapore
Gottmer
Hellander, P. / Singapore
Lonely Planet,
Oon, H. / Singapore
Van Reemst
Singapore
Ministry of Information and the Arts
Wee, J. / Singapore
Chelsea House Publishers

CIA - World Factbook

BBC - Country Profiles
Last updated August 2023
Copyright: Team
The World of Info