HONGKONG
Plants and Animals


Plants and Animals
Plants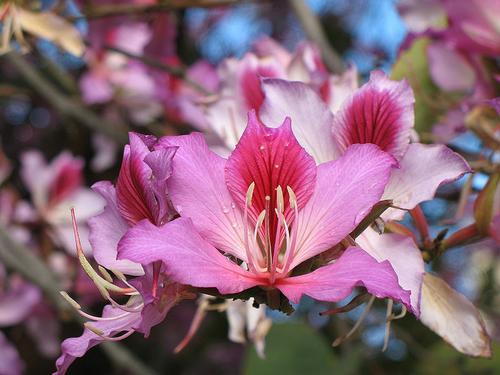 Hong Kong OrchidPhoto: Tree-species CC 2.0 Generic no changes made
About 1000 years ago, Hong Kong was covered with forests. However, the first inhabitants immediately started cutting down the forests. Due to the regular heavy rainfall, the soil eroded enormously and almost nothing grew.
At present, there is only grassland and some planted forests with fast-growing trees. On some uninhabited islands and in the New Territories we still find forests.
Animals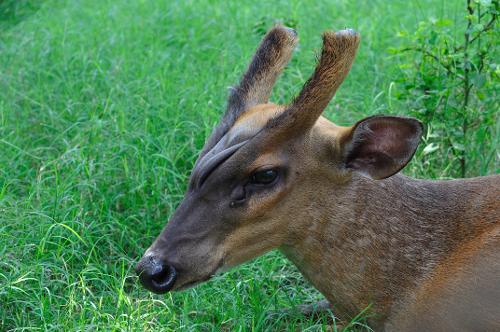 Chinese muntjac, Hong KongPhoto: Biswarup Ganguly CC 3.0 Unported no changes made
The lack of forests also meant that the big animals disappeared from Hong Kong. Wild boars are still around, too many in fact; they are a great nuisance to the farmers. Very special are the Chinese muntjacs, small deer, that even occur on Hong Kong Island. The Chinese leopard cat can sometimes be found in the New Territories and there are also badgers, otters, civet cats, porcupines, shrews and bats. Special is the Chinese pangolin, an anteater that can roll itself up like an armadillo.
The remote areas of the New Territories are home to hundreds of bird species, from egrets and cockatoos to mynas and pelicans.
Sources
Bernstein, K. / Hong Kong
Kosmos-Z&K
Groth, P. / Hongkong
Deltas
Lyle, G. / Hong Kong
Chelsea House Publishers
Storey, R. / Hong Kong, Macau & Guangzhou
Lonely Planet

CIA - World Factbook

BBC - Country Profiles
Last updated February 2023
Copyright: Team
The World of Info