HONGKONG



Geography and Landscape
Geography
Hong Kong (Chinese: Xianggang Tebie Xingzhengqu, = fragrant port); officially: Hong Kong Special Administrative Region (HKSAR), has been a part of the People's Republic of China since 1997.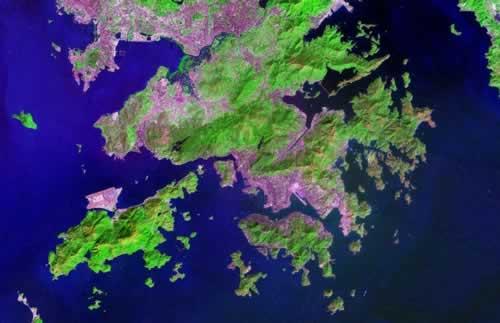 Hong Kong Satellite PhotoPhoto: Public domain
Hong Kong consists of 235 islands located in the South China Sea and a section on the mainland bordering the South China province of Guangdong. The total area of Hong Kong is 1070 km2 (including water 2900 km2) and is divided into four areas, Kowloon, Hongkong Island, with the business district as the beating heart of Hong Kong, the New Territories, and the Outlying Islands. The southernmost mainland, Tsim Sha Tsui, is the most touristy area with many hotels.
The area of Hong Kong Island is 78 km2, about 7% of the total area, the New Territories, 980 km2 or 91% of the total area. The Outlying Islands officially belong to the New Territories and measure 20% of the total area. Many of the 235 islands are merely rocky outcrops protruding from the sea; the largest is Lantau, almost twice the size of Hong Kong Island.
Landscape
Hong Kong Island is very hilly and from the highest point, Mount Victoria (552 m), one looks down on the skyscrapers located on the coast. On Lantau are Sunset Peak and Lantau Peak, both about 900 metres high. On the mainland is the highest "mountain" in Hong Kong, Tai Mo Shan (959 m).

View of Tai Mo Shan, Hong Kong's highest mountainPhoto: Minghong CC 4.0 International no changes made
Due to its rocky soil, Hong Kong has no rivers, natural lakes or groundwater. Remarkably, about 40% of the total land area is occupied by protected park-like areas. These areas also contain the 17 water reservoirs that supply Hong Kong with fresh water.
Hong Kong's land area continues to grow due to the land reclamation projects needed to keep up with population growth and construction activities.
---
Sources
Bernstein, K. / Hong Kong
Kosmos-Z&K
Groth, P. / Hongkong
Deltas
Lyle, G. / Hong Kong
Chelsea House Publishers
Storey, R. / Hong Kong, Macau & Guangzhou
Lonely Planet

CIA - World Factbook

BBC - Country Profiles
Last updated May 2023
Copyright: Team
The World of Info