GOA
Language


Popular destinations INDIA
Language
India has sixteen official languages, of which Hindi is the official language. The Goan people speak an official language recognized by the state of India: Konkani, an Indo-Aryan language.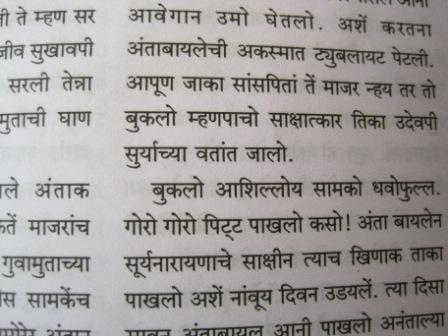 Konkani Writing, GoaPhoto:Public domain
Konkani originated from Sanskrit, just like Hindi. Konkani is written in five different ways. For example, Christians write Konkani in the Roman script and Hindus with the characters of the Devnagari script, just as Hindi is written.
At the time of the Portuguese rule, the upper classes of the population in particular spoke Portuguese. In 1684, the Portuguese language was even made mandatory in Goa. Portuguese is still spoken as a second language by an ever smaller group of Goans.
In education, English is still the primary language, although fierce discussions about letting go of anything to do with the former, hated rulers continue to flare up.
Although Hindi and Konkani both originate from Sanskrit, large differences can be observed. Sometimes the two languages are very similar, sometimes not at all.
Some examples:
| | | |
| --- | --- | --- |
| | Hindi | Konkani |
| 1 | ek | ek |
| 2 | do | don |
| 3 | tin | tin |
| 4 | char | char |
| 5 | panch | panch |
| 6 | chhe | sou |
| 7 | saat | sat |
| 8 | aath | att |
| 9 | nau | nov |
| 10 | das | dha |
| | | |
| --- | --- | --- |
| | Hindi | Konkani |
| hallo | namaste | paypadta |
| thank you | dhanyabad dev | borem korum |
| big | bhada | hodlo |
| today | aaj | aaj |
| tea | chai | chao |
| year | saal | voros |
| egg | aanda | tatee |
| sugar | chini | sakor |
---
Sources
Olden, M. / Goa : Hampi, Bombay en Poona
Elmar
Thomas, B. / Goa
Lonely Planet

CIA - World Factbook

BBC - Country Profiles
Last updated November 2023
Copyright: Team
The World of Info