GOA
Economy


Popular destinations INDIA
Economy
General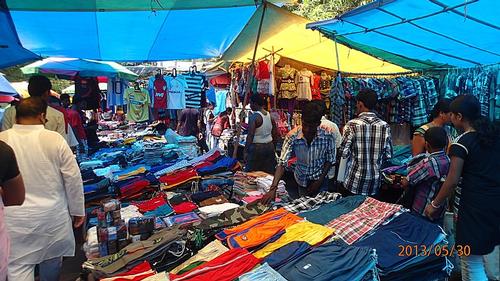 Market GoaPhoto: Deepak Patil CC 3.0 Unported no changes made
Before India's independence in 1961, the Goan economy was mainly based on fishing, agriculture and the export of products such as rubber and wood. Since there was no market for the production of goods, the industrial development was minimal and consisted of fish and fruit canning industry and some small factories. The average income of a worker was then about 434 Indian rupiahs per year. At the moment, that income is around 18,000 Indian rupiahs per year, making Goa one of the wealthiest states in India.
Since Hong Kong has rejoined China, there have been calls in India to make Goa a free port and free trade zone. Goa would then become a self-regulatory city-state like Hong Kong under the supervision of the government in New Delhi. However, action groups fear that there will not be much left of the original Goa and therefore want to hold a referendum on this topic.
Industry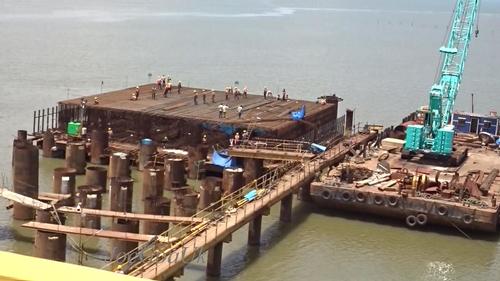 Goa Bridge ConstructionPhoto: Joegoauk Goa (CC BY-SA 2.0) no changes made
The current prosperity is largely due to the development of the industry. After India's independence, a number of good plans were made for Goa to attract investors. Industrial growth initially progressed slowly, but between 1973 and 1981 the number of industrial companies grew from 702 to 2229, and today there are approximately 6,500 small industrial companies employing approximately 40,000 people. In addition, there are more than 200 large companies with 20,000 employees.
This rapid growth does have a number of negative side effects. For example, there are environmental problems and the employment of the population is under pressure because of the increasing number of immigrants from other states who often work at much lower wages than their "own" population.
Farming and fishing
More than half of Goa's population is somehow involved in agriculture. However, few are completely dependent on it for their daily bread. The main reasons for this are the small number of hectares per farm and the lack of irrigation of the dry soil.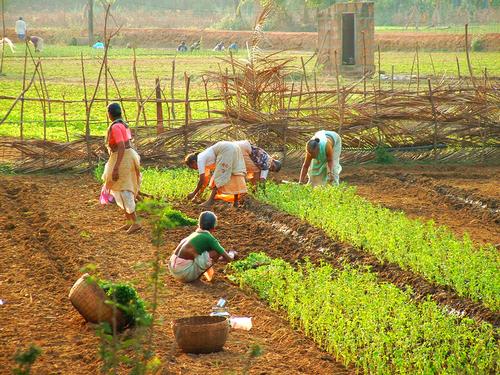 Women working in a plantation GoaPhoto: Dominik Hundhammer CC 3.0 Unported no changes made
Crops are grown on approximately 162,000 ha. The important crops are rice, ragi, corn, legumes, oilseed and plantation products such as sugar cane and rubber. Rice production has grown by 100% in recent years, thanks to the introduction of standard strains. With sufficient irrigation, you can even harvest twice a year. Three types of rice are grown and the yield is approximately 17 million tons per year.
Fruit, herbs, coconuts and in particular cashew nuts are also a considerable source of income. In fact, Goa is the largest cashew nut producer in the world. Most crops are grown all year round. Only the vegetables are grown during the monsoon period due to the amount of water they need. Floriculture is becoming increasingly important for the agricultural economy. A fleet of 3,000 boats with 40,000 fishermen annually catches 170 species of fish and shellfish, which are mostly sold on markets.
Mining
Mining, mainly in the north of Goa, started on a limited scale in 1905 and quickly stopped between the two world wars. Mining resumed after India's independence in 1961, and some companies grew to become India's largest and most important.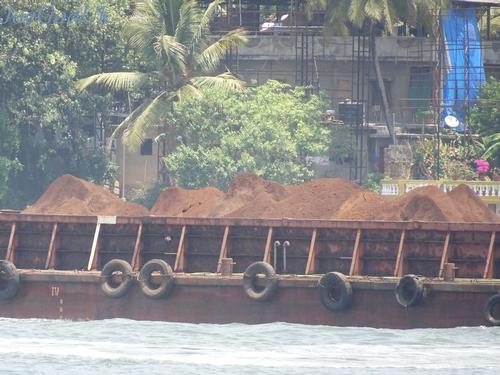 Barge carrying Iron orePhoto: Joegoauk Goa (CC BY-SA 2.0) no changes made
The main mining products are iron ore, manganese ore and bauxite. The iron ore is mainly exported to Japan although it is of moderate quality.
Other minor mining products include limestone and kaolin. The deeper veins are of an even poorer quality and difficult to exploit. It therefore remains to be seen whether mining will be profitable for a long time to come. An uncertain future for the 8,000 people who are directly dependent on mining and the 20,000 people who are indirectly dependent on it. For example, the port of Mormugao is 90% dependent on the export of the iron ore.
Transport
Dabolim Airport is the airport of Goa and is located 29 km from the capital Panaji. Many travelers do not come directly to Goa, but go through mainly Santa Cruz Airport from Mumbai (Bombay). Domestic flights are operated by Indian Airlines and Jet Airways, among others.
India's rail network is one of the largest in the world and Indian Railways is the largest employer in the world with over 1.5 million employees.
The train journey from Mumbai to Goa is a true experience. The train passes 72 tunnels with a total length of 77 km. Two railway lines run through Goa. The South Central Railway from Mormugao towards Margao and Karmataka to the east. The other line is the new Konkan Railway from Mumbai via Goa to Mangalore.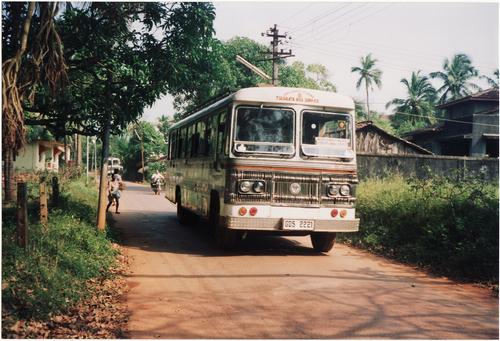 Bus GoaPhoto:Andrew Bone CC2.0 Generic no changes made
The bus is the ideal means of transportation for fast and cheap travel, connecting most places in Goa. Due to the extremely congested cities and the narrow bumpy roads in the countryside, transport by car is generally not recommended.
---
Sources
Olden, M. / Goa : Hampi, Bombay en Poona
Elmar
Thomas, B. / Goa
Lonely Planet

CIA - World Factbook

BBC - Country Profiles
Last updated April 2023
Copyright: Team
The World of Info