CURACAO
Geography and Landscape

Basic information
Official language
Dutch, Papiamento
Capital
Willemstad
Area
444 km²
Population
165,209 (2021)
Currency
Antillean guilder (ANG)
Web
.cw
Code.
AN
Tel.
+599
Cities in CURACAO
Geography and Landscape
Geography
Curaçao is the largest island of the Netherlands Antilles, the middle of the Leeward Islands. It covers an area of 472 km2, with 152,000 inhabitants. It is located 60 kilometers from the South American mainland in the southern part of the Caribbean Sea. Klein-Curaçao, a small uninhabited island, is located southeast of Curaçao.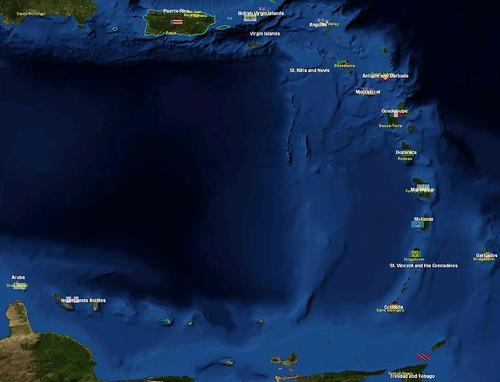 Curacao is located bottom leftPhoto: Public domain
Curaçao originated under the sea about 100 million years ago. The oldest rock formations consist mainly of volcanic rocks. These ancient rocks were raised above sea level 60 million years ago and then surrounded by coral limestone.
Landscape
The landscape is mainly flat with some hills here and there, especially in the northwest. The highest point on Curaçao is the St. Christoffelberg (372 m). The north coast is steep and rocky, and therefore not accessible to shipping. The south coast is characterized by many bays and shallow inlets. The main inland bay is the Schottegat. There are no permanent rivers, but beds that only fill up when it has rained very hard. There are many small coral sand beaches on the southwest coast. Curaçao does not have miles of white sandy beaches.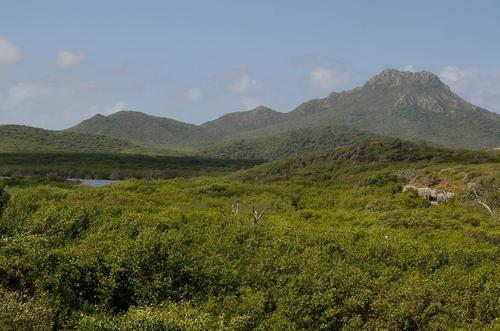 St. Christoffelberg, CuraçaoPhoto: Jerrye and Roy Klotz MD CC 3.0 Unported no changes
---
Sources
Bakker, J. / Nederlandse Antillen en Aruba
Koninklijk Instituut voor de Tropen

Encarta Encyclopedie

Erven Dorens, P. van / Curaçao
Bos & Co

Helm, R. van der / De Curaçao reisgids
Elmar

CIA - World Factbook

BBC - Country Profiles
Last updated November 2023
Copyright: Team
The World of Info