ARUBA
Vacations and Sightseeing

Basic information
Official language
Dutch, Papiamento
Capital
Oranjestad
Area
180 km²
Population
106.766 (2020)
Currency
Aruban florin (AWG)
Web
.aw
Code.
ABW
Tel.
+297

Cities in ARUBA
Vacations and Sightseeing
Aruba is an excellent holiday destination for those looking for good weather, long beaches, good food and top accommodations. Yet it is mainly Americans who have been the most important group of tourists since the middle of the last century, when tourism to Aruba increased sharply. Aruba attracts about 1.5 million tourists a year and about 90% of them are American, and it is clear that everything is aimed at this group of tourists that is so important to the Aruban economy. Aruba therefore focuses on the higher market segment and mainly offers luxury holidays.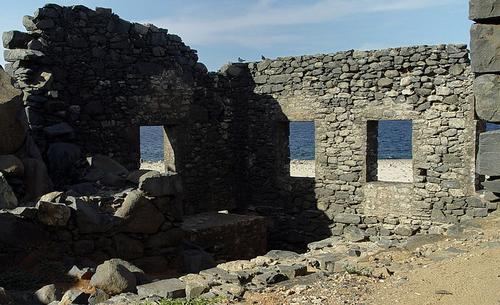 Bushiribana ArubaPhoto: Serge Melki CC 2.0 Generic no changes made
In 1750 the Indians built the first Catholic chapel on the island. The chapel was made of branches on a stone base and has slowly but surely decayed. In 1952, a new Maria chapel was built on the site of the old church, the Alto Vista chapel, in memory of this first church in Aruba.
On the north coast is Bushiribana, a ruin of what used to be a gold smelter in Aruba. At the time, a lot of gold was mined in this area, and old mine shafts can still be found in various places. Some of the shafts are up to 30 meters deep.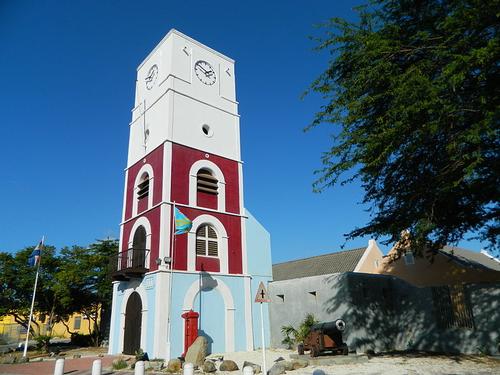 Aruba Fort ZoutmanPhoto: Natalie Liao Jen CC 3.0 Unported no changes made
Fort Zoutman in the capital Oranjestad is the oldest building in Aruba. It was built in 1796 to protect the harbor from invasion. After 1816 government offices were established there. In 1868 a tower was added, which also served as a lighthouse. The Museo Historico Arubano is currently located in the fortress and tower.
The island has some interesting caves. The caves of Fontein are known for the beautiful Indian rock paintings, which can be found in the ceiling. South of the cave is the "Tunnel of love", an underground tunnel with dark caverns and corridors with a length of 200 meters and a height of 5 to 6 meters.
The museum is located in Fort Zoutman, and one can find shells, archaeological finds, rocks and fossils. One also gets an impression of the former gold mining.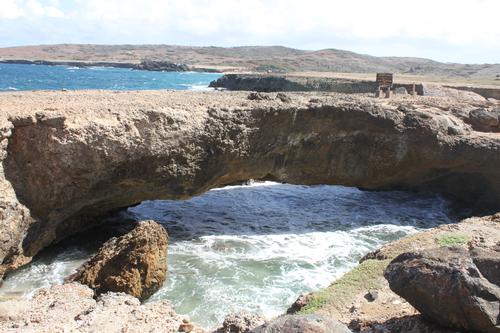 Aruba Natural BridgePhoto: PrasadGondi CC 3.0 Unported no changes made
There is a special twist of nature near the bay of Aindicouri. Due to the enormous power of the surf, a kind of bridge has been carved into the limestone rocks. This natural bridge is the tallest and most spectacular natural canopy in all of the Caribbean and one of Aruba's main attractions.
On the west side of the island you will find Aruba's biggest attraction, the fantastic white and palm-fringed beaches.
---
Sources
Bant, W. / Nederlandse Antillen
ANWB

Encyclopedie van de Nederlandse Antillen
De Walburg Pers

Helm, R. v.d. / Reishandboek Aruba
Elmar

Paula, M. / Nederlandse Antillen & Aruba
Van Reemst

CIA - World Factbook

BBC - Country Profiles
Last updated May 2023
Copyright: Team
The World of Info