ARUBA
Society


Cities in ARUBA
Society
Government
The Netherlands Antilles no longer exist since October 10, 2010. Aruba had been an independent country since January 1, 1986 with its so-called Status Aparte, Curaçao and Sint Maarten became so from that date. Bonaire, Saba and St. Eustatius became special Dutch municipalities.
The Kingdom of the Netherlands now consists of four countries with their own governments: Aruba, the Netherlands, Curaçao and Sint Maarten. Bonaire, Saba and Sint Eustatius have a separate status within the Netherlands and are called the Caribbean Netherlands, together with Aruba, Curaçao and Sint Maarten they form the Caribbean part of the Kingdom of the Netherlands.
Aruba has only one tier of government, the government is formed by a Governor and a Council of Ministers.

Aruba has a unicameral parliament called the 'States'. Via direct elections, the Arubans entitled to vote elect 21 States members for a period of four years. After the members of Parliament have been sworn in, a chairman and vice-chairman of parliament is appointed from among their number. Each individual Member of Parliament may nominate two members of parliament, after which the election takes place. The appointment of the chairman and vice-chairman is definitively determined in a so-called national decree. The current political situation is described in the chapter history.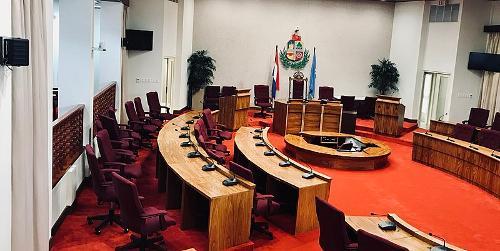 Parliament hall ArubaPhoto: Ajathode CC 4.0 International no changes made
Education
There is virtually no illiteracy in Aruba. This is mainly due to the excellent education, which is of a very high standard for the Caribbean. There are schools for public and special education. The education system in Aruba is almost the same as the Dutch school system. In addition to the normal subjects, the children are also taught in Papiamento. Many schools also teach English and Spanish in the upper classes. After primary education, you can choose from primary, secondary and higher professional education. For university education, people rely mainly on foreign countries.
---
Sources
Bant, W. / Nederlandse Antillen
ANWB

Encyclopedie van de Nederlandse Antillen
De Walburg Pers

Helm, R. v.d. / Reishandboek Aruba
Elmar

Paula, M. / Nederlandse Antillen & Aruba
Van Reemst

CIA - World Factbook

BBC - Country Profiles
Last updated August 2023
Copyright: Team
The World of Info