ALGERIA
Climate and Weather


Climate and Weather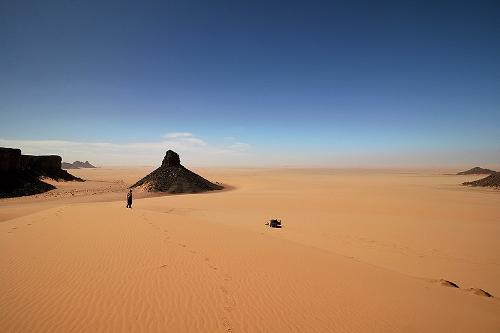 Algeria DroughtPhoto: Madxk CC 4.0 International no changes made
Northern Algeria has a mild, Mediterranean climate, although local variations may occur due to the microclimates. Moreover, large differences can be observed from year to year in terms of rainfall and temperatures. It is not uncommon to have summer weather in winter and winter weather in late spring. As a result of these strong fluctuations, Northern Algeria is hit by floods and then again by long periods of drought. The average temperature is between 21 and 24°C, with regular daytime peaks above 35°C. Due to the high humidity, however, it is hardly to harden in the summer. In winter, the average temperature drops to 10-12°C and can feel quite cold at night. Even in a city like Sétif, at an altitude of 1096 meters, winter can strike and snow can fall. In the summer it is just very hot and in the spring the sirocco blows a dry, suffocating wind over the desert for several weeks.

The Sahara is of course known for its scorching temperatures and that is in Algeria not different. In summer, the temperature easily rises to values above 50°C in the middle of the day. But especially in winter, it can cool down considerably at night, even below freezing. The temperature of the soil can be more than 10°C higher than the air temperature.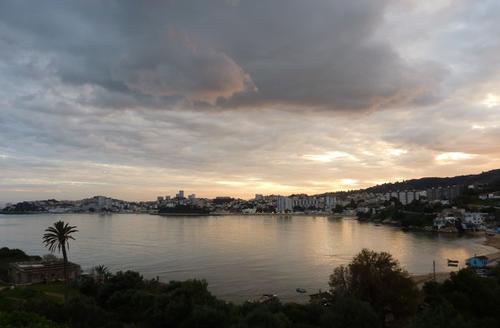 Dark rain clouds gather over Annaba, AlgeriaPhoto: Faten Aggad CC 3.0 Unported no changes made
Rainfall is certainly not uncommon on the coast in the north, especially in winter and spring. When it rains, it rains quite a bit, drizzle is almost non-existent. In the north, an average falls between 400 and 700 mm per year, but that amount increases from west to east and near Annaba along the Mediterranean coast in Northeast Algeria falls around 1000 mm annually. Inland it rains of course much less and in the summer hardly a drop falls. It is also very dry in the Sahara, in the desert city of In-Salah on average only 13 mm of rainfall per year. Yet it can unexpectedly rain extremely hard, even flooding as a result. In May 2007, torrential rains and hail storms caused the Sahara city of Hassi Messaoud to be flooded within eight hours.
| | | | | |
| --- | --- | --- | --- | --- |
| Mediterranean coast | | | | |
| | minimum temp. | average temp. | maximum temp. | water temp. |
| January | 9.8°C | 13.1°C | 16.4°C | 15.7°C |
| February | 10.1°C | 13.8°C | 17.4°C | 16.1°C |
| March | 11.2°C | 15.0°C | 18.9°C | 16.3°C |
| April | 12.9°C | 17.0°C | 21.2°C | 17.2°C |
| May | 15.5°C | 19.7°C | 23.9°C | 19.9°C |
| June | 18.5°C | 22.9°C | 27.3°C | 22.5°C |
| July | 20.8°C | 25.5°C | 30.2°C | 23.5°C |
| August | 21.7°C | 26.3°C | 30.9°C | 22.4°C |
| September | 20.4°C | 24.7°C | 29.0°C | 22.4°C |
| October | 17.3°C | 21.3°C | 25.2°C | 22.1°C |
| November | 13.7°C | 17.2°C | 20.7°C | 18.7°C |
| December | 10.8°C | 14.2°C | 17.5°C | 16.6°C |
| | | | |
| --- | --- | --- | --- |
| Between Tell and Sahara Atlas | | | |
| | minimum temp. | average temp. | maximum temp. |
| January | 3.7°C | 8.5°C | 23.5°C |
| February | 5.6°C | 10.9°C | 23.4°C |
| March | 7.0°C | 12.7°C | 31.5°C |
| April | 12.9°C | 17.0°C | 21.2°C |
| May | 13.1°C | 20.4°C | 36.6°C |
| June | 17.5°C | 25.0°C | 41.0°C |
| July | 21.1°C | 29.1°C | 43.5°C |
| August | 20.0°C | 27.8°C | 40.9°C |
| September | 17.3°C | 23.6°C | 38.0°C |
| October | 11.9°C | 17.4°C | 31.9°C |
| November | 7.9°C | 12.5°C | 29.3°C |
| December | 4.7°C | 9.0°C | 24.2°C |
| | | | |
| --- | --- | --- | --- |
| Ahaggar Mountains | | | |
| | minimum temp. | average temp. | maximum temp. |
| January | 4.0°C | 12.0°C | 20.0°C |
| February | 6.0°C | 14.0°C | 22.0°C |
| March | 9.0°C | 17.5°C | 26.0°C |
| April | 14.0°C | 22.0°C | 30.0°C |
| May | 17.0°C | 25.0°C | 33.0°C |
| June | 21.0°C | 28.0°C | 35.0°C |
| July | 22.0°C | 28.5°C | 35.0°C |
| August | 21.0°C | 27.5°C | 34.0°C |
| September | 19.0°C | 26.0°C | 33.0°C |
| October | 15.0°C | 22.5°C | 30.0°C |
| November | 11.0°C | 18.0°C | 25.0°C |
| December | 6.0°C | 13.5°C | 21.0°C |
| | | | |
| --- | --- | --- | --- |
| Sahara | | | |
| | minimum temp. | average temp. | maximum temp. |
| January | 4.1°C | 10.9°C | 27.4°C |
| February | 6.2°C | 13.3°C | 32.6°C |
| March | 9.4°C | 16.8°C | 37.4°C |
| April | 12.8°C | 21.0°C | 40.8°C |
| May | 16.9°C | 25.6°C | 44.6°C |
| June | 21.4°C | 30.4°C | 51.6°C |
| July | 24.1°C | 33.5°C | 54.0°C |
| August | 23.6°C | 32.7°C | 50.8°C |
| September | 20.9°C | 29.2°C | 50.2°C |
| October | 15.2°C | 22.8°C | 42.0°C |
| November | 9.5°C | 16.3°C | 33.2°C |
| December | 4.8°C | 11.5°C | 29.0°C |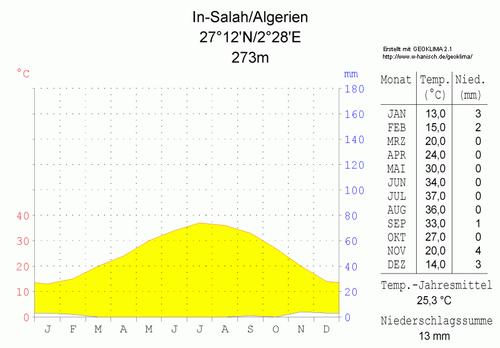 Climate table In-Salah, desert city in Central AlgeriaPhoto: Hedwig in Wahington CC 3.0 Unported no changes made
Sources
Agada, Birgit / Algerien : Kultur und Natur zwischen Mittelmeer und Sahara
Trescher

BBC - Country Profiles

Beker, Michel / Algerije
KIT Publishers/Oxfam Novib

CIA - World Factbook

Elmar Landeninformatie

Ham, Anthony / Algeria
Lonely Planet

Kagda, Falaq / Algeria
Marshall Cavendish

Oakes, Jonathan / Algeria
Bradt Travel Guides
Last updated February 2023
Copyright: Team
The World of Info