AFGHANISTAN
Language


Cities in AFGHANISTAN
Language
Afghanistan Language MapPhoto: United States Central Intelligence Agency in the public domain
Dari (since 1964) and Pashto (since 1933) are the official languages of Afghanistan, of which Dari is most commonly used as a 'lingua franca' for inter-ethnic communication. Like Farsi, Dari and Pashto are also written in the Arabic script.
Dari is so similar to Farsi, the language of Iran, that many Dari-speaking Afghans call their language Farsi. The main difference between the two languages is that Farsi has more loan words from Turkish and Arabic. Spoken mainly by the Tajiks, Dari is an Indo-Iranian language and a member of the Indo-European language family. Although it is written in the Arabic script, there is no further relationship between the two languages. Pashto is the language of Pashtuns in southern and eastern Afghanistan and in Balochistan and the Federally Administered Tribal Areas of western and northwestern Pakistan. Pashto is written in the Arabic script. The pronunciation of vowels and consonants is more or less the same as in Dari.
In addition to Dari and Pashto, some 25 other languages and dialects are spoken in Afghanistan. Tajik, Uzbek, Turkmen, Kyrgyz and Wakhi, the most primitive form of spoken Persian, are spoken in northern Afghanistan by the minority groups living there. Many Afghans are bilingual.

The main languages are:
Pashto 35%; Dari 50%; Turkic languages (Uzbek, Turkmen) 11%; 30 minority languages (mainly Baluchi and Pashai) 4%.
| | |
| --- | --- |
| English | Dari |
| How are you? | Shomaa chetaur hasted? |
| Glad you came. | Aaz amadan-e shomaa, khosh hastam. |
| What's your name? | Nam-e shomaa chist? |
| Day. | Khodaa haafez. |
| I don't understand. | Man na-mefahmam. |
| Please drive slowly! | Lotfat aasta boro! |
| Where is the toilet? | Tashnaab kojast? |
| What time is it? | Hey waqt ast? |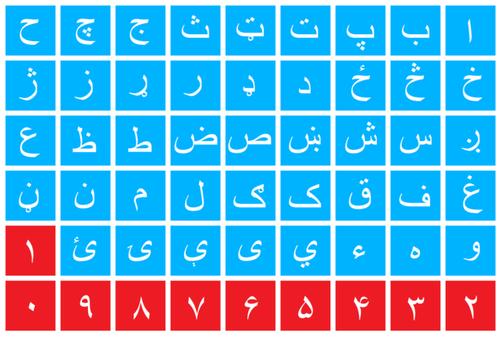 Pashto-alphabetPhoto: Gf CC 4.0 International no changes made
| | |
| --- | --- |
| English | Pashto |
| army | lashkar |
| book | kitab |
| child | wor-kaey |
| farmer | bazgar |
| home | astogna'h |
| journey | safari |
| landowner | zamin-dar |
| meat | ghwasha'h |
| mountain | ghar |
| peace | sulha'h |
| poor | khwar |
| sleep | khub |
| water | obah |
---
Sources
CIA World Factbook

BBC - Country Profiles

Elmar Landeninformatie
Clammer, Paul / Afghanistan
Lonely Planet
Last updated November 2023
Copyright: Team
The World of Info