URUGUAY
Religion


Cities in URUGUAY
Religion
Although a large part of the population officially belongs to the Roman Catholic Church, the society in Uruguay is not very ecclesiastical and has always been tolerant to other religions. Uruguay has always been special in this compared to many other South American countries. There is no state religion in Uruguay, so there is complete freedom of religion. The first constitution stated that Roman Catholicism was the official religion, but even then it stated that people could choose which religion they wanted to adhere to.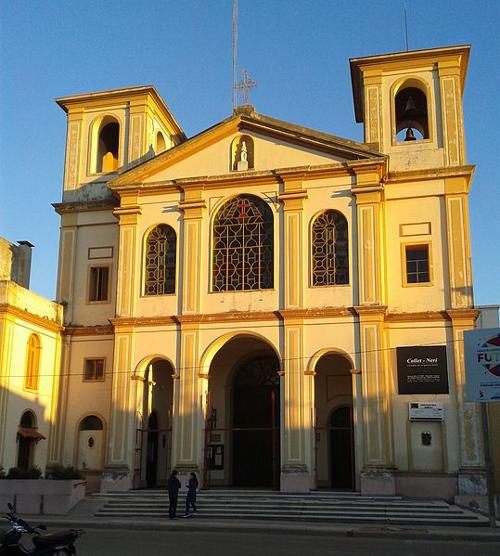 Roman Catholic Cathedral of Melo, UruguayPhoto: Alejandro Gil Álvarez CC 3.0 Unported no changes made
About 50% of the population is Roman Catholic. The statistics are quite contradictory in this regard. In 1978, the Roman Catholic Church reported that only 4% of the population attended church regularly! In addition, there are small Protestant (15%) and Jewish (50,000 members) denominations. Approx. 30% are not religious.
From the past, the influence of Roman Catholicism has always been less than in other South American countries. Spain always sent missionaries along with the conquerors to the Indian peoples they encountered. Because Uruguay had few Native American peoples on its territory, who were usually very hostile to the Spaniards, not many missionaries and priests came to Uruguay.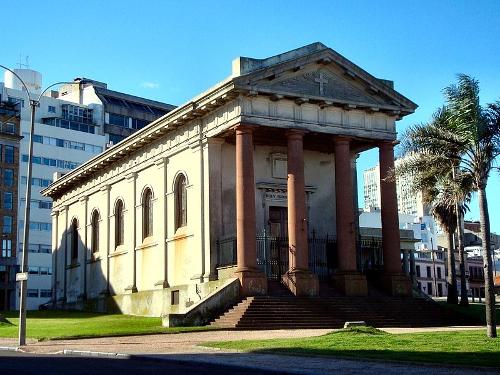 Anglican Church in Montevideo, UruguayPhoto: Hoverfish CC A 3.0 Unported no changes made
As early as 1844, the British built an Anglican church in Montevideo, one of the first Protestant churches in South America. During the 20th century, many other Protestant churches settled in Uruguay. By the way, this is a trend throughout South America. Since the 1960s, Protestant churches have been trying to convert Roman Catholics to Protestantism. Because the Uruguayans are not so ecclesiastical, this is not very successful. In Uruguay there are still Baptists, Adventists, Methodists and Mennonites and Russian Orthodox believers, together about 2% of the population.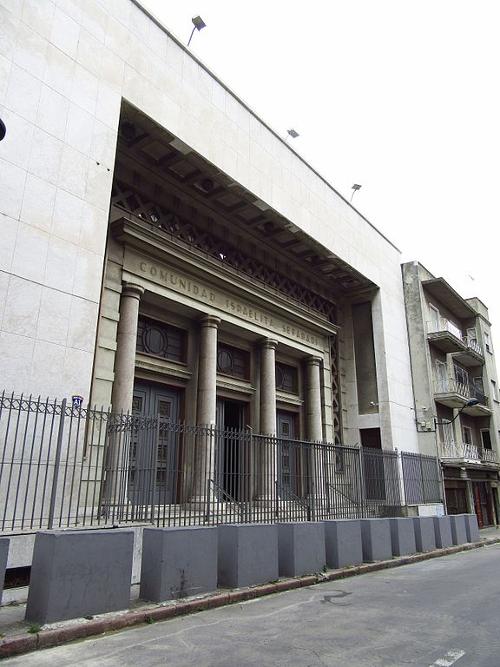 Synagogue in Montevideo, UruguayPhoto: Felipe Restrepo Acosta CC 4.0 Internationalno changes made
Various laws were passed in the 19th and 20th centuries, all aimed at reducing the influence of religion on daily life. Thus, in 1907 it became officially legal to divorce and in 1909 religion classes were abolished in schools.
Before the dictatorship, there was quite a large group of Jews in Montevideo. There were six synagogues and about 2% of the population was Jewish. These Jews had emigrated to Uruguay because Uruguay was known as a religiously very tolerant country. The first large group of Jews came to Uruguay in the early 20th century. The second group fled the Nazis in Germany in the 1930s. Many Jews left Uruguay again during the dictatorship period, so that only a small number of Jews are currently living in Uruguay.
---
Sources
Bernhardson, W. / Argentina, Uruguay & Paraguay
Lonely Planet
Haitsma, M. / Uruguay: een landenmap
Novib
Jermyn, L. / Uruguay
Marshall Cavendish

CIA - World Factbook

BBC - Country Profiles
Last updated November 2023
Copyright: Team
The World of Info