URUGUAY



Cities in URUGUAY
Geography and Landscape
Geography
The Republic of Uruguay (officially: República Oriental del Uruguay) is one of the smallest states in South America. Uruguay, along with Argentina and Paraguay, is included in the La Plata countries because it lies in the catchment area of the rivers that flow into the La Plata. Uruguay has a total land area of 176,215 km2 and is therefore even larger than England and Wales combined.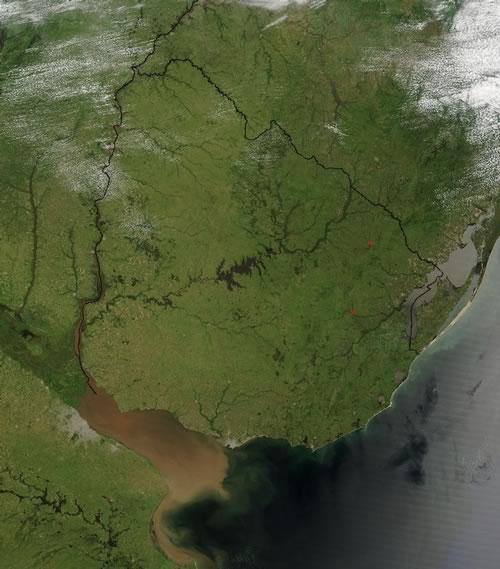 Uruguay Satellite photoPhoto: Public domain
Uruguay is bordered to the west by Argentina (579 km), to the north and east by Brazil (985 km) and to the south by the Río de la Plata and the South Atlantic Ocean.
Landscape
The landscape of Uruguay is a continuation of the landscape of southern Brazil and consists in the north and east of a gently undulating landscape of rocks from the Cretaceous period. The western part of Uruguay is completely covered with dark colored, horizontal basalt layers, and forms part of the great Paraná plateau; the eastern edge forms a sharp cue edge.

Two mountain ridges run from the north to the southwest: the Cuchilla de Haedo in the west and the Cuchilla Grande in the east. In the Cuchilla Grande, on the Brazilian border, the Cerro Catedral is the highest peak in the country at 621 meters.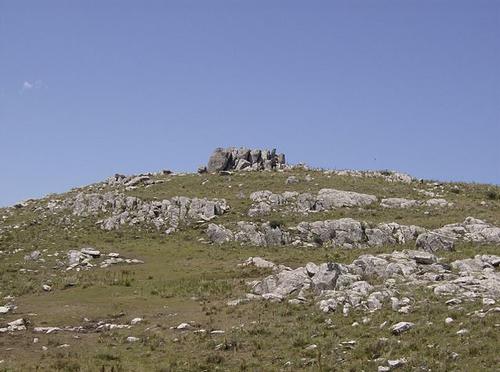 Top of the Cerro Catedral, highest hill in UruguayPhoto: Scheridon CC 3.0 Unportedno changes made
Along the ocean coast west of the capital, Montevideo, there is a wide sandy plain with dunes and lagoons, including the Lagoa Mirim. There are also sand deposits along the Río de la Plata and the Río Uruguay, but also loess. The Cuchilla Grande is the main watershed. To the east, short rivers flow to the ocean or to the Cebollati, which flows into the Lagoa Mirim. Between Cuchilla de Haedo and Cuchilla Grande, the rivers meet in Uruguay's main river, the Río Negro. A dam built in the Río Negro created the largest artificial lake in South America, the Río Negro Lake. The lower reaches of the Río Negro are navigable and at Fray Bentos the river flows into the Río Uruguay.
---
Sources
Bernhardson, W. / Argentina, Uruguay & Paraguay
Lonely Planet
Haitsma, M. / Uruguay: een landenmap
Novib
Jermyn, L. / Uruguay
Marshall Cavendish

CIA - World Factbook

BBC - Country Profiles
Last updated November 2023
Copyright: Team
The World of Info