NORTH MACEDONIA



Cities in NORTH MACEDONIA
Geography and Landscape
Geography
The Republic of North Macedonia (officially Republika e Maqedonisë së Veriut) is located on the Balkan Peninsula in south-eastern Europe and is entirely surrounded by other countries. It is bordered to the west by Albania (151 km), to the east by Bulgaria (148 km), to the south by Greece (228 km) and to the north by Serbia (221 km).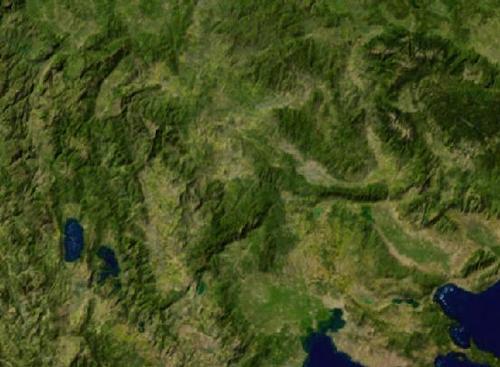 North Macedonia Satellite PhotoPhoto: Public domain
The surface area of North Macedonia is 25,333 km2. The total water area is 477 km2.
Landscape
The landscape of North Macedonia is predominantly mountainous with the highest point being Golem Korab (2753 m) on the border with Albania. The highest mountain in northern Macedonia is Titov Vrv (2748 m), with nearby Mal Turcin (2707 m). Most of the country consists of a plateau with an altitude between 600 and 900 metres.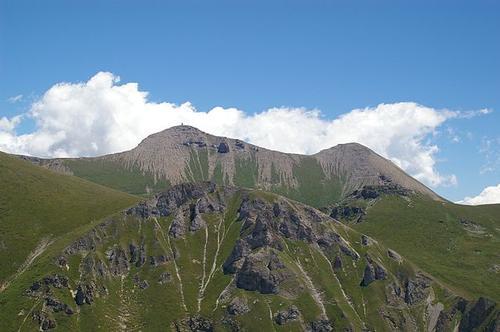 Highest mountains in North Macedonia Titov Vrv (left) and Mal Turcin (right)Photo: Pavouk CC 3.0 Unported no changes made
North Macedonia is bounded in the west by mountain ranges along Albania and in the north by the Sharar mountains (part of the Dinaric Alps) and the watershed between the north to south flowing Vardar and Morava rivers. The Vardar, the longest river in North Macedonia, flows through the capital Skopje and empties into the Gulf of Thessaloniki. Other long rivers are the Bregalnica and the Crna. In the east, the country is divided by the watershed between the Vardar and Struma rivers.
Of the dozens of lakes, Ohrid, Prespa and Dojran are the best known. Lake Ohrid, which is 186 metres deep and covers an area of 349 km2, is one of the largest lakes in the Balkans and, at around two million years old, one of the oldest in the world.
North Macedonia is in an area where earthquakes are very frequent. This is due to the fact that three tectonic plates, the African, Asian and European ones, meet in this region. On 26 July 1963, the city of Skopje was badly hit and partially destroyed.
Sources
Detrez, R. / Macedonië : mensen, politiek, economie, cultuur, milieu
Koninklijk Instituut voor de Tropen
Evans, T. / Macedonia
Bradt Travel Guides
Zuid-Europa
The Reader's Digest

CIA - World Factbook

BBC - Country Profiles
Last updated May 2022
Copyright: Team
The World of Info