NEPAL
Economy


Cities in NEPAL
Economy
General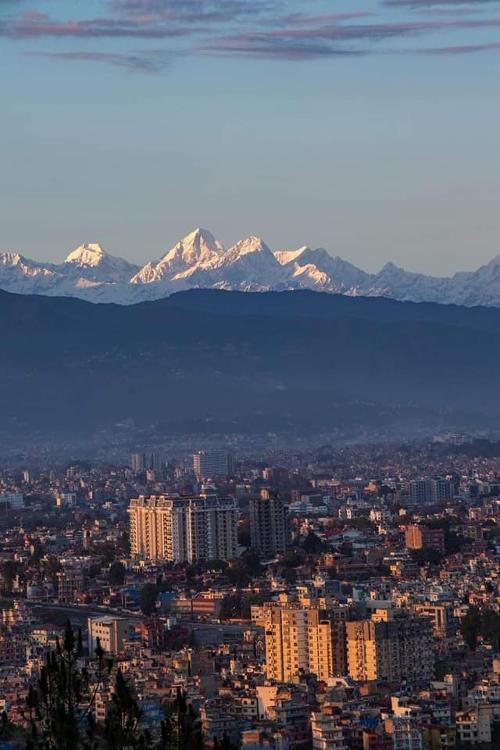 Kathmandu, business center of NepalPhoto: Sarscov2020 CC 4.0 International no changes made
The fact that Nepal is completely landlocked and has poor internal connections has made it difficult for Nepal's economy to develop. In addition, the country often has to deal with floods, drought and crop failures. There is also too little industry to cope with growing unemployment. 27% of the gross national product comes from the agricultural sector, 13.5% from industry and 59.5% from the service sector (2017).
Agriculture, livestock, forestry and fishing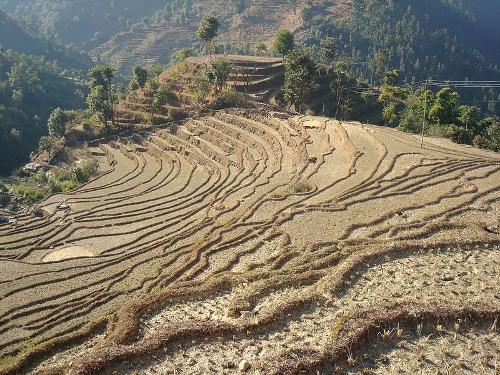 Farmland NepalPhoto: Uddinkabir CC 4.0 International no changes made
Agriculture, forestry and fishing provide income to 69% of the population. However, there is too little agricultural land. The main agricultural products are rice, maize, wheat, millet and barley. The main trade products are sugar cane, potatoes, oilseeds, jute and tobacco. Complex tenancy systems hinder agricultural reforms. The livestock sector mainly uses cows, yaks, buffalos, sheep and goats.
Because wood is the main energy source of Nepal, the forests are being exploited. This in turn results in erosion. Expansion of hydropower is considered very important.
Industry and Trade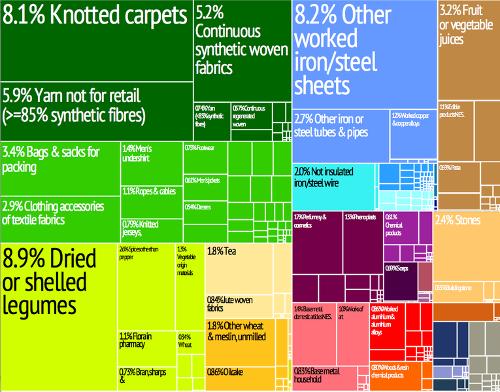 Export NepalPhoto: R Haussmann, Cesar Hidalgo, et. al CC 3.0 no changes made
The industry has so far mainly focused on agricultural products. The sugar, tea, jute, matchstick, cigarette and textile factories are mainly located in southeastern Nepal. Breweries, shoe factories, carpet weavers, textile companies, cement companies, brickyards and an agricultural machinery factory are mainly located in Central Nepal.
Nepal has good trade relations with India, China, Bangladesh, Egypt, Sri Lanka, Japan and Tibet. The exports mainly include carpets, cotton clothing, jute and jute products, rice, spices, wood, tea, and handmade (artistic) objects. The total value of the exports was $ 819 million (2017). Imports include petroleum and petroleum products, means of transport, communication goods, consumer goods, textiles and pharmaceuticals. The total value of the imports was $ 10 billion (2017).
Traffic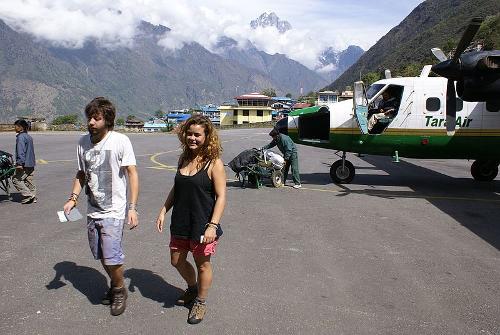 Lukla Airport NepalPhoto: Kanti Kansara CC 3.0 Unported no changes made
The structure of the country makes it difficult to build a good road and rail network. In the mountains, animals are often used as a means of transport. Aircraft are important means of transport for Nepal. The country has more than 40 regional airports and an international airport at Kathmandu.
---
Sources
Encarta Ecyclopedie
Finlay, H / Nepal
Lonely Planet
Nepal
APA

CIA - World Factbook

BBC - Country Profiles
Last updated November 2023
Copyright: Team
The World of Info