NEPAL
Society


Cities in NEPAL
Society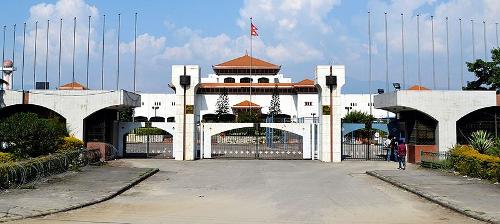 Nepal parliament buildingPhoto: Tevaprapas CC 3.0 Unported no changes made
Nepal has been a kingdom since 1768, and a constitutional monarchy since 1951. The panchayat system was abolished with the 1990 constitution. Political parties were prohibited within this system, and most of the power rested with the king. The 1990 constitution recognized fundamental human rights, freedom of expression and freedom of the press. In addition, this law also recognized a multi-party system, a parliament, a constitutional monarchy and an independent jurisdiction. Executive power rests with the king and the Council of Ministers. Parliament has legislative power. Nepal is divided into more than 3,200 municipalities, provinces and 14 zones
14 Zones of NepalPhoto: TUBS CC 3.0 Unported no changes made
Since 2008, the monarchy has been abolished and Nepal is a federal democratic republic. The new Federal Parliament consists of two chambers:
The National Assembly (59 seats; 56 members, including at least 3 women, 1 Dalit, 1 member with disabilities or 1 minority indirectly elected by an electoral college of state and municipal government leaders, and 3 members, including 1 woman, nominated by the president of Nepal on the recommendation of the government; members serve a term of 6 years with renewal of one third of the membership every 2 years)
The House of Representatives (275 seats; 165 members directly elected in single-seat constituencies by simple majority and 110 members elected directly in a national constituency based on votes of proportional representation on the party list; members serve 5-year terms)
The United Nepal Communist Party (UNCP) and The Nepali Congress Party (NCP) were the two main political parties in Nepal, but were merged in 2018 into the communist party Nepal (NCP), the current ruling party. For the current political situation see chapter history.
Nepal has been a member of the United Nations since 1955. Nepal is also active within the organization of non-aligned countries. In September 2015, the parliament approved a new constitution, which places Nepal as a secular country.
---
Sources
Encarta Ecyclopedie
Finlay, H / Nepal
Lonely Planet
Nepal
APA

CIA - World Factbook

BBC - Country Profiles
Last updated November 2023
Copyright: Team
The World of Info