KENYA
Vacations and Sightseeing
Basic information
Official language
English, Swahili
Capital
Nairobi
Area
580.367 km²
Population
55,817,915 (2021)
Currency
Kenyan shilling (KES)
Web
.ke
Code.
KEN
Tel.
+254

Vacations and Sightseeing
Famous for the classic savannah safari, Kenya is a land of extremes. Deserts and alpine snow, forests and open plains, the Nairobi metropolis and colorful tribal cultures, freshwater lakes and coral reefs. For many people, Kenya is East Africa in the microcosm. Wildlife safaris have been Kenya's top tourist attractions for decades, other activities include hiking Mount Kenya, ballooning over the Masai Mara, and snorkeling in Malindi on the Indian Ocean coast.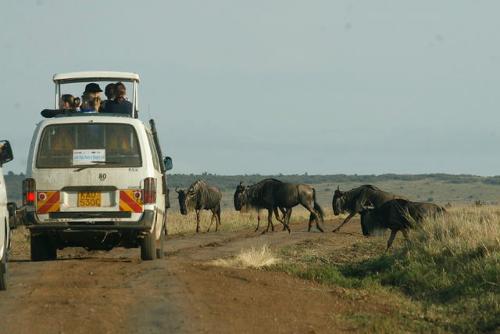 Tourists drive through the Masaai Mara viewing wildebeests, KenyaPhoto: DEMOSH from Nairobi, Kenya CC 2.0 Generic no changes made
The Masai Mara park is one of the main tourist attractions in Kenya and the most popular wildlife park. Every year, the Masai Mara is visited by thousands of tourists who come here for its exceptional wildlife population and to watch the annual migration of zebras and wildebeest. The "Great Migration" takes place every year from July to October, when millions of wildebeest and zebras pass by from the Serengeti, Tanzania.
Lake Nakuru is a very shallow lake in central Kenya. The lake has an abundance of algae and attracts huge numbers of flamingos, sometimes more than a million at one time. This makes for the greatest bird spectacle on Earth, the flamingos are one of Kenya's top attractions.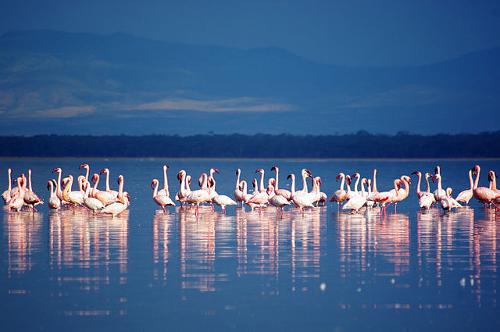 Flamingos in Lake Nakuru, KenyaPhoto: Xiaojun Deng CC 2.0 Generic no changes made
Nairobi is the capital of Kenya. Here are a lot of interesting things to see and sights that are worth your visit. The Nairobi National Museum was established in 1920 and located in its current location in 1929. It provides visitors with information on Kenya's history, culture, paleontology and art. Many of the fascinating anthropological discoveries made by the Leakey family can be seen in this museum. The large collection of stuffed birds is also impressive.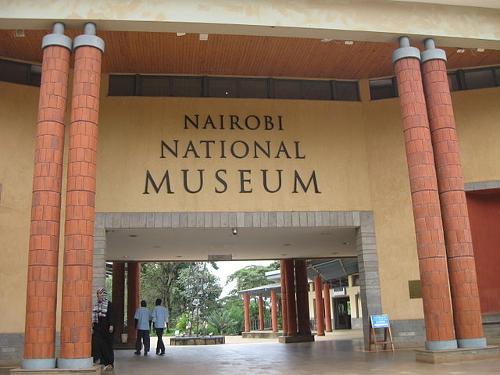 Entrance Nairobi National Museum, KenyaPhoto: Ruslik0 CC 4.0 International no changes made
The Nairobi National Park is only a 10 minute drive from the center of Nairobi with just a fence separating the park's wildlife from the metropolis. Despite its proximity to the city and the relatively small size of the park, Nairobi National Park is home to a large and varied wildlife population. Wildebeest and zebras gather in the park during the dry season and it is one of Kenya's most successful rhino sanctuaries.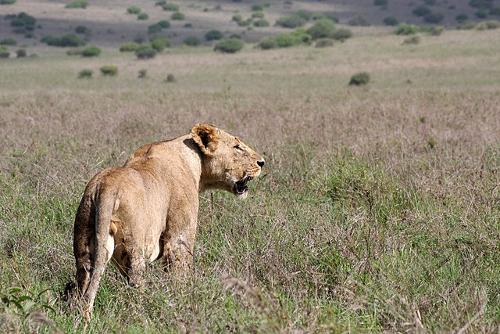 Lion in Nairobu National Park, KenyaPhoto: Yeowatzup from Göttingen, Germany CC 2.0 Generic no changes made
---
Sources
Dietz, T. / Kenya : mensen, politiek, economie, cultuur
Koninklijk Instituut voor de Tropen / Novib
Finlay, H. / Kenya
Lonely Planet
Kenia
Het Spectrum,
Winslow, Z. / Kenya
Chelsea House Publishers

CIA - World Factbook

BBC - Country Profiles
Last updated November 2023
Copyright: Team
The World of Info