GERMANY
Climate and Weather


Cities in GERMANY
Popular destinations GERMANY
Climate and Weather
Germany is located in a temperate climate zone and the climate is mainly determined by the inland decreasing influence of the sea and the height above sea level. The average wind speed and precipitation gradually decrease inland, but it can rain everywhere in all seasons. In general, extreme weather situations or large temperature fluctuations hardly occur in Germany. January is the coldest month with average temperatures ranging from -6 °C to -1 °C. July is the hottest month with average temperatures of 17-20 °C.


Photo: Klausrxt CC Attribution-Share Alike 4.0 International no changes made
The North German Plain has a climate similar to that of the Netherlands and England, with mild, rainy winters and sometimes warm summers. In the low mountain ranges, the climate depends on the local relief, with the low, sheltered parts having cold winters and very hot summers. Precipitation varies from 500-700 mm in the Low Plain to 700-1500 mm in the low mountain range and more than 2000 mm in the Alps. Further east and south, the climate is becoming increasingly continental, with harsh winters and hot dry summers.
In Bavaria, the Foehn blows regularly, a warm mountain wind blowing from the south. In Western Germany there is snow for about 25 days a year, to the east this number increases to about 40 days in the capital Berlin.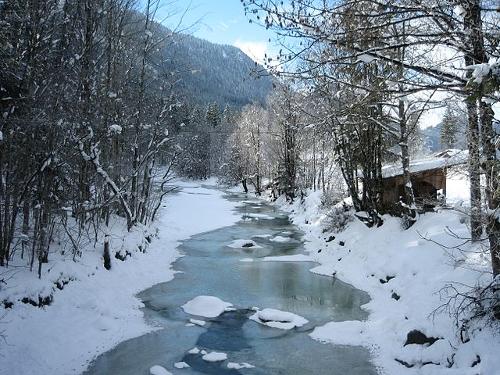 Winter landscape river Jachen in Bavaria, GermanyPhoto: Sebastian.sauer CC 3.0 Unported no changes made
---
Sources
Ayer, E.H. / Germany
Lucent Books
Egert-Romanowska, J. / Duitsland
Van Reemst
Europese Unie : vijftien landendocumentaties
Europees Platform voor het Nederlandse Onderwijs
Mark, D.F.W. van der / De Bondsrepubliek Duitsland voor en na 1990 : geschiedenis, politiek, economie en ruimtelijke ontwikkeling
Landensurveys
Tatsachen über Deutschland

CIA - World Factbook

BBC - Country Profiles
Last updated November 2023
Copyright: Team
The World of Info