ECUADOR
Climate and Weather


Cities in ECUADOR
Popular destinations ECUADOR
Climate and Weather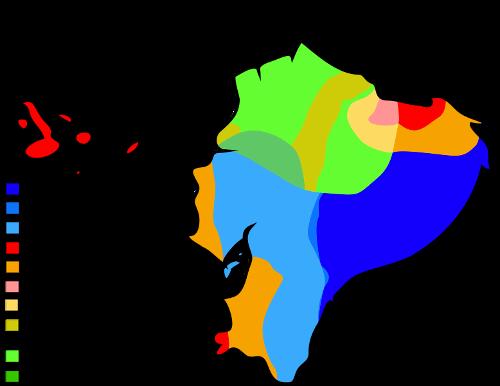 Climate map EcuadorPhoto:Ali Zifan CC 4.0 International no changes made
The large differences in landscapes have a major influence on the climate of Ecuador. The temperature of the sea water, sea currents and the distance to the ocean also influence the climate. Yet there is no real summer or winter in Ecuador. Usually the dry period is called summer and the wet period winter. Due to the variation in altitude and natural features, within a small area a number of microclimates can occur with very different temperatures, precipitation amounts and vegetation.
The coast has a humid, warm tropical climate all year round. The average daytime temperature is around 30°C, but from May to December it is much more pleasant on the north coast due to the cold Humboldt Gulf Stream. In the nights it cools down very little. Closer to the border with Peru, the influence of the Humboldt Gulf Stream is becoming increasingly noticeable. The coast of Ecuador also regularly suffers from "El Niño", a periodic warm ocean current in the Pacific. Temperatures then rise very high and heavy rainfall causes floods and landslides. The northern coastal area has a double rainy season with about 2000 mm of rainfall per year. To the south, precipitation is decreasing and near the border with Peru there is even a desert climate with sometimes only 100 mm of precipitation in one year.
In the Andean region there are large differences in climate. From July to September it is sunny and dry and the rainy season lasts from October to May with an average annual rainfall of 1520 mm. There is almost always a short dry period around Christmas! Depending on the height, between 500 and 2000 mm falls per year. Temperatures are also highly dependent on altitude. This allows the mercury to drop below freezing at night. The temperature in the basins between the mountains varies relatively little between 7 and 20°C. The high-altitude capital Quito, less than 25 km from the equator, has a "perpetual spring", although the nights are often very cold. This means that the temperature differences in summer and winter differ less than the differences that occur on one day. Above 4800 meters, there is a high mountain climate.
On the eastern slopes of the Andes and in the Amazon basin, it is humid and warm all year round with temperatures above 25°C. Most rain, 3000-4000 mm per year, falls in the months of April to June, usually in the form of heavy, short tropical showers. The least rain falls in August and from December to March.
---
Sources
Ecuador
Cambium
Luft, A. / Reishandboek Ecuador en de Galápagoseilanden
Elmar,
Rachowiecki, R. / Ecuador & the Galápagos islands
Lonely Planet
Renterghem, O. van / Ecuador : mensen, politiek, economie, cultuur
Koninklijk Instituut voor de Tropen/Novib
Vries, W. de / Ecuador, Galápagos
Gottmer

CIA - World Factbook

BBC - Country Profiles
Last updated August 2023
Copyright: Team
The World of Info