CHILE
Language


Cities in CHILE
Language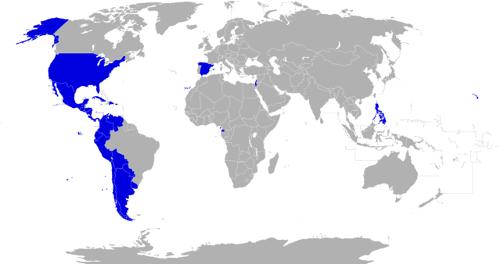 Spanish Language MapPhoto: Simonsyo CC 4.0 International no changes made
The language of instruction in Chile is Spanish. The Spanish word for language is "español", but in most countries in South America it is preferred to say "castellano". When asked "do you speak Spanish", they also say "Habla castellano" instead of "Habla español".
Chilean in South America differs most from the original Castillian. Chilean is a bit more difficult to understand than the other South American variants; it is pronounced a bit faster and it contains quite a few own Chilean words. The Chilean language is further interspersed with terms from English, German, Italian, Serbo-Croatian and various Indian languages.
The Mapuche language, "Mapudungun" is still important regionally. About half a million Mapuches still speak this native language. In the north, Aymara is spoken by the small Aymara population.
English
Spaans
Mapuche
down
abajo
nag
fishing hook
anzuelo
cùlí
dancing
bailar
pùrun
light
luz
lighuen
knee
rodilla
triló
drum
tambor
cultrún
elderly
viejo
cushe

---

English
Spaans
Aymara
calm
tranquilo
aliqa
wet
mojado
ch'araña
black
negro
ch'iyara
cleam
limpio
k'uma
rude
crudo
khallu
happy
alegre
kusi
fat
gordo
lik'í
luke
tibio
llaphi
almost
casi
niya
dry
seco
phara
ripe
maduro
puquta
---
Sources
Asal, S. / Chili
Lannoo.
Caistor, N. / Chili : mensen, politiek, economie, cultuur
Koninklijk Instituut voor de Tropen / Novib.
Castillo-Feliú, G.I. / Culture and customs of Chile
Greenwood Press.
Dwyer, C. / Chile
Chelsea House Publishers.
Filippo, H. / Chili
Elmar.

CIA - World Factbook.

BBC - Country Profiles.
Last updated April 2023
Copyright: Team
The World of Info