BULGARIA
Vacations and Sightseeing

Basic information
Official language
Bulgarian
Capital
Sofia
Area
110.879 km²
Population
6,896,663 (2021)
Currency
lev (BGN)
Web
.bg
Code.
BGR
Tel.
+359

Cities in BULGARIA
Vacations and Sightseeing
General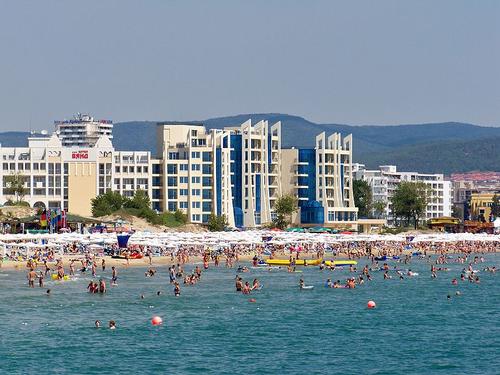 Sunny beach BulgariaPhoto: Infobvg CC 4.0 International no changes made
Bulgaria has been one of the fastest growing tourist destinations in Europe for several years now. Especially the long sandy beaches of the Black Sea, the ski destinations in the mountains and the capital Sofia have a lot to offer. But Bulgaria also has a lot of natural beauty, museums and archaeological sites, beautiful rural villages and cultural heritage, including medieval monasteries and churches.
The main tourist cities of Bulgaria are very different from each other. Sofia has grown into a large modern city since the late 19th century, second city Plovdiv has a small inner city and country houses in Byzantine style. The coastal town of Varna is especially popular with many tourists in summer, Veliko Tûrnovo still has medieval ruins. Ruse, located on the Danube, is special because of its Austrian-style architecture.
Remains of early civilizations, Thracians (including Kazanlûk, Starosel, Sveshtari), Romans (including Nikolopis ad Istrum, Varna), Bulgars (including Cherven, Pliska, Preslav, Velika Tûrnovo, Shumen) and Ottoman Turks (including Plovdiv, Sofia, Shumen) , can be found all over Bulgaria.
The very varied Bulgarian landscape is attractive to nature lovers. For example, the Black Sea coast not only has fantastic sandy beaches, but also high cliffs and swampy river estuaries. In addition to agricultural areas (for viticulture), the interior also has rugged mountain ranges, rivers, lakes, ravines, caves and swamps. Along the Danube you will find hills and fertile agricultural land.
Sofia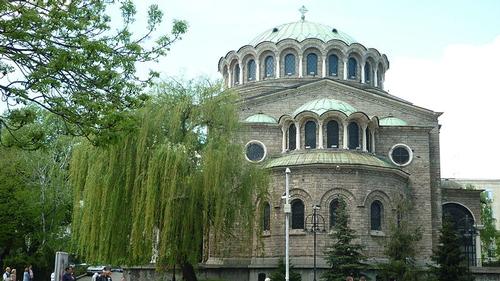 Sofia Sveta Nedelya BulgariaPhoto: Stolichanin CC 4.0 International no changes made
Sofia has no shortage of religious monuments. One of Sofia's most important churches is Sveta Nedelya Church, built around 1860 but seriously damaged by a bomb attack in 1925. Then rebuilt. The small Sveta Samardzhiiska Church, located in an underground shopping center, has remnants of 16th century frescoes and an 11th century nave. The Tsurkva na Sveti Nikolai Chudotvorets, better known as the 'Russian Church', has gilded domes, a portal with light green tiles and an interior with many beautiful frescoes and arabesques. The Hram-pametnik Aleksandûr Nevski (Aleksandûr Nevsky memorial church) has gold-covered and copper domes, a mosaic of Christ, a beautiful domed fresco, an iconostasis of marble, alabaster and onyx, a tsar's throne and in the crypt a beautiful icon gallery with the richest collection of religious artifacts from Bulgaria. Built in the Byzantine style in the 11th-13th centuries, Boyana Church is one of Bulgaria's best-known medieval buildings and is a UNESCO World Heritage Site. This church also contains beautiful frescoes.
Also worth a visit are the Banya Bashi Mosque and the Moorish-style Sofia Synagogue (1909), one of the largest synagogues in Europe with a candlestick weighing more than 2000 kg. There is also the Sveta Sofia Church, the most important and oldest Christian church in Sofia until the Middle Ages, and the Sveti Sedmochislenitsi Church, built as a mosque in the 16th century. Monasteries to visit near Sofia include the Dragalevtsi Monastery and the Saint George Monastery.
Sofia Archaeological MuseumPhoto: Ann Wuyts CC 2.0 Generic no changes made
Most of Sofia's museums are almost exclusively Bulgaria-oriented and each in their own way tell the fortunes of the once great Bulgarian empire and about the peoples that were successively important to Bulgaria: Thracians, Greeks, Romans, Turks and Bulgars. They also provide a fascinating insight into the Balkans and generally have low entrance fees.
The Archaeological Museum, located in Sofia's former great mosques, Buyuk Dzhamiya (1474), houses a wonderful collection of treasures from prehistoric, Thracian, Roman and Middle Ages. In the hills outside the city is the National History Museum, which includes a golden treasure from the Thracian era (4th century BC), icons and frescoes, medieval pottery production, traditional costumes from all over Bulgaria and a hall about Bulgaria under the Ottoman rule and a hall over Bulgaria after its liberation in 1878.
In addition to a large collection of (historical) machines, laboratory instruments, classic cars and motorcycles, the National Polytechnic Museum also has a collection of porcelain and (royal) tableware. The National Art Gallery contains frescoes by the most famous creator of religious art, Zahari Zograf. In addition, the museum has a collection that shows the development of Bulgarian art, including a room with impressionist art and a room with paintings made in the interwar period. The Natural History Museum's main themes are geology and the European animal world, with crystals and stones, stuffed and living animals. The National Gallery for Foreign Art has collections of primitive African art, Japanese engravings and paintings from the 19th and 20th centuries, among others. The Military Museum displays historical and current Bulgarian uniforms and war equipment. The Ivan Vazov House Museum honors the life and work (poems, novels, drama) of the best-loved Bulgarian writer, Ivan Vazov (1850-1921).
Various places of interest in Sofia:
Botanicheska Gradina: Botanical garden of Sofia University with Mediterranean flora and a rose garden
Mineralna Banya: public bath house with hot mineral springs
Tsentralni hali: Central Market Hall
Zhenski Pazar Market: largest open-air market
Southern Bulgaria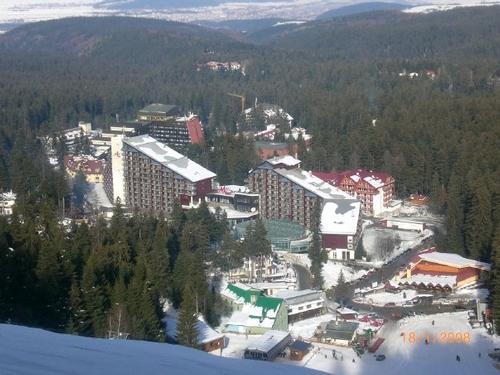 Borovets Winter sports BulgariaPhoto: Public domain
The mountainous southern Bulgaria is covered with snow for much of the year, and this part of Bulgaria is increasingly being discovered by all Europeans as an area for winter sports holidays. Some of the most famous winter sports areas are Borovets, Vitosha and Samokov, close to Sofia, Pamporovo in the Rhodopen Mountains and Bansko in the Pirin Mountains.
The rugged southern Bulgaria is also a great holiday destination for nature lovers. National parks with a very diverse flora and fauna can be found in the Rila and Pirin Mountains. Furthermore, there are many opportunities for cyclists and hikers and lovers of historic buildings can also indulge themselves, including two monasteries that are on the World Heritage List of UNESCO. Plovdiv is the second largest city in Bulgaria after Sofia, with Roman ruins, museums, mosques, churches and rebirth houses.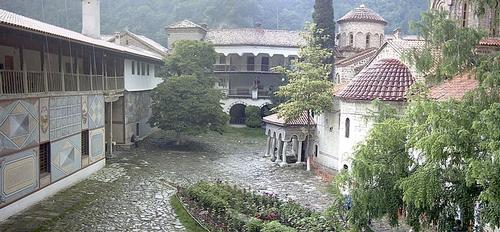 Bachkovo Monastery BulgariaPhoto: Nenko Lazarov CC 2.5 no changes made
Various places of interest in South Bulgaria:
Bachkovo Monastery: World Heritage Site founded in 1083, rebuilt after destruction in 17th century; beautiful architecture and frescoes; Sveti Nikola Church (1834)
Bansko: popular ski destination; historical centre; Sveta Troitsa Church; Neofit Rilskihuis (highlights the life and work of Rilski, language and educational expert, daily life 19th century, garden with modern sculptures) Velyanov House (19th century); Icon Museum (Bansko School of Painters); narrow gauge train ride through the mountains
Batak: Historical Museum (April uprising and massacre 1876); Sveta Nedelyakerk; Ethnographic Museum (traditional agricultural tools and lumberjacks)
Belitsa: dancing bear park
Blagoevgrad: university town; Historical Museum (archaeological collection, mineral collection, stuffed animals); Church of Anunciation
Borovets: popular ski destination; Bistritsa Palace (late 19th century hunting lodge King Ferdinand)
Dobursko: 17th century Teodor Tiron i Teodor Stratilat Church
Gotse Delchev: Historical Museum (3000-year-old Thracian clay figurines, Roman cart, 19th-century cowbells, regional costumes)
Haskovo: Eskimoskee (oldest mosque in the Balkans); Historical Museum (tobacco industry); Sveta Bogoroditsa Church
Kûrdzhali: 'Muslim' city; Historical Museum (archaeological, ethnographic, natural history collection, medieval iron and bronze crosses)
Kyustendil: health resort, Historical Museum (regional archaeological finds); Pautalia Baths (Bulgaria's second largest Roman bath complex); Sveta Bogoroditsa Church; remnants of the 4th century Hisarlûk fortress
Madzharovo nature reserve: very interesting for bird watchers
Melnik: Melnik wine; Historical Museum (terracotta wine jugs, regional costume); Kordopulov House (fine example of early rebirth architecture)
Mogilitsa: Agushevkonak (19th century example of fortified Rhodope country house); Uhlovitza cave (underground waterfalls and beautiful rock formations)
Momchilovtsi: snowboard park; Kormisosh (Bulgaria's largest hunting reserve)
Eastern Rhodopen Mountains: Skalite na Ustra (impressive rock formations); kamenite gûbi (stone mushrooms); prehistoric ruins Perperikon and Ahridos); Vkamenenata Gora (stone forest); Tatul (including Thracian ruin)
Pamporovo: popular ski destination
Pernik: bi-annual Kukeri and Survakari dance festival; mining museum
Pirin National Park: Bayuvi Dupki Dzhindzhiritsa Nature Reserve; Baikousheva Mura (Bulgaria's oldest tree, approx. 1300 years old); Popovo lake; Vihren (highest mountain Pirin Mountains 2914 m)
Plovdiv: Historical Museum (including weapons and uniforms); Imaret Mosque (1445); Dzhumaya Mosque (ca. 1364); Sveta Marinakerk (1783); Sveta Bogoroditsa Church; Konstantin i Elena Church; Roman stadium; Roman theater (2nd century AD); Archaeological Museum; Natural History Museum (stuffed animals, aquarium, minerals, fossils); Municipal Art Museum (Bulgarian and international art); Apteka Hipokrat (museum pharmacy); Icon Museum; State Museum of Art (19th-century and 20th-century Bulgarian paintings)
Rila National Park: largest national park in Bulgaria with Musala (highest mountain Bulgarian Balkan 2925 m), Shtrashno (mountain lake at 2465 m altitude), Parangalitsa (UNESCO biosphere reserve), Seven Lakes hiking trail along seven glacial lakes), wolves, bears, wild boars and about 60 endemic plant species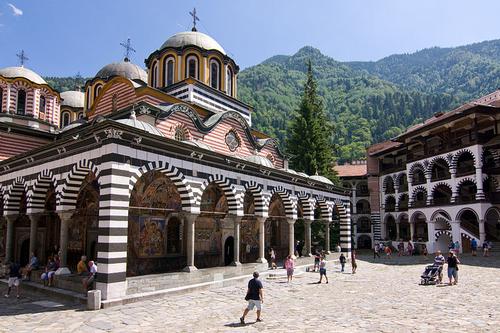 Rila Monastery BulgariaPhoto: Raggatt2000 CC 3.0 Unported no changes made
Rila Monastery: World Heritage Site originally 10th century, later destroyed and rebuilt several times (with beautiful frescoes and iconostasis, Nativity Church, largest monastery church in Bulgaria, relic (right hand) of Saint Ivan, tomb of Tsar Boris, farm museum, Hrelo tower (oldest preserved monastery building from 1334)
Rozhen Monastery: originally 1220, restored after decay in 1597; Kiril i Metodiikerk
Samokov: Bairaklim Mosque; Historical Museum (including two working replicas of medieval forges)
Sandanski: Archaeological Museum
Shiroka Lûka: Ascension Church (1834); Ethnographic Museum; Kukeri Carnival; international gaida festival (Bulgarian bagpipes)
Smolyan: Historical Museum (prehistoric, Thracian and Ottoman objects); Art museum; modern Sveti Vaserion Smoly church; planetarium
Velingrad: health resort with many warm water baths; Historical Museum (regional costumes, jewelery, painted Easter eggs
Western Rhodopen Mountains: many species of bats; Yagodina cave; Devil's Throat Cave; Trigrad gorge; Buzhnov Gorge
Zlatograd: Ethnographic Museum Complex (craft workshops, Ethnographic Museum, Education Museum, Watermill Museum)
Central Bulgaria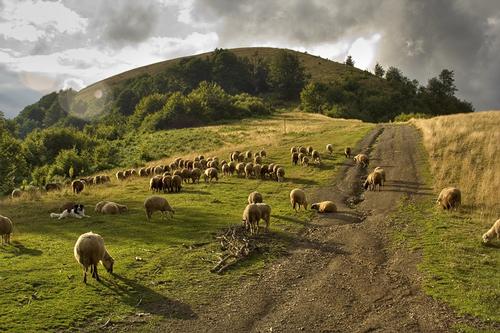 Stara Planina BulgariaPhoto: Evgeni Dinev CC 2.0 Generic no changes made
The central part of Bulgaria, divided in two by the Stara Planina or Balkan Mountains, has been of great importance to the turbulent modern history and the people and events that shaped Bulgaria as a nation. Memories of this past can be found in abundance in beautiful towns such as Lovech and Koprivshtitsa, filled with national rebirth architecture, and sites of important military victories, such as the Battle of the Shipka Pass. Stunning artistic achievements, including the vibrant frescoes of the Dryanovo and Troyan monasteries and an incredibly detailed masterpiece of the 19th-century Tryavna school of woodcarvers, attest to the vitality of Bulgarian traditions. The numerous house museums honor the spirit and artifacts of the freedom fighters and other eminent Bulgarians of yesteryear.
The natural beauty of Central Bulgaria can be experienced through hiking, climbing, caving, horseback riding and other outdoor activities, and is all about the presence of waterfalls, cliffs, caves and rivers. But the lowlands also beckon to tourists with romantic locations such as the Rose Valley (Sredna Gora) near Kazanlak, which itself was long known for its rose oil production.
For many visitors, the essence of Central Bulgaria comes together in one place: Veliko Tarnovo, the magnificent former capital of the Bulgarian Tsars, built along rolling hills and bisected by a river, with one of the most beautiful fortresses in Europe overlooking the city .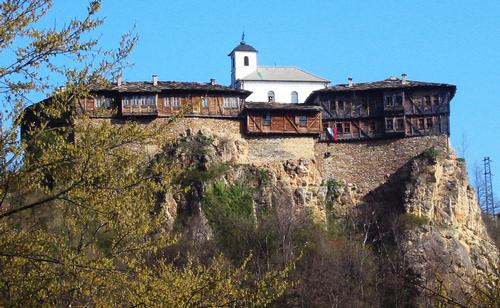 Glozhene Monastery BulgariaPhoto: Grojen in the public domain
Bulgaria is a real 'monastic country', and that also applies to Central Bulgaria.
The beautifully situated Glozhene Monastery, high above the Vit Valley, is dedicated to St. George the Conqueror and was founded in 1224. The monastery complex also houses a Historical Museum. The Troyan Monastery, one of the largest in Bulgaria, was founded in 1600, but the accompanying Sveta Bogoroditsa Church was not completed until 1835. Near the monastery is the Hiding Museum, where the famous Bulgarian revolutionary Vasil Levski (1837-1873) hid from the Turks. Founded in the 14th century by Teodosi Tûrnovski and located to the south of Veliko Tûrnovo, the Kilifarevo Monastery was regularly destroyed and rebuilt in Ottoman times. The accompanying church dates from the mid-18th century and is dedicated to Saint Demetrius of Salonika. The Preobrazhenski Monastery, located to the north of Veliko Tûrnovo, also dates back to the 14th century and was destroyed in Ottoman times. Most of the icons and murals were created by the famous Bulgarian icon painter Zahai Zograf (1810-1853). The Sveta Troitsa Monastery, also north of Veliko Tûrnovo and currently a nunnery, is located on the site of an 11th century monastery. The church, built in 1847, was destroyed in an earthquake in 1913. The Kûpinovo Monastery (originally 13th century) was rebuilt after a number of Ottoman destruction in 1825, the church dates back to 1835.
Special religious buildings can be found in Lovech (Church of the Ascension from 1834), Tryavna (Archangel Michael's Church from 1821), Veliko Tûrnovo (Kiril i Metodii Church from 1860; Sveti Nikola Church; in the Tsarevets fortress the Sveti Dimitûr Church, the Petûr i Pavel Church and the Patriarchate Church; Church of the 40 Martyrs; Church of the Assumption of Mary from 1923; Petûr i Pavel Church from the 13th century; Sveti George Church from 1616; Sveti Dimitûr Church), Arbanasi (Archangels Michael and Gabriel Church from the 17th century; Nativity Church from the 17th century); Elena (Ascension Church; Sveti Nikola Church), Zheravna (Sveti Nikola Church), Yambol (Ebu Bekir Mosque from 1413), Shipka (Memorial Church from 1902), Karlovo (Sveta Bogoroditsa Church from 1851), Koprivshtitsa (Sveta Bogoroditsa Church from 1817).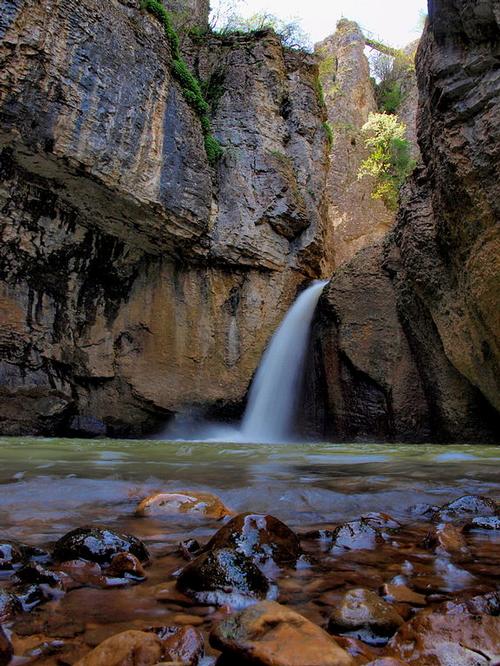 Momin Skok Waterfall BulgariaPhoto: Laveol CC 4.0 International no changes made
Various places of interest in Central Bulgaria:
Arbanasi: Konstantslievhuis
Bozhentsi: History museum (utensils local farmers and daily life); Doncho Popamuseum (rich wool merchant's daily life); Opoe Rayna Museum (everyday life of simple people)
Dryanovo: Historical Museum (architect Kolyo Ficheto (1800-1881); Bacho Kirogrot
Elena: Ethnographic Museum (carpets and clothing); Ilarion Makariopolski House
Emen Gap: hiking trail; Momin Skok waterfall; nature reserve
Gabrovo: House of Humor and Satire (funny paintings and inventions, clown suits, cartoons); Museum of Education (development of Bulgarian education); Historical Museum (local history 13th century to 1950); Etûra complex (open-air museum with old crafts); Detchkohuis
Hisarya: Historical Museum (Thracian and Roman finds)
Karlovo: Historical Museum (prehistoric finds, costumes, weapons); Vasil Levski Museum (revolutionary 1837-1873)
Kazanlûk: Iskra Museum (silver and gold Thracian objects); Tomb (replica of Thacian tomb); Ethnographic Complex Kulata (restored 19th century houses); Rose Oil Industry Museum; Rose Festival (first weekend in June); Tundzhadal (Valley of the Thracian Kings with many burial mounds or 'mogili')
Koprivshtitsa: Debelyanov House, Kableshkov House, Lyutov House, Karavelov House, Benkovsky House, Oslekov House; Bridge of the First Shot (April Uprising 1876)
Kotel: Ethnographic Museum (carpets; decor style late 19th century); Carpet Exposition; Pantheon (educationalist Petûr Beron (1799-1871), revolutionary Georgi Rakovski (1821-1867)
Lovech: Ethnographic Museum (19th century European furniture; Ottoman floor cushions and low tables); Vasil Levski Museum (rebel leader Vasil levski (1837-1873)
Central Balkan National Park: nine reserves (bears, wolves, wild cats, nine endemic plant species)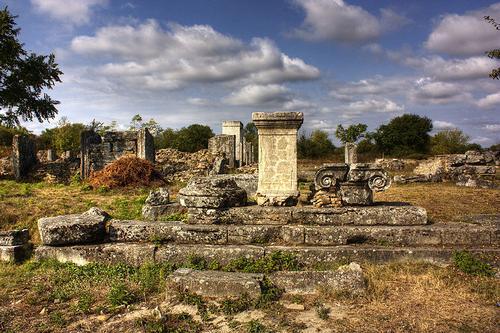 Nikopolis ad Istrum BulgariaPhoto: Klearchos Kapoutsis CC 2.0 Generic no changes made
Nikopolis ad Istrum (remains of a Roman city)
Shipka: Freedom monument and museum (-Sliven: Hadzhi Dimitûrmuseum (insurgent against the Turks (1840-1868)); Historical Museum; Blue Rocks
Sopot: Ivan Vazov Museum (writer 1850-1922)
Stara Zagora: Neolitni zhilishta (Neolithic huts and museum); Roman theater; Museum for 19th-century city life (including period furniture 19th century)
Starosel: Thracian Tombs
Teteven: Historical Museum (archaeological finds from Neolithic and Roman times; weapons from the Middle Ages to the 19th century; 19th century costumes)
Troyan: Museum of Traditional Crafts (overview of local ceramics industry; wood carvings; 18th and 19th century fur hats from 18th and 19th centuries, 'kalpakchiite)
Tryavna: Shkoloto (former school building, now art museum including antique clocks); Museum of Icon Painting (19th century icons from School of Tryavna); Raikov House, Daskalov House, Slaveykov House, Angel Kûnchev House
Velik Tûrnovo: Samovodska Charshiya (bazaar); Kunstmuseum (Bulgarian paintings 19th and 20th century); Archaeological Museum (including classical columns and busts); Museum of the National Rebirth and the Legislative Assembly (including revolt against the Turks); Museum of Modern History (Balkan Wars and 1st World War); Tsarevets (restored fortress)
Zheravna: Sava Filaretov House, Chorbadzhi House, Yovkov House
Northern Bulgaria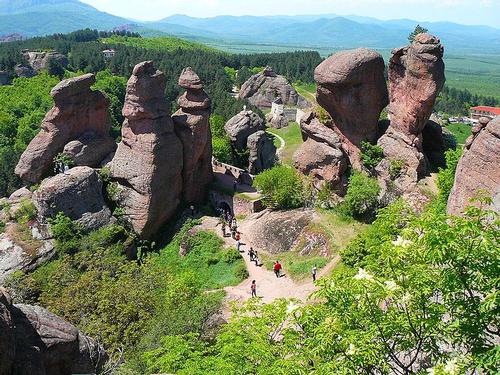 Belogradchik BulgariaPhoto: Elena Chochkova CC 3.0 Unported no changes made
Northern Bulgaria is not as spectacular from a tourist point of view as other parts of Bulgaria, but it offers a varied landscape with dense pine forests, low hills in the Danube valley and especially grille mountain formations. So plenty of enjoyment for nature lovers and hikers, but also for beautiful architecture one can go here in cities such as Shumen and Ruse.
Just outside Rabisha is the limestone Magura Cave, with prehistoric rock carvings from the 2nd century BC. and mineral formations. The jagged rock formations of Belogradchik used to form a natural fortress and were used as such by the Romans, Bulgars and during the Ottoman occupation. The landscape of the Vrachanski Balkans consists of meadows, wooded valleys and the impressive Vratsata gorge. The spectacular Ledenika cave can also be found in this area. The Iskûr gorge is also more than worth a visit with special rock formations such as the Katina pyramids and the steep Lakatnik rocks. here are also a number of pilgrimage sites, including the Cherepish Monastery and the Sedemte Prestola Monastery. The valley of the Rusenski Lom River is a habitat for many animal species, but it also contains a rock monastery and a fortress.
Various places of interest in Northern Bulgaria: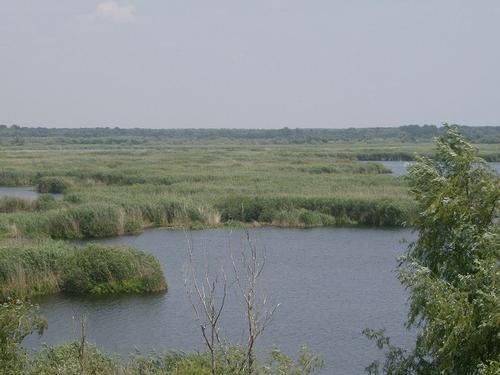 Srebarna BulgariaPhoto: Izvora in the public domain
Srebarna is a UNESCO biosphere reserve with a particularly varied bird population.
Belogradchik: Natural History Museum (stuffed birds and mammals from Northern Bulgaria
Berkovitsa: health resort; Ivan Vazov Museum (famous Bulgarian writer, 1850-1921); Ethnographic Museum (local pottery)
Chiprovtsi: Municipal Museum (carpets or 'kilims', woven jewelry)
Madara: Rider of Madara (medieval relief on rock face)
Montana: Historical Museum (costumes of the Karakachani, nomadic herders)
Pleven: mausoleum (Russian victims of Russo-Turkish War, 1877-1878); Liberation Museum (siege Russo-Turkish War, weapons and uniforms); Historical Museum (weapons, archaeological finds Roman times); Skobelev Museum (Russian generals); Panorama (paintings about the occupation)
Ruse: Sveta Troitska Church from 1764; Ploshtad Svoboda (square with liberation monument, Drama theater and statue of Mercury); Regional History Museum (prehistory, Roman times, Middle Ages, Belle Époque, wedding attire); Sexanginta Prista (Roman harbor ruins); Zahari Stoyanov Museum (Bulgarian freedom fighter); Transport museum (railway history Ruse); Pantheon of Heroes of the National Rebirth
Rusenski Lom Valley: Sveti Dimitûr Besarbovski and Ivanovo rock monasteries; Chervenfort ruins
Shumen: Historical Museum (including medieval finds); Pancho Vladigerov House, Panaiot Volov House, Lajos Kossuth Museum (Hungarian nationalist leader); Tombul Mosque (largest mosque in Bulgaria); Monument to the Founders of the Bulgarian State; Shumenfort
Silistra: medieval ruins; Archaeological Museum (city history, Roman tombstones, stone sundial 1st century); Medzhiditabiyafort
Sveshtari: Sveshtari Mogili (burial mounds, including Ginina Mogila, a 3rd century tomb and also a UNESCO World Heritage Site); Demir Babab Tekke (16th-century Muslim saint's grave)
Svishtov: Sveta Troitska Church from 1867; Aleko Konstantinov Church
Veliki Preslav: Archaeological Museum (medieval pottery, coins and gold jewelry)
Vidin: Historical Museum (floor mosaics and marble statues from the Roman era); Baba Vida (13th century fortress); Ethnographic Museum (including Vlach clothing); Sveti Panteleimon (17th century church)
Black Sea coast
For most holidaymakers who have chosen Bulgaria's Black Sea coast as their destination, the warm summers, beautiful sandy beaches and clear blue water are the main attractions. However, it is also a good place to be a little further from the tourist centers. Fishing villages, unspoiled coastlines, nature reserves and historic cities such as Varna, Nesebûr and Sozopol offer something for everyone. Sunny Beach (Slûnchev Bryag) is an ever-expanding seaside resort and currently the largest seaside resort in Bulgaria, ideal for all-inclusive family holidays on the approx. 8 km long beach. Golden Sands (Zlatni Pyasâtsi) is the second largest resort with a beach length of about 3.5 km and many hotels. Not far from Golden Sands is the Aladzha Monastery, dug into the limestone cliffs in the 6th century. The long, clean and safe beach of Albena is an ideal starting point for many water sports Albena is a bit quieter than the neighboring beach Golden Sands because the holiday accommodations are more spread out.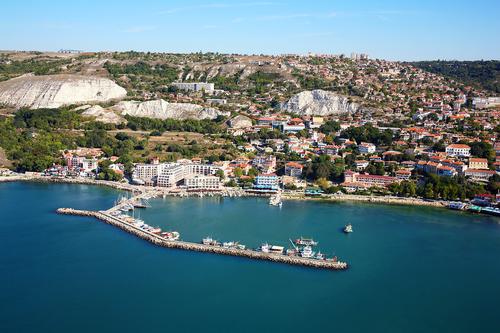 Balchik BulgariaPhoto: Boby Dimitrov CC 2.0 Generic no changes made
Various sights Black Sea coast:
Ahtopol: seaside resort; Ascension chapel from 1796
Balchik: National Rebirth Complex (replica of the first Bulgarian school); Historical Museum (history Balchik); Ethnographic Museum (costumes, old crafts); Kunstmuseum (20th century paintings); Palace of Queen Marie (including a very large collection of cacti)
Brushlyan: cityscape
Bûlgari: fire dancing on June 3-4
Burgas: Ethnographic Museum (including traditional costumes); Kiril i Metodiikerk; Armenian church from 1853; Natural History Museum (including minerals and stuffed mammals); Archaeological Museum (finds, Stone Age, Bronze Age and Greek Rule); Art museum (including 18th and 19th century icons); Lake Poda (rare plants and birds)
Devnya: Pobiti Kamûni ('stone forest' with approx. 2000 stone columns)
Dobrich: Archaeological Museum (gold jewelry 5th century BC); Ethnographic Museum (costumes, embroidery, farm garden); Kunstmuseum (Bulgarian painters); Stariya Dobrich (workshops old crafts)
Kavarna: Ethnographic Museum (daily life 19th century); Art museum (including seascapes); Maritime Museum (sea trade); Historical Museum (recent city history)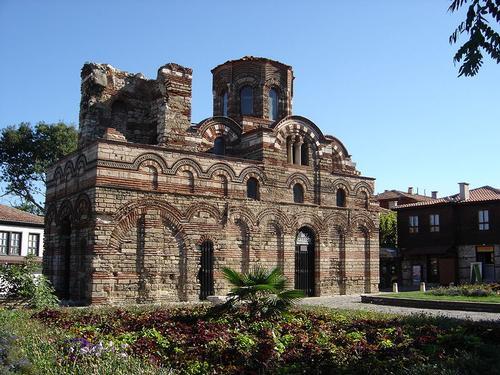 Nessebur Pantocrator BulgariaPhoto: Gérard Janot CC 3.0 Unported no changes made
Nesebûr: Archaeological Museum (city history 2nd-1st millennium BC to Middle Ages); Christ Pantocrator Church; New Metropolitan Church; Johannes Aliturgetos Church; ruin of the Old Metropolitan Church; Sveta Paraskeva Church; Sveti Spa Church from the 17th century; Ethnographic Museum including traditional costumes)
Pomorie: Salt Museum; 17th century Transfiguration Church
Ropotamo Nature Reserve: sand dunes, rare plants and flowers
Sozopol: cityscape; Archaeological Museum (city history); Southern Fortress and Tower Museum; Apollonia Art Festival in early September; Art museum (including seascapes); Sveta Bogoroditsa Church 15th century; Sveti Zosim Church
Strandzha tour: five reserves with rare plants and endangered species
Sveti Konstantin: small seaside resort; Konstantin and Elena Monastery
Tsarevo: Uspenie Bogorodichno Church from 1820
Varna: Archaeological Museum (many gold objects from the necropolis found in 1972, dated 4400-4200 BC, Thracian and Roman objects); Ascension Cathedral (Bulgaria's second largest Christian church); Ascension Church from 1602; Sveti Atanas Church from 1838; Armenian church from 1842; Ethnographic Museum (including farm, traditional costumes); ruins of Roman baths; City history museum (period late 18th century up to around 1950); Medical Museum (skulls, skeletons, instruments); Naval Museum (including torpedo boat from the First Balkan War, navigated the Black Sea from the 6th century BC 1921 and further artillery, helicopters); Municipal Art Museum (Bulgarian painting since the early 20th century); Marine park (aquarium, planetarium, dolphinarium, terrarium, zoo); Evksinograd Palace from 1886
Yailata: cave houses; necropolis, ruins medieval castle
---
Sources
Berg, H. van den / Reis-handboek voor Bulgarije
Elmar
Detrez, R. / Bulgarije: mensen, politiek, economie, cultuur, milieu
Koninklijk Instituut voor de Tropen
Resnick, A. / Bulgaria
Childrens Press

CIA - World Factbook

BBC - Country Profiles
Last updated August 2023
Copyright: Team
The World of Info