BOLIVIA


Geography and Landscape
Geography
Bolivia (officially: República de Bolivia) is a presidential republic in South America. The country is completely surrounded by other countries. Bolivia is bordered to the north and east by Brazil (3400 km), Paraguay (750 km) to the southeast, Argentina (832 km) to the south and Chile (861 km) and Peru (900 km) to the west.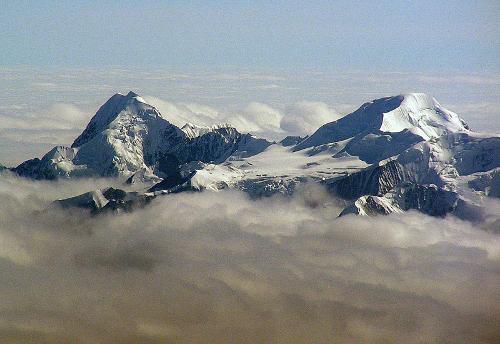 Cordillera Real BoliviaPhoto: Dick Culbert CC 2.0 Generic no changes made
Bolivia used to be twice as big and it even bordered the Pacific Ocean. Over time, the country has lost a lot of territory to neighboring countries. Bolivia is the fifth largest country in South America in terms of area and measures 1,098,581 km2. It is therefore about the same size as Spain and France combined.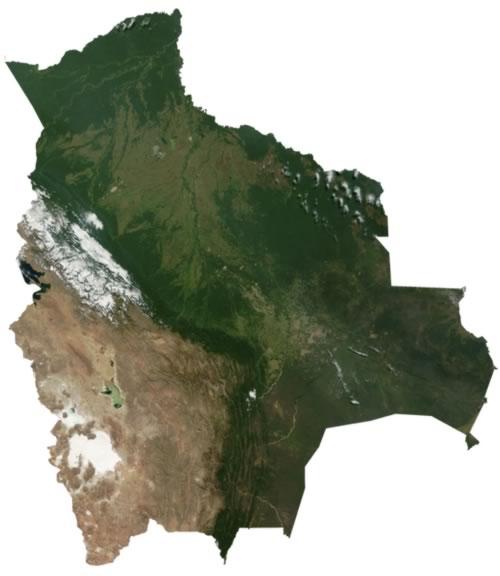 Bolivia Satellite photoPhoto: Public domain
Landscape
Bolivia is located in the center of the Andes Mountains that run from north to south across the South American continent. The Bolivian Andes Mountains consist of two parallel mountain ranges. In between is a plateau (Altiplano) at an altitude of about 4000 meters. The eastern mountain range is called the Cordillera Oriental and there are peaks up to 6,500 meters. The western mountain range is called Cordillera Occidental and is characterized by a lot of volcanic activity and dry desert areas. Along the border with Chile are rows of volcanoes with the highest mountain / volcano in Bolivia, the Sajama (6700 meters). The lowest point in Bolivia is at the Rio Paraguay (90 meters above sea level).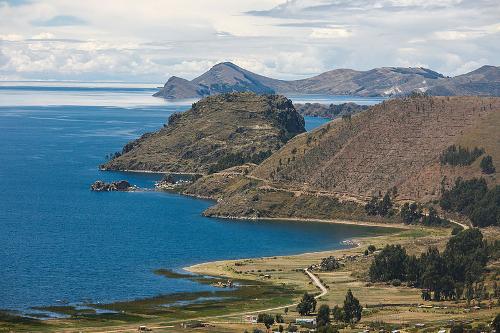 Lake Titicaca BoliviaPhoto: Alex Promois CC 2.0 Generic no changes made
The plateau (Altiplano) is bordered in the north by Lake Titicaca and in the southwest by an area of deserts and salt lakes. Lake Titicaca is 3810 meters above sea level, has an area of 8800 km2, is up to 400 meters deep and is the highest navigable lake in the world. The border with Peru runs straight through the lake. The Altiplano has been located below sea level in a very distant past. Evidence of this is the many fossil shells, corals and sea creatures that have been found. In the east are medium-high mountain ranges with deep valleys carved by rivers (yungas).
To the south of this, that area changes into a valley area (valles) that is still at an altitude of 2000 to 3000 meters. The northern part of the lowland is part of the Amazon basin. Here we find rainforest (Oriente) that changes to the south into a savannah-like landscape with grassy plains (pampas). In the southwest there are extensive saltpetre deserts and salt marshes.
---
Sources
Bijl, Y. van der / Reishandboek Bolivia
Elmar
Lindert, P. van / Bolivia : mensen, politiek, economie, cultuur
Novib
Schimmel, K. / Bolivia
Chelsea House Publishers
Sprey, J. / Bolivia
Gottmer
Te gast in Bolivia
Informatie Verre Reizen

CIA - World Factbook

BBC - Country Profiles
Last updated May 2023
Copyright: Team
The World of Info