BANGLADESH
Vacations and Sightseeing

Basic information
Official language
Bengali
Capital
Dhaka
Area
143.998 km²
Population
166,303,498 (2021)
Currency
taka (BDT)
Web
.bd
Code.
BGD
Tel.
+880

Vacations and Sightseeing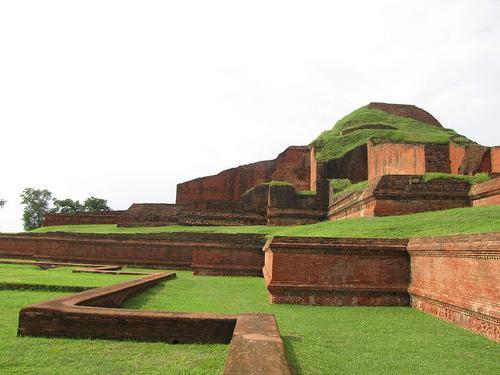 Somapura Mahavihara World Heritage BangladeshPhoto: Man CC 2.0 Generic no changes made
Bangladesh, also known as 'Land of the rivers', is a relatively unknown holiday destination with, despite the poverty, a friendly and cordial population and also with beautiful beaches, including the longest natural beach in the world, a fascinating fauna including the Bengal tiger, the largest mangrove forests in the world, ancient archaeological sites and the houses of the Maharajas. Bangladesh has a tropical climate with a dry winter from October to March, a warm, humid summer from March to June and the rainy season (monsoons) from June to October, with floods and cyclones. In winter the minimums are around 21 °C, in summer the maximums are around 35 °C.
The capital Dhaka nowadays has large shopping areas and luxury hotels, tourists can use more than 700,000 rickshaws. The Bangladesh National Museum is also located in Dhaka, as is the Liberation War Museum, a large zoo and Baitul Mukarram, the largest temple in the city. The 12th century Dhakeshwari Temple, one of more than 700 mosques and historic buildings in Dhaka, is one of the most famous Hindu temples in Bangladesh and is also one of the most important religious sites for Hindus. Also interesting are a 7-domed mosque from the 11th century, the Bara Katra Palace from 1644 and the Fort of Aurangabad (Lal Bagh Fort) from 1678.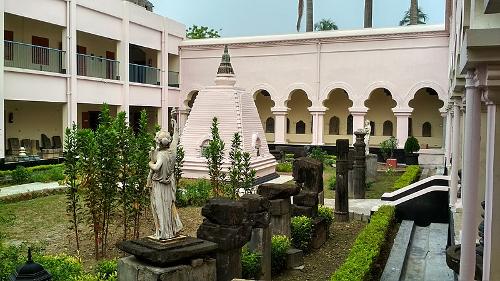 Varendra Research Museum BangladeshPhoto: Masum-al-hasan CC 4.0 International no changes made
Rajshari is home to the popular Vanrendra Research Museum, with personal collections from some maharajas. Located partly in India, Sundarbans Park features the largest mangrove forests in the world and is therefore included in the UNESCO World Heritage List. The list also includes the mosque town of Bagerhat and the ruins of Somapura Vihara, a Buddhist monastery near Paharpur. A number of beaches can be found in the southeast of Bangladesh, including in the city of Cox's Bazar and on the coral island of Saint Martin.
Bangladesh is a true paradise for tourists who love arts and crafts such as carvings, brass, gold and silver jewelery, cotton and silk, which can be found at Chandni Chawk Bazar, the well-known market in Dhaka's old town, among others.
---
Sources
Beurden, J. van / Bangladesh : mensen, politiek, economie, cultuur, milieu
Koninklijk Instituut voor de Tropen
Brace, S. / Bangladesh
Thomson Learning
McAdam, M. / Bangladesh
Lonely Planet
Whyte, M. / Bangladesh
Marshall Cavendish

CIA - World Factbook

BBC - Country Profiles
Last updated November 2023
Copyright: Team
The World of Info