BANGLADESH
Climate and Weather


Climate and Weather
General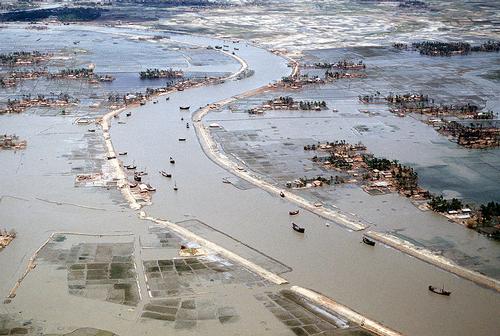 Bangladesh FloodsPhoto: Public domain
Bangladesh has a tropical climate with very mild winters (October-March), hot, humid summers (March-June) and a humid warm monsoon period (June-October).
In the monsoon season, floods and cyclones often cause natural disasters. Causes for this include the location on the very troubled Bay of Bengal and the deforestation of the Himalayas. Due to the expected rise in sea levels, low-lying Bangladesh will suffer even more from flooding.
Cyclones with wind speeds above 150 km per hour occur mainly in the coastal area and can cause a lot of damage. Drought can also have unpleasant consequences. In the dry season (November-April) there can be so little rainfall that the (rice) harvest is seriously affected. Also in the rainy months (May-October) there may be too little rainfall.
The average annual precipitation is 1400 mm in the "dry" Rajshahi region and more than 5000 mm in the Sylhet region. Three quarters of the rain falls between June and September and the humidity of about 90% makes it almost unbearable for humans.
The coldest month is January with temperatures below 20 °C and the hottest month is April with temperatures as high as 40 °C. The best time to visit Bangladesh is between October and February.
In January 2007, a colder record was set with a minimum temperature of 5 ° C. 130 people died as a result of the cold.
According to the local population, Bangladesh has six seasons:
Basanto (spring) February to April
Grishma (summer) April to June
Barsha (rain) June to August
Sharat (fall) August to October
Hemanto (fog) October to December
Sheet (winter) December to February
Climate data Dhaka
month
Temerature °C
Rainfalll
max.
min.
mm
January
25,5
12,7
12
February
27,7
15,0
31
march
32,7
20,0
63
April
33,3
23,3
139
May
32,7
24,4
254
June
32,2
25,5
330
July
31,6
26,1
336
August
31,1
26,1
342
September
32,2
26,1
234
October
31,6
23,8
139
November
28,8
20,0
31
December
26,1
13,8
12
Monsoon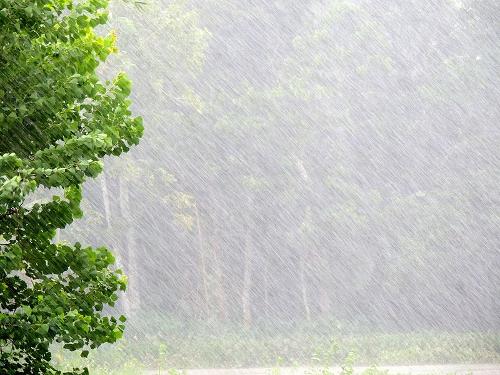 Bangladesh Monsoon downpoursPhoto: Mayeenul Tslam CC 4.0 International no changes made
The basis for the monsoon period in Bangladesh is laid over Central Asia in winter. A strong high pressure area then creates a northeasterly to northerly wind, creating a period with relatively low temperatures. In February, the temperature in Bangladesh rises rapidly again and a very powerful low-pressure area is created in the west that will determine the wind direction. In Bangladesh the wind then changes from northeast to southwest in the months of May and June. This brings in warm moist ocean air with a lot of rainfall as a result, especially in the higher parts of Bangladesh.
The monsoons invariably start around June 15 in the southwest and around June 18 in the northeast. Although heavy showers don't fall for more than a few hours a day (especially in the afternoon and early evening), streets often turn into churning rivers. The rain showers are almost always accompanied by thunderstorms, tornadoes and gusts of wind. Nighttime temperatures are around 26 °C during monsoons and around 31 °C during the day. The average humidity is between 80 and 85%.
After the monsoons, the climate from October to February is very pleasant with little rainfall and a lot of sun. The night temperature drops to about 10 °C. From mid-March, the humidity increases again and it becomes more unpleasant for humans and animals, with temperatures in April and May exceeding 40 °C on the low plains in the south. The seawater in the Bay of Bengal will then have a temperature of 28 degrees.
During the three monsoon months there is between 1000 and 1500 millimeters of rainfall. Much more falls in the Khasis Mountains just north of Bangladesh. The Indian places Mawsynram and Cherrapunji are the wettest places in the world. Annually in Mawsynram 11887 millimeters of rain falls and in Cherrapunji at 1300 meters altitude 11440 millimeters of rain. In 1861, 22,987 millimeters of rain fell in Cherrapunji, of which 9299 millimeters in July alone. Also in other places in the northeast of India enormous amounts of up to 6000 millimeters fall annually. It is therefore logical that Bangladesh has to deal with floods so often. Bangladesh is intersected by rivers from north to south. These drain all rainwater to the Bay of Bengal. The rivers flood annually between May and October. Only one quarter of the country remains flood-free during the wet season.
The combination of low plains, suddenly rising landscape and a wet south-westerly wind are largely responsible for the heavy rising rains.
During the monsoons the sun shines very little, in August only about 60 hours. The capital Dhaka has an average of just over 2000 hours of sunshine per year.
In addition to flooding, Bangladesh is also sometimes hit by a hurricane, especially in the periods from 1 May to mid-June and from 1 September to 1 December.
---
Sources
Beurden, J. van / Bangladesh : mensen, politiek, economie, cultuur, milieu
Koninklijk Instituut voor de Tropen
Brace, S. / Bangladesh
Thomson Learning
McAdam, M. / Bangladesh
Lonely Planet
Whyte, M. / Bangladesh
Marshall Cavendish

CIA - World Factbook

BBC - Country Profiles
Last updated April 2023
Copyright: Team
The World of Info