THAILAND
Society


Cities in THAILAND
Society
State structure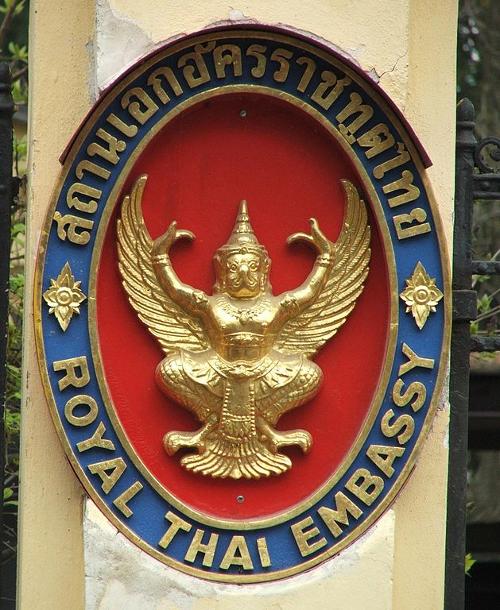 Coat of arms ThailandPhoto: Krokodyl CC 3.0 Unported no changes made
Unlike countries like Myanmar (Burma), Laos, Cambodia and Malaysia, Thailand has never belonged to a European power.
Thailand has been a constitutional monarchy since 1932, where kingship still plays an important role. The king is the head of state and the commander of the armed forces. He hardly ever gets involved in day-to-day political affairs, but the government cannot make decisions that are against the king. The current King Bhumibol Adulyadej (Rama IX) was crowned king on June 9, 1946, making it the longest reigning monarch in the world. The most influential function is that of the prime minister, who has far-reaching powers. Executive power rests with the prime minister and the cabinet. The prime minister has not been appointed since 1992, but chosen by the people.
The parliament consists of a Senate or House of Lords with 270 appointed senators and a House of Representatives or House of Commons with 360 seats. The parliament, elected once every four years, traditionally had little powers, but a constitutional amendment in June 1992 expanded its power: the prime minister must be an elected member of parliament and the right to interpellation and to table motions was expanded. In practice, however, the military play a decisive role in political life. The last coup took place in 1991 and a demonstration for more democracy was bloody suppressed by the military in May 1992.
In September 1997 a new Constitution was passed, the most democratic and liberal in the country's history. He provides, among other things, that citizens become more involved in the political system and that politicians are discouraged from buying their vote, as was customary. Senate members are now directly elected through a district system and are no longer appointed by the king on the nomination of the prime minister. The voting age was lowered from twenty to eighteen in 1995.
Corruption, protection and vote-making are still part of Thailand's political system, but most sectors, including the military, seem to be committed to stability and democracy. For the current political situation see chapter history.
Administrative division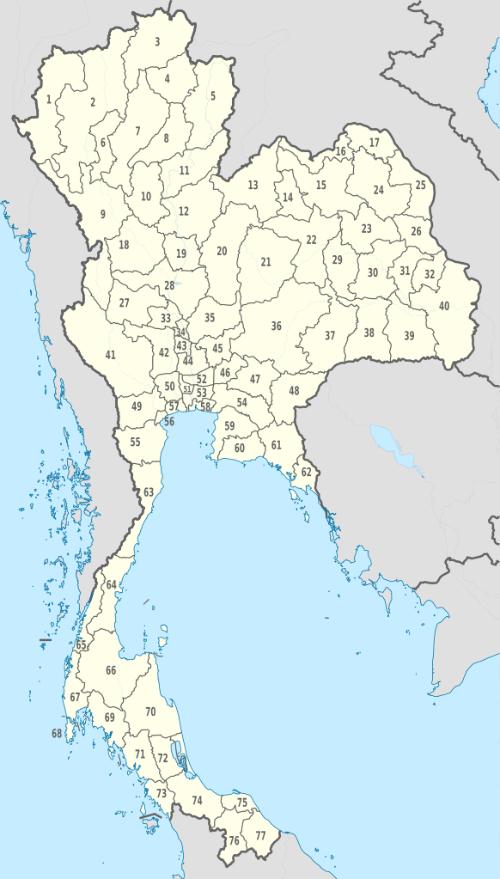 Administrative division of ThailandPhoto: TUBS CC 3.0 Unported no changes made
Thailand is administratively divided into 73 provinces or "changwats", which are administered by a governor. The provinces are named after the provincial capital.
The governors are appointed by the Ministry of Foreign Affairs.
The provinces are divided into more than 600 districts or "amphoes" and further into nearly 5000 municipalities or "tambons". Most tambons consist of a number of villages or "meobans", each with a chosen village chief or "kamnan".
| | | |
| --- | --- | --- |
| province | population | area |
| Amnat Charoen | 378.000 | 3.161 km2 |
| Ang Thong | 285.000 | 968 km2 |
| Buri Ram | 1.580.000 | 10.322 km2 |
| Chachoengso | 671.000 | 5.351 km2 |
| Chai Nat | 381.000 | 2.470 km2 |
| Chaiyaphum | 1.162.000 | 12.778 km2 |
| Chanthaburi | 503.000 | 6.338 km2 |
| Chiang Mai | 1.563.000 | 20.107 km2 |
| Chon Buri | 1.081.000 | 4.363 km2 |
| Chumphon | 473.000 | 6.009 km2 |
| Kalasin | 976.000 | 6.947 km2 |
| Kamphaeng Phet | 712.000 | 8.607 km2 |
| Kanchanaburi | 778.000 | 19.483 km2 |
| Khon Kaen | 1.834.000 | 10.886 km2 |
| Krabi | 355.000 | 4.708 km2 |
| Krung Thep | 6.710.000 | 1.565 km2 |
| Lampang | 827.000 | 12.534 km2 |
| Lamphun | 437.000 | 4.506 km2 |
| Loei | 641.000 | 11.425 km2 |
| Lop Buri | 789.000 | 6.200 km2 |
| Mae Hong Son | 222.000 | 12.681 km2 |
| Maha Sarakham | 1.000.000 | 5.292 km2 |
| Mukdahan | 329.000 | 4.340 km2 |
| Nakhon Nayok | 256.000 | 2.122 km2 |
| Nakhon Pathom | 859.000 | 2.168 km2 |
| Nakhon Phanom | 726.000 | 5.513 km2 |
| Nakhon Ratchasima | 2.707.000 | 20.494 km2 |
| Nakhon Sawan | 1.156.000 | 9.598 km2 |
| Nakhon Si Thammarat | 1.611.000 | 9.942 km2 |
| Nan | 483.000 | 11.472 km2 |
| Narathiwat | 702.000 | 4.475 km2 |
| Nong Bua Lam Phu | 511.000 | 3.859 km2 |
| Nong Khai | 936.000 | 7.332 km2 |
| Nonthaburi | 860.000 | 622 km2 |
| Pathum Thani | 710.000 | 1.526 km2 |
| Pattani | 631.000 | 1.940 km2 |
| Phangnga | 248.000 | 4.171 km2 |
| Phatthalung | 527.000 | 3.424 km2 |
| Phayao | 533.000 | 6.335 km2 |
| Phetchabun | 1.017.000 | 12.668 km2 |
| Phitsanulok | 840.000 | 10.816 km2 |
| Phrae | 522.000 | 6.539 km2 |
| Phra Nakhon Si Ayutthaya | 766.000 | 2.557 km2 |
| Phuket | 254.000 | 543 km2 |
| Prachin Buri | 430.000 | 4.762 km2 |
| Prachuap Khiri Khan | 470.000 | 6.368 km2 |
| Ranong | 171.000 | 3.298 km2 |
| Ratchaburi | 837.000 | 5.196 km2 |
| Rayong | 552.000 | 3.552 km2 |
| Roi Et | 1.229.000 | 8.299 km2 |
| Sa Kaeo | 514.000 | 7.195 km2 |
| Sakon Nakhon | 1.100.000 | 9.606 km2 |
| Samut Prakan | 1.077.000 | 1.004 km2 |
| Samut Sakhon | 485.000 | 872 km2 |
| Samut Songkhran | 217.000 | 417 km2 |
| Saraburi | 603.000 | 3.576 km2 |
| Satun | 263.000 | 2.479 km2 |
| Sing Buri | 247.000 | 822 km2 |
| Si Sa Ket | 1.489.000 | 8.840 km2 |
| Songkhla | 1.328.000 | 7.394 km2 |
| Sukhothai | 628.000 | 6.596 km2 |
| Suphan Bur | 907.000 | 5.358 km2 |
| Surat Thai | 921.000 | 12.891 km2 |
| Surin | 1.407.000 | 8.124 km2 |
| Tak | 514.000 | 16.407 km2 |
| Trang | 630.000 | 4.917 km2 |
| Trat | 231.000 | 2.819 km2 |
| Ubon atchathani | 1.790.000 | 15.745 km2 |
| Udon Thani | 1.549.000 | 11.730 km2 |
| Uthai Thani | 322.000 | 6.730 km2 |
| Uttaradit | 492.000 | 7.839 km2 |
| Yala | 440.000 | 4.521 km2 |
| Yasothon | 593.000 | 4.162 km2 |
Education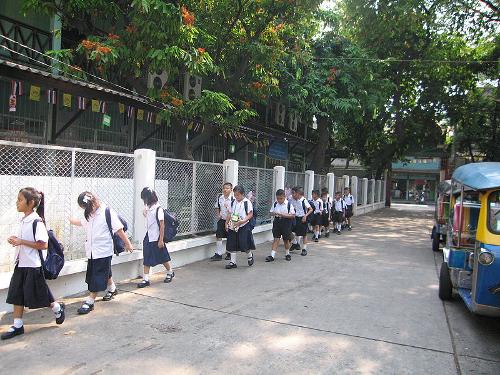 School kids ThailandPhoto: Anthonu Hartman CC 2.0 Generic no changes made
Thailand has an outdated and preferential education system, of which solid secondary education, secondary / higher vocational education and university courses are largely out of reach of large parts of the population. There is actually no participation of parents; the Ministry of Education determines everything and there is no talk of consultation. Many wealthy Thai allow their children to study abroad, leaving the country with a small group of highly educated people and a very large group of low-skilled and uneducated people. During the economic boom, the number of students attending higher education doubled to nearly 700,000, including 125,000 at private universities and colleges.
nder a 1921 law, primary education was compulsory for all children aged seven to twelve. In the year 2000, compulsory education was increased to nine years. The percentage of children attending free primary school is estimated at about 97 percent and with only 6% illiterate, Thailand ranks best of all countries in Southeast Asia. In addition to public schools, there is also Buddhist education, especially in rural areas.
After primary education, pupils can proceed to secondary education and higher secondary education, which entitles them to admission to a university program. I must first pass a tough entrance exam. One third of young people between twelve and eighteen years old have completed some form of secondary education and a quarter of them go back to university. About twelve universities and university colleges train for professions at an academic level. Bangkok has seven universities and colleges, including the renowned Thammasat University (the scene of student riots in the 1970s), one of the best in Asia. The best medical institute is Mahidol University in Bangkok. The largest Buddhist university is located in Wat Mahathat, the national center for the Mahanikai monastic order. The "what" can be found in the Old City, the spiritual and historical heart of Bangkok.
What is special is Wat Pho, the oldest and largest temple in Bangkok, and at the same time Thailand's main center for public education. Since the 1960s, Wat Pho has been home to the city's most respected massage school. Traditional Thai massage ("nuat paen boran") is believed to date back to the time of Buddha and is related to Chinese acupuncture and Indian yoga.
Typically Thai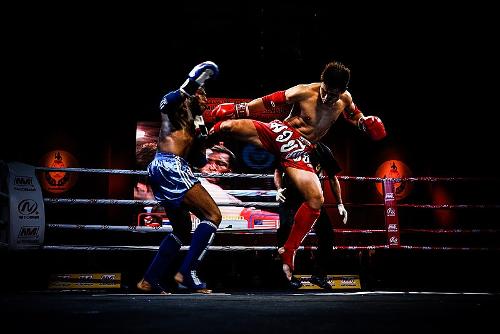 Thai BoxingPhoto: Gerrit Phil Baumann CC 3.0 Unported no changes made
THAI BOXING OR 'MUAY THAI'
This national combat sport is relentless in nature, and fights, knees, elbows and feet are used. The boxer must not head-butt, bite, spit, or kick an opponent lying on the ground.
Before the actual fight begins, a bizarre-looking ritual dance ('am wai khru') takes place, a cross between yoga and body language. This personal ritual is actually a prayer, a kind of incantation, (sometimes) uttered to the melody of a popular song. The purpose of this is to show the boxer's skills and get the ghosts on his side and to pay tribute to trainer and boxing gym. An orchestra accompanies the match and plays throughout the fight. The spectators bet large sums of money over five three-minute rounds. Since 1990, 'muay thai' become an international sport under the World Boxing Council. The first muay thai professionals arrived after World War II. Amonphiman Awatansathit Sakkathatiya Witsanukamprasit.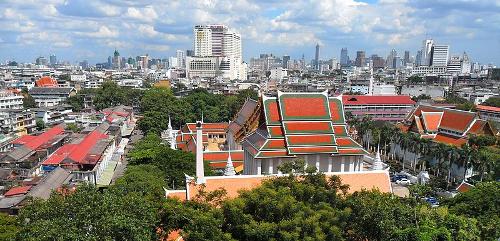 Bangkok, ThailandPhoto: Milei.vencel CC 3.0 Unported no changes made
BANGKOK
The full name of Bangkok is the longest city name in the world with no fewer than 172 letters: Krungthepmahanakhon Amonratankosin Mahintharayutthaya Mahadilokphop Nophosin Ratchathaniburirom Udomrathaniwetmahasa Amonphiman Awatansathit Sakkathatiya Witsanukamprasit. This means: City of Angels, Great City of Immortals, Beautiful City of the Nine Gems, Seat of the King, City of Royal Palaces, House of the Incarnate Gods, Built by Visvakarman on behalf of Indra. The Thai usually take their capital as Krung Threp or 'Angel City'. of Thailand when Rama I moved the city from Thon Buri across the Chao Phraya River in 1782 as a fortification against the Burmese who had looted the capital of Ayutthaya.
In the late 1950s the city began unheard of development and in a very short time countless shops, hotels, office and apartment buildings appeared.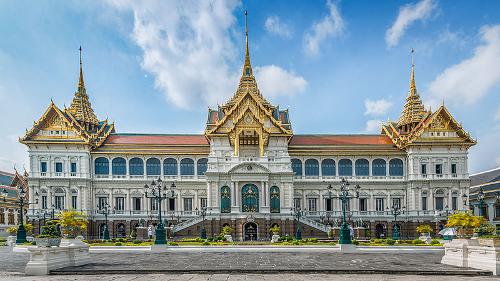 Royal Palace, ThailandPhoto: Andy Marchand CC 3.0 Unported no changes made
ROYAL FAMILY
King Bhumibol Adulyadej (Rama IX) was born on December 5, 1927 in Cambridge, Massachussetts, and is one of the most revered and loved kings of the Chakri Dynasty. His father was then studying there at Harvard University. Bhumibol came into the royal line after his uncle (the reigning King Prajadhipok), his father (Prince Mahidol) and his elder brother (Prince Ananda). However, Bhumibol's father died unexpectedly in 1929 and Prajadhipok abdicated in 1935 without a direct successor. Ananda succeeded him, but he died in mysterious circumstances in 1946 and Bhumibol succeeded him.
Bhumibol is now the longest reigning king in Thailand's history. The King and his wife, Queen Mom Rajawongse Sirikit Kitiyakara, have four children: Princess Ubol Ratana, Crown Prince Maha Vajiralongkorn, Princess Mahachakri Sirindhorn and Princess Chulabhorn. politics. In 2017 he was succeeded by Crown Prince Maha Vajiralongkorn as Rama X.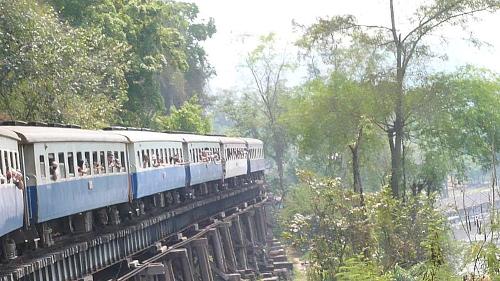 Burma Railway, ThailandPhoto: Deror Avi CC 3.0 Unported no changes made
BURMA RAILWAY
In the fall of 1942, the Japanese planned to build a 414-kilometer railway line through Thailand to Thanbyuzayat in Burma (now Myanmar). The Japanese decided that the railway had to be built in just twelve months, it eventually became sixteen. Allied prisoners were transferred from Singapore, Hong Kong and other occupied territories, including the Dutch East Indies. In addition, tens of thousands of Asian forced laborers were deployed. The ill treatment, malnutrition and tropical diseases killed thousands of workers. About 7,000 Allied soldiers, 1,896 of them Dutch, who died during the construction of the railway are buried in Kanchanabur.
The first rickety railway bridge that the prisoners built across the River Kwai was replaced in 1943 by a strong iron construction that still exists. In 1945 the bridge was destroyed by American bombers, but after the war it was restored and rebuilt with the help of the Japanese. The railway itself only operated for two years.
The famous film 'The Bridge on the River Kwai' (based on the book 'Le pont de la rivière by the French author Pierre Boule) by the English director David Lean tells about the construction of the bridge. However, the book and the film are a very free interpretation of what really happened. For example, it is suggested that Allied prisoners were responsible for the bridge's construction, but in reality they were highly skilled Japaneseengineers who designed the bridge.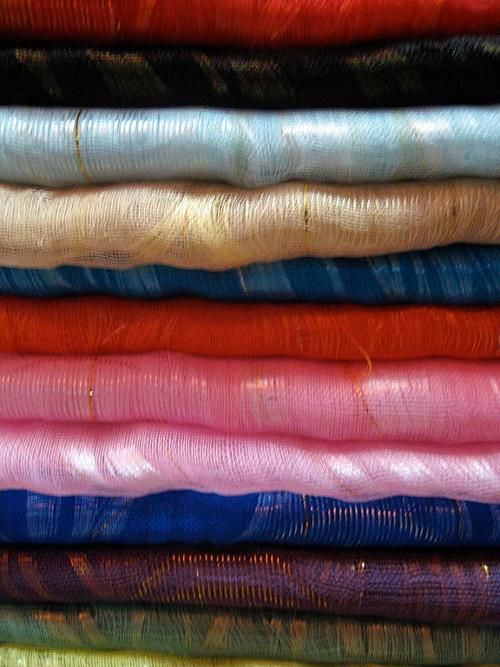 Thai SilkPhoto: Ben Klosek CC 2.0 Generic no changes made
THAI SILK
Weaving Thai silk or 'mudmee tie-dye ' is an ancient Thai tradition in Northeast Thailand. The weaving craft already flourished in the Khmer Empire (802-1431) and developed further during the Sukhotai, Ayutthaya, and Chakri dynasties.
In many northeastern villages, silk production has hardly changed over the centuries . However, in the late 19th century, a wave of cheaper machine-made fabrics from China and Japan flooded the market and hit the Thai The silk industry fell into decline and almost died out. Thanks to his entrepreneurial spirit and eye for the beautiful Thai silk, the silk entered the international market and a worldwide clientele was built up. Nakhon Ratchasima province now has more than 70 factories. On March 27, 1967, Jim Thompson disappeared without a trace as he single-handedly traveled through Malaysia. An important promoter at the moment is the current Thai queen Sirikit.
The most precious products sometimes have more than twenty harmonizing colors in intricate geometric patterns, which, when viewed from afar, must merge into one pastel shade, to be seen up close. seen their full richness of colors and details unfold.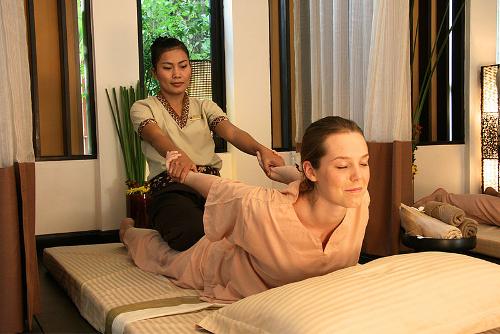 Thai MassagePhoto: Tara Angkor Hotel CC 2.0 Generic no changes made
THAI MASSAGE OF 'NUAT PHAEN BORAN'
Like other forms of oriental massage, the energy is brought into the body and balanced by acupressure and psychological influence, & lsquo; sen & rsquo ;, just like acupuncture. was the place where American soldiers were allowed to spend their leave.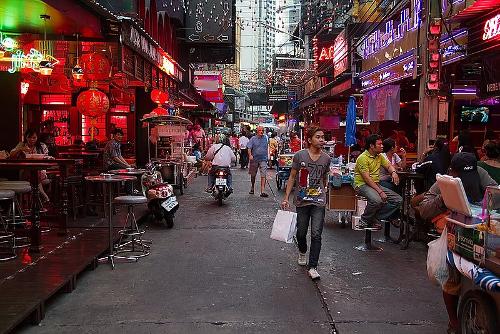 Red light district Bankok, ThailandPhoto: J.J Harrison CC 4.0 International no changes made
SEX INDUSTRY
Thailand has a long tradition of prostitution. In the 17th century, for example, it was already customary for the nobility to keep a number of courtesans next to the wife. The first red light district appeared in Bangkok's Chinatown in the mid-1800s. From there, the phenomenon spread across the country and boomed during the Vietnam War, when masses of American soldiers came to Thailand. The number of women now working in the sex industry is estimated at a quarter of a million.
Since 1997, prostitution has been legal in Thailand, with the exception of the pimping business. What the Thai government does take strict action against is child prostitution. The number of minors who are nevertheless employed in prostitution is between 200,000-800,000. Much of it comes from Myanmar and South China. They are lured to Thailand by pimps and forced into prostitution. Nowadays, people who abuse children in Thailand can also be prosecuted in Europe. One of the serious consequences of increasing prostitution is the spread of AIDS. The WHO reported in 2000 that the number of HIV-infected people in Thailand had risen to 4 million.

Opium Pipe, ThailandPhoto: Theo V. Bresler CC 3.0 no changes made
OPIUM
"Papaver somniferum" is the Latin name of the bulb poppy or sleeping bulb, which is a of the world's most dangerous drugs. The active ingredient is contained in the poppy juice, which is extracted by hand and processed into heroin in refineries along the Thai border.
More than 2,000 annually tons from the Golden Triangle, which are smuggled by ship or plane and distributed all over the world, some going to the major cities of Thailand, some used by the mountain peoples, who are often enslaved.
Recent efforts have led to a sharp decline in opium production in Thailand itself, but the flow of drugs from neighboring countries continues unabated.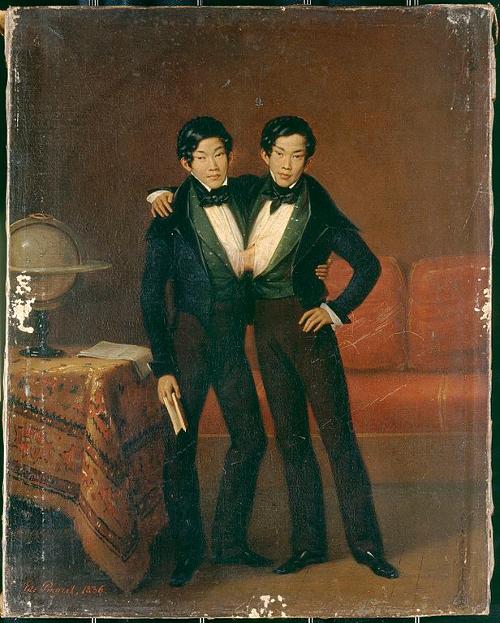 Chang and Eng, Siamese GemeniPhoto: Wellcome Images CC 4.0 International no changes made
SIAMESE GEMINI
Due to a twist of nature, there was a twins fused together in Thailand since birth. They became famous in the United States and then in Europe for exploiting their deficiency. From them the term "conjoined twins" has been derived, which has since been used to refer to such fusion. The two were named Chang and Eng, were of Chinese-Thai origin, and married two American sisters. They had 19 normal children and lived to be over sixty years old.
---
Sources
Clutterbuck, M. / Thailand
Van Reemst
Davies, B. / Thailand
Kosmos-Z&K3
Forbes, A. / Thailand
Kosmos-Z&K
Hahn, W. / Thailand
Van Reemst
Hauser, S. / Thailand : mensen, politiek, economie, cultuur, milieu
Koninklijk Instituut voor de Tropen
Hoskin, J. / Thailand
Van Reemst
Macdonald, P. / Thailand
Kosmos-Z&K
Miethig, M. / Thailand
Lannoo
Peterse, L. / Thailand
Gottmer/Becht
Steinmetz, P. / Thailand
Elmar
Thailand
Uitgeversmaatschappij The Reader's Digest
Thailand
Lannoo

CIA - World Factbook

BBC - Country Profiles
Last updated November 2023
Copyright: Team
The World of Info