THAILAND
Climate and Weather


Cities in THAILAND
Climate and Weather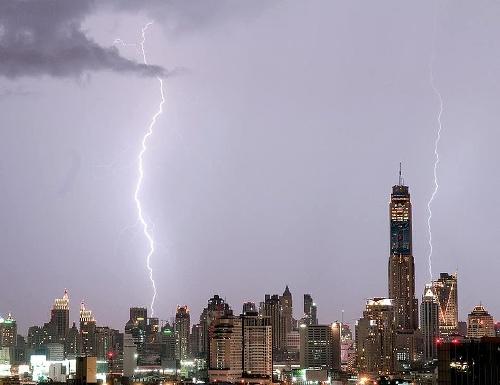 Thailand/Bangkok under the monsoon StormPhoto: Daniel Julie CC 2.0 Generic no changes made
Most of Thailand has a tropical monsoon climate, divided into three seasons with an average daily temperature of 25 °C.
The temperature almost never rises above 35 °C and never drops below 16 °C. On the highest mountain peaks it can sometimes freeze and in the winter period it can be quite cool with temperatures around 10 °C.
Day and night temperatures can be very high in the north and center of the country, up to a difference of 20 °C.
Average annual rainfall for most of the country is 1200-1400 mm. The south (1400-2400 mm) and the region east of Chanthaburi (more than 2400 mm) are considerably more humid. Less than 1200 mm per year receives the rain shadow area of the western mountainous region as well as the western provinces of the Khorat plateau.

The hot season falls between March and mid-June, with April and May as hottest months of the year; it is then warm and dry with a temperature that can occasionally reach 40 °C. A visit to Bangkok during this period is not very pleasant due to the high humidity (never less than 50% and often more than 80%!) Making it oppressive and sweltering. According to the Guinness Book of Records, Bangkok has the highest average temperature (day and night; summer and winter) in the world.
In the south and southeast during this period, there can still be a heavy rain shower.

In the rainy season, which lasts from mid-June to November, the wet southwest monsoon prevails. Then, often in the afternoon or evening, a lot of rain can fall in a short time, with a risk of flooding in the month of October. Monsoon periods can differ greatly from year to year. In some years it rains a lot, in other years it is much drier again. There are often several days of dry between the downpours.
The north has less rainfall and the north-east is the driest area in the country. The average annual rainfall over the whole of Thailand is 1600 mm, of which about three quarters falls in the rainy season. In the driest areas, the average annual rainfall is 1000 mm. Most rain is supplied from the Indian Ocean from June to October, resulting in the highest rainfall recorded on the mountainous west coast of the peninsula (Ranong: 5000 mm) and the southeast (Chanthaburi: 4000 mm).
Winter in Thailand lasts from November to March and during this period the relatively dry northeast monsoon blows. The weather is dry and pleasant (not so muggy) and the average temperature fluctuates between 25 and 30 ° C, with peaks in the north and north-east. From a tourist point of view, this period is therefore the peak season. the country; most of the rain falls in October and November.
On Phuket Island it rains mainly in May-June and on Ko Samui Island in October-November, often accompanied by violent storms.
---
Sources
Clutterbuck, M. / Thailand
Van Reemst
Davies, B. / Thailand
Kosmos-Z&K3
Forbes, A. / Thailand
Kosmos-Z&K
Hahn, W. / Thailand
Van Reemst
Hauser, S. / Thailand : mensen, politiek, economie, cultuur, milieu
Koninklijk Instituut voor de Tropen
Hoskin, J. / Thailand
Van Reemst
Macdonald, P. / Thailand
Kosmos-Z&K
Miethig, M. / Thailand
Lannoo
Peterse, L. / Thailand
Gottmer/Becht
Steinmetz, P. / Thailand
Elmar
Thailand
Uitgeversmaatschappij The Reader's Digest
Thailand
Lannoo

CIA - World Factbook

BBC - Country Profiles
Last updated November 2023
Copyright: Team
The World of Info