NIGERIA
Population


Population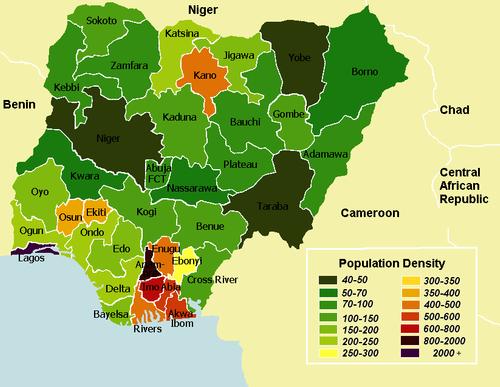 Population density Nigerian statesPhoto: Marcel Krüger CC BY-SA 3.0 no changes made
Nigeria is home to 190,632,261 people (2017 estimate). The population density is slightly more than 206 inhabitants per square kilometer.
The natural population growth is 2.43%. (2017)
Birth rate per 1000 inhabitants is 36.9 (2017)
Mortality rate per 1000 inhabitants is 12.4 (2017)
Life expectancy is 53.8 years, men 52.8 and women 55 years (2017)
Population composition:
The 3 largest population groups are the Hausa 29%, Yoruba 21% and the Ibo 18%. In addition, there are about 250 different ethnic groups.
Language
English, is the official language of Nigeria. But Hausa, Yoruba, Ibo and Fulfulde and more than 500 other tribal languages are also spoken in Nigeria. In general, English is most commonly spoken in urban areas, the indigenous languages are mainly spoken in rural areas. In Nigeria, languages of the three major African language families exist: Afroasiatic, Nilo-Sahara and Niger-Congo.
Religion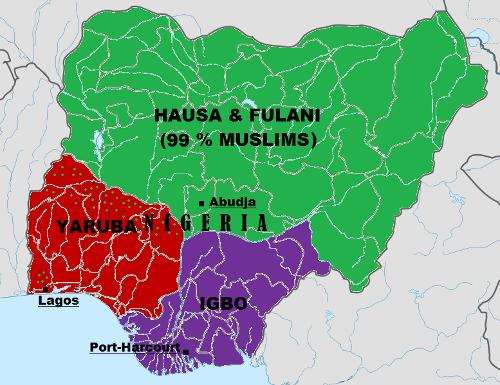 Religious and Ethnic map of NigeriaPhoto: Khiram CC 3.0 Unported no changes made
In Nigeria, the division into religious denominations is as follows: Muslims (50%), Christians (40%) and indigenous religions (10%). The north is predominantly Islamic and the south Christian. There are many religious tensions between Christians and Muslims. In twelve northern provinces, civil law has been replaced by Islamic Sharia.
Sources
Elmar Landeninformatie
CIA - World Factbook
BBC - Country Profiles
Last updated May 2022
Copyright: Team
The World of Info