NEPAL
Geography and Landscape

Basic information
Official language
Nepali
Capital
Kathmandu
Area
147.181 km²
Population
30,081,958 (2021)
Currency
Nepalese rupee (NPR)
Web
,np
Code.
NPL
Tel.
+977

Cities in NEPAL
Geography and Landscape
Geography
The landscape of Nepal is defined by mountain regions, the Siwalik Mountains, the central part of the Himalayas and the Mahabharat Lekh, and a swampy plain, the Terai.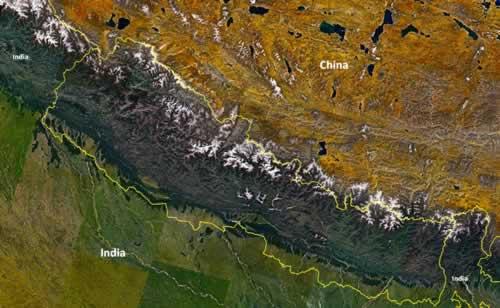 Nepal Satellite PhotoPhoto: Public domain
Its area is 147,000 square kilometers. The maximum length is approximately 800 kilometers and the width between 90 and 230 kilometers. The difference in height is huge from 100 meters above sea level in the Terai to the highest mountain on earth, Mount Everest in the Himalayas (8848 m.) In total there are ten peaks above 8000 meters. The main rivers are the Kali, Gandaki, Kosi and Karnali.
Nepal: Mount Everest, highest mountain on EarthPhoto: Sshrimpo1967 CC 2.0 Generic no changes made
---
Sources
Encarta Ecyclopedie
Finlay, H / Nepal
Lonely Planet
Nepal
APA

CIA - World Factbook

BBC - Country Profiles
Last updated November 2023
Copyright: Team
The World of Info