LIECHTENSTEIN



Cities in LIECHTENSTEIN
Geography and Landscape
Geography
The Principality of Liechtenstein (officially: Fürstentum Liechtenstein) is located in Central Europe and borders Austria to the north and east (34.9 km) and Switzerland to the south and west (41.1 km). In the west, the Rhine Valley forms a natural border with Switzerland.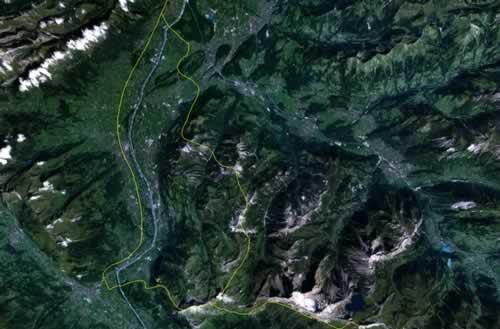 Liechtenstein Satellite PhotoPhoto: Public domain
Liechtenstein's surface area is 160 km2, which makes it the fourth smallest state in Europe, only Vatican City, Monaco and San Marino are smaller. Liechtenstein measures a maximum of 24.5 km from north to south and 12.4 km from east to west.
Landscape
The landscape of Liechtenstein is very hilly. In the north there is a low plateau, where also the lowest point of Liechtenstein can be found, namely Ruggeller Riet (430 metres). This valley zone covers approximately 25% of the total area and lies at an altitude of between 430 and 480 metres.
Approximately 40% of the area is taken up by the slopes on the side of the Rhine valley. These steep slopes are heavily wooded.
The highest peak in Liechtenstein is the Vorder-Grauspitze at 2599 metres and is located in the Alpine zone, which covers about 35% of Liechtenstein's territory. The alpine valleys here run from north to south. In the Rhaetian Mountains on the southern border, the highest peaks are the Falknis (2560 m) and the Naafkopf (2570 m).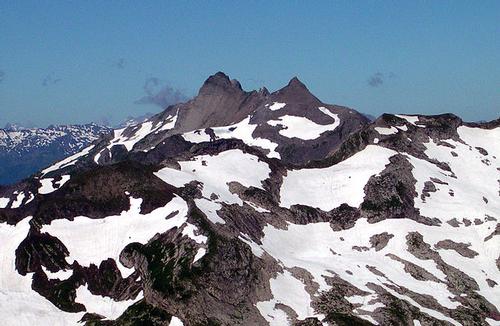 Vorder-Grauspitz, highest mountain in LiechtensteinnPhoto: Svickova in the public domain
Highest mountain peaks
| | |
| --- | --- |
| Grauspitze | 2599 m |
| Schwarzhorn | 2574 m |
| Naafkopf | 2570 m |
| Falknis | 2560 m |
| Falknishorn | 2452 m |
| Augenstern | 2359 m |
| Plasteikopf | 2346 m |
| Gorfion | 2308 m |
| Ochsenkopf | 2286 m |
| Hochspielerm | 2226 m |
---
Sources
Economische Voorlichtingsdienst
Encarta Encyclopedie
Winter, R. de / Basisinformatie Liechtenstein
Liechtensteinse Vriendenkring

CIA - World Factbook

BBC - Country Profiles
Last updated November 2023
Copyright: Team
The World of Info