ITALY
Climate and Weather


Cities in ITALY
Popular destinations ITALY
Climate and Weather
Italy as a whole has a Mediterranean climate. In summer, the average temperature in the lowlands is 28°C in the south and 22°C in the north. In winter, the temperature in the south and center of the country remains well above zero; in Rome the average temperature is 9°C. There is an average of 600 mm of rainfall per year throughout Italy. In some mountain areas this can rise to more than 1000 mm per year. It rains most in the spring and autumn.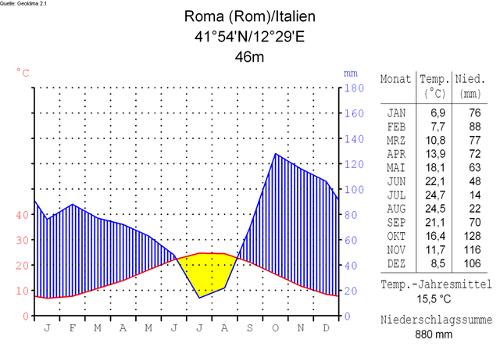 Climate data RomePhoto: Hedwig in Washington CC 3.0 Unported no changes made
Nevertheless, a number of different climate regions can be clearly distinguished.
For example, the Po Valley has hot summers with temperatures almost as high as in Sicily, but winters are cold and humid, with a lot of mist and fog. The January temperature of Piacenza can drop below freezing point and there is often snow for days on end.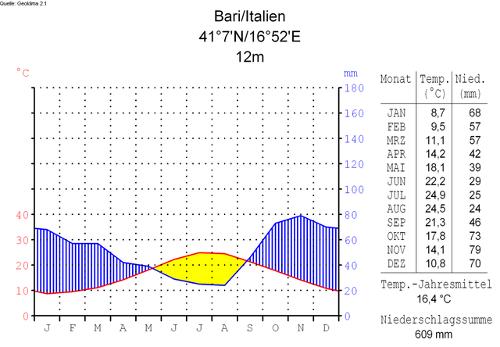 Climate data Bari, ItalyPhoto: Hedwig in Washington CC 3.0 Unported no changes made
The lake area on the south side of the Alps is more sheltered and therefore has a milder climate. The northern part of the Apennines and the high areas in Tuscany and Umbria are covered with snow for months in winter. An exception is the Italian Riviera on the northwest coast, where the winter is always mild with a dry season in the summer, albeit with a fair amount of rainfall. Southern Italy has very dry and hot summers and this is a Mediterranean climate in a more extreme form with also a much higher percentage of sunshine than in the rest of the country.
In the highest mountains in the Alps is snowing all year round. The limit of the eternal snow is located in Aosta Valley at 3,108 meters and at 2,545 meters on the east side of the Alps.
There are a number of local winds on and near the Italian peninsula. Well-known is the sirocco, a warm, humid southern wind from North Africa. The fresh westerly to northwestern wind, which replaces the sirocco after passing the depression, is called tramontane.


Climate zones ItalyPhoto: XL3 CC 3.0 Unported no changes made
The same name is also given to northerly or northeasterly winds, which bring in cool continental polar air. The cold mistral from the Rhône valley is also felt in the Genoa area. Local cold winds are called maestrale there. Along the northern coasts of the Adriatic Sea, in the winter half year, there is a dry, cold downwind, the bora, which originates from the Dalmatian coast and causes storms.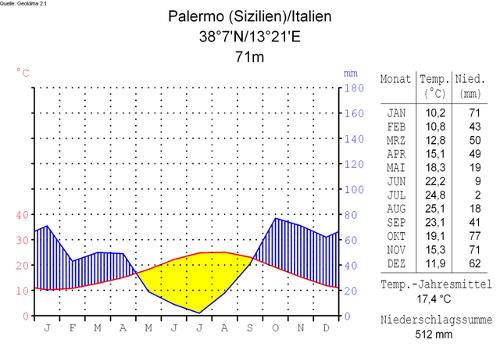 Climate data Palermo, ItalyPhoto: Hedwig in Washington CC 3.0 Unported no changes made
Climate data for large cities (averages)
| | | | |
| --- | --- | --- | --- |
| | summer temp. | winter temp. | rainfall (per year) |
| Florence | 24-26°C | 7-8°C | 726 mm |
| Milan | 20-23°C | 3-7°C | 819 mm |
| Naples | 22-25°C | 10-11°C | 1143 mm |
| Palermo | 25-28°C | 11-14°C | 897 mm |
| Rome | 24-26°C | 9-11°C | 770 mm |
| Venice | 21-26°C | 3-6°C | 588 mm |
---
Sources
Cassidy, P. / Italy
Raintree Steck-Vaughn Publishers
Europa
Lekturama
Europese Unie : vijftien landendocumentaties
Europees Platform voor het Nederlandse Onderwijs
Jepson, T. / Italië
Van Reemst
The Statesman's Yearbook: the politics, cultures and economies of the world
Macmillan Press
CIA - World Factbook
BBC - Country Profiles
Last updated May 2023
Copyright: Team
The World of Info