ISLA MARGARITA
Geography and Landscape

Basic information
Official language
Spanish
Capital
La Asunción
Area
1.080 km²
Population
676,454 (2017)
Currency
bolivar (VEF)
Web
.ve
Code.
VEN
Tel.
+58

Popular destinations VENEZUELA
Geography and Landscape
Geography
Isla Margarita is part of the Venezuelan state of Nueva Esparta and is located at the same altitude as Aruba, Bonaire and Skopelos in the Caribbean Sea. The state consists of the islands of Isla Margarita, Coche and Cubagua. Los Frailes, a group of eight islands, is located 16 kilometres off the north-east coast.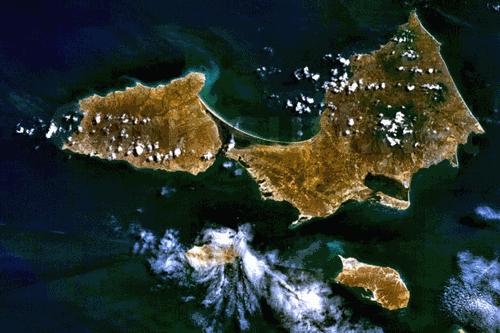 Isla Margerita Satellite photoPhoto: Public domain
Isla Margarita is about 38 kilometres from the Venezuelan mainland and is the largest of the three islands with an area of about 1071 km2, which is slightly larger than Curaçao. The longest distance from north to south is 33 kilometres and from east to west 67 kilometres. The island consists of two peninsulas connected by the 23 kilometre long isthmus of mangroves, Laguna de la Restinga.
Landscape
The main peninsula is Isla Margarita, with the mountain massif Cerro el Copey with the highest peak San Juan (930 m). In the centre of the other peninsula, Peninsula de Macanao, are the other mountains of the archipelago, including Cerro Macanao with 750 metres. The natural monument Cerros Matasiete-Guayamuri consists of two mountains, the Guayamuri (480 m) and the Matasiete (680 m). The northern tip of the island slopes steeply into the sea.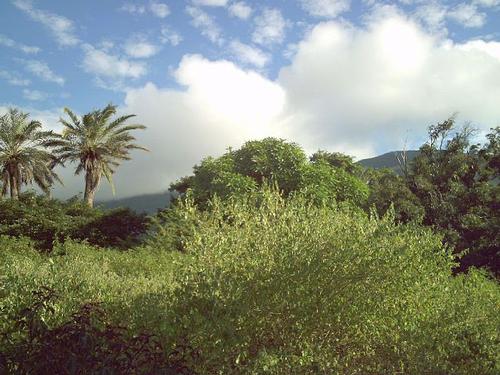 Landscape Isla MargaritaPhoto: The Photographer in the public domain

In the eastern part, you can find many beaches. The approximately 40 beaches can be divided into sandy and rocky beaches. The north-eastern beaches have strong surf due to the north-westerly trade winds. Of the beaches sheltered from the winds, Playa El Agua, Parguito and Guacuco are the best known. In recent years, the southern town of El Yaque has become a popular place for surfers and is considered one of the top ten best surf spots in the world. The windsurfers are attracted by the north-eastern trade wind that blows here at a speed of 30 kilometres per hour at most times. The fact that the sea in this area is up to 300 metres hip deep makes it an ideal place for beginners. Playa La Restinga is a beach on a 23-kilometre-long barrier reef that separates the lagoon from La Guardia Bay.
On the northwest coast at Playa Puerto Cruz beach is the only dune on the island. On Isla Margarita there are several small rivers that have water all year round. One of them is the Río Asunción, which flows past the capital city La Asunción.
Isla de Coche
The island of Coche is 11 kilometres long, 6 kilometres wide and 60 metres above sea level. About 5,000 people currently live there, mainly from fishing and the salt mines.
Isla de Cubagua
The island of Cubagua is 9 kilometres long and very narrow. It lies 15 kilometres west of Coche and is hardly inhabited or visited.
---
Sources
Launspach, W. / Reishandboek Venezuela, Margarita
Elmar
O'Bryan, L. / Venezuela
Gottmer/Becht
Venezuela
Cambium
Verbeeck, I. / Isla Margarita, Puerto La Cruz & Cumaná
Van Reemst

CIA - World Factbook

BBC - Country Profiles
Last updated November 2023
Copyright: Team
The World of Info