INDONESIA
Vacations and Sightseeing

Basic information
Official language
Indonesian
Capital
Jakarta
Area
1.904.569 km²
Population
278,373,269 (2021)
Currency
Indonesian rupiah (IDR)
Web
.id
Code.
IDN
Tel.
+62

Cities in INDONESIA
Popular destinations INDONESIA
Vacations and Sightseeing
Jakarta, formerly Batavia, is the capital and largest city of Indonesia. The National Monument is located in the center of Merdeka Square, the central park of the city. Near the national monument, there is the Arjuna Wijaya statue and a fountain inspired by a poem by Mahabharata. Other attractions include Istiqlal Mosque, Jakarta Cathedral, and the Liberation Monument.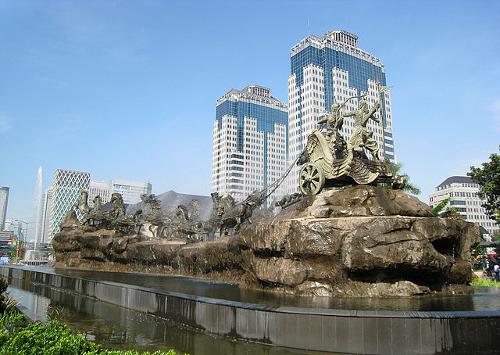 Arjuna Wijaya chariot statue and fountain in the center of JakartaPhoto: Gunawan Kartapranata CC 3.0 Unported no changes made
Tourist attractions include the Miniature Park of Indonesia, Ragunan Zoo, Old Town Jakarta and the Ancol Dreamland complex at Jakarta Bay. Jakarta's old town contains museums, often former institutional buildings of colonial Batavia. A number of these museums are the Jakarta Historical Museum (the former city hall of Batavia), the Wayang Museum (a former church of Batavia), the Art and Ceramics Museum (the former courthouse of Justice of Batavia) and the Maritime Museum (the former Sunda Kelapa warehouse). Several museums are located in the center of Jakarta around Merdeka square.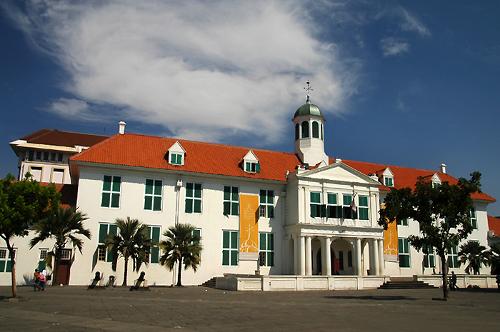 Museum Sejarah JakartaPhoto: Edi Wibowo CC 3.0 Unported no changes made
Yogyakarta is the main city in the Yogyakarta region of Indonesia. Yogyakarta has beautiful tourist sites that attract many tourists. The kraton is located in the heart of the historic old city of Yogyakarta and is the palace of the sultans. The kraton is a small walled city. The complex dates back to the mid-18th century and has its own market, shops, businesses, schools and even a number of mosques. In the center of the kraton is the Golden Pavilion (Bangsal Kencana). The pavilion has a beautiful roof with many details and a number of large teak columns. Other interesting things include the separate entrances for men and women. There are regular gamelan orchestras and shadow puppet shows.


"Pagelaran", the front hall of Kraton of Yogyakarta, IndonesiaPhoto: Gunawan Kartapranata CC3.0 Unported no changes made
The Borobudur is by far Indonesia's most famous attraction and is close to Yogyakarta. The Borobudur is a Buddhist stupa and temple complex in Central Java and dates back to the 8th century. The Borobudur has the status of a UNESCO World Heritage Site. It is the largest Buddhist building in the world and everyone will be amazed by the scale of the temple and the remarkable attention to detail of the structure. Also its location in the heart of the Kedu plain, with mighty active volcanoes all around, adds to the sensational feeling that overwhelms most visitors.



Borobudur, IndonesiaPhoto: Firda diba CC 4.0 International no changes made
---
Sources
Dalton, B. / De Indonesië reisgids
Elmar
Darmawie-van Oijen, J. / Indonesië : handboek voor reizigers
Babylon-De Geus
Homburg, E. / Indonesië
Elmar,
Indonesië
Cambium
Lyle, G. / Indonesia
Chelsea House
Martyr, D. / Indonesië
Van Reemst
Mastenbroek, B. / Kijk op Indonesië
Elsevier
Muller, K. / Indonesië : het 13.000 eilandenrijk
Becht
Oosterman, I. / Indonesië
ANWB Media
Schulte Nordholt, N. / Indonesië : mensen, politiek, economie, cultuur
Koninklijk Instituut voor de Tropen / NOVIB
Te gast in Indonesië
Informatie Verre Reizen
Wassing, R. S. / Indonesië : Java, Bali, Lombok, Sumbawa, Komodo, Flores, Sumba, Timor, Sumatra, Zuid- en Oost-Kalimantan, Sulawesi, Singapore
Gottmer
Witjes, B. / Indonesië
Stichting Teleac

CIA - World Factbook

BBC - Country Profiles
Last updated April 2023
Copyright: Team
The World of Info