BALI



Popular destinations INDONESIA
Geography and Landscape
Geography
Bali is an Indonesian island east of Java and west of Lombok. It is the westernmost of the Lesser Sunda Islands. The island measures 5561 km² and has more than 3 million inhabitants. The current capital is Denpasar (Singaraja was the capital until 1958).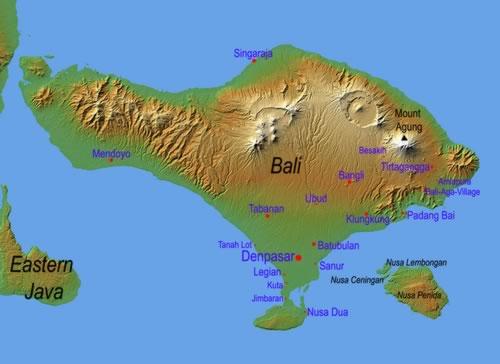 Bali elevation mapPhoto: Flominator CC 3.0 Unported no changes made
Landscape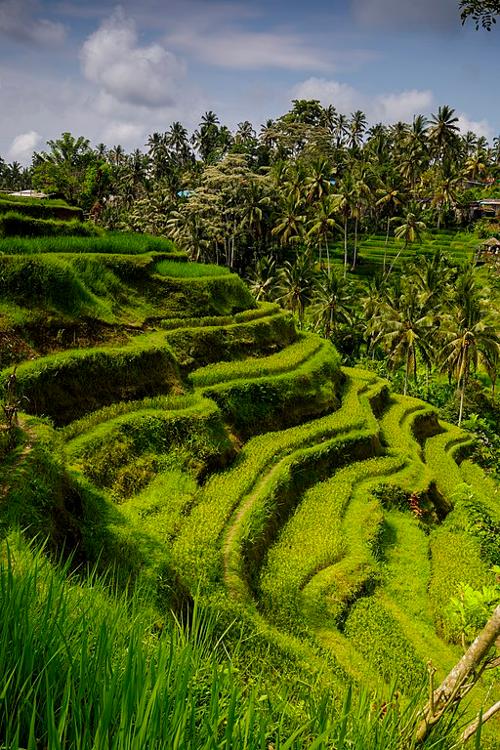 Bali Landscape rice terracesPhoto: Thomas Fuhrmann CC 4.0 International no changes made
The island is dominated by volcanic mountains; some of the volcanoes are still active. The literal highlight is the Gunung Agung with a peak of 3,142 m above sea level. The Gunung Batur, near the Danau Batur (Lake Batur), is 1717 m high with a crater of 11 km and 180 m deep.
Bali is separated from Java by the shallow Bali Strait, which is only 8 km wide at its narrowest point. The wider Lombok Strait separates Lombok. To the north is the Bali Sea, to the south the Indian Ocean.
Furthermore, the varied landscape is characterized by lush rainforests, original crater lakes, fast-flowing rivers and deep ravines. Bali has white beaches in the south, the beaches elsewhere are covered with gray or black volcanic sand.
Climate and Weather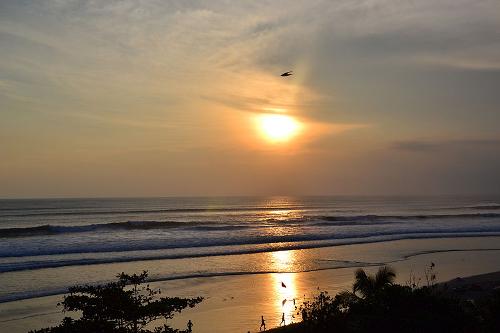 Bali SunsetPhoto: Simon_sees CC 2.0 Generic no changes made
The average temperature in Bali is about 30 degrees and there is a high humidity. The rainy season is from November to April and there is an average of 1500 mm per year. In the afternoon it often rains very locally for a few hours, which freshens up everything and the temperature drops slightly. Most rain falls in January and February. Most of the rain falls in mountainous areas. In terms of temperature you can visit Bali all year round, but most tourists prefer the dry period from April to October.
Plants and Animals
Plants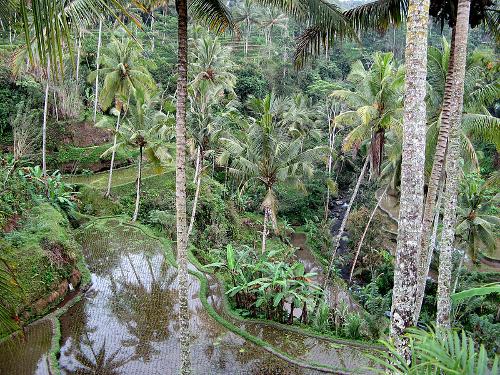 Palmtrees Bali Photo: Michael Gunther CC 4.0 International no changes made
In Bali only 25% of the original vegetation is left. You will find tropical rainforests mainly in the north of Bali. Characteristic trees of Bali include the palms: coconut palm, oil palm, nipa palm, lontar palm, pandan palm, sago palm, aren palm (palm wine, sugar), betel palm (betel nuts), rattan and many types of Ficus.
Animals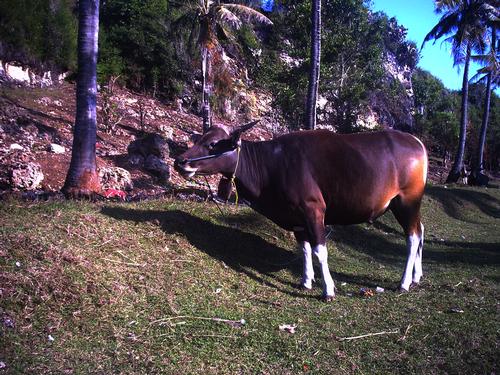 Banteng BaliPhoto: Gsarwa CC 3.0 Unported no changes made
Most wildlife variety can be found in the forests of West Bali. Leopards, wild boars, deer, bantengs, monkeys, oxen, snakes have their habitat there. There are also many bird species on Bali, including the Balinese starling, golden oriole and yellow-crested cockatoos.
Sea creatures include the green water turtle, shrimp and dolphins.
---
Sources
Wikipedia
CIA - World Factbook
BBC - Country Profiles
Last updated November 2023
Copyright: Team
The World of Info