BALI
Vacations and Sightseeing

Basic information
Official language
Indonesian, Balinese
Capital
Denpasar
Area
5.633 km²
Population
4,414,400 (2020)
Currency
rupiah (IDR)
Web
.id
Code.
IDN
Tel.
+62

Popular destinations INDONESIA
Vacations and Sightseeing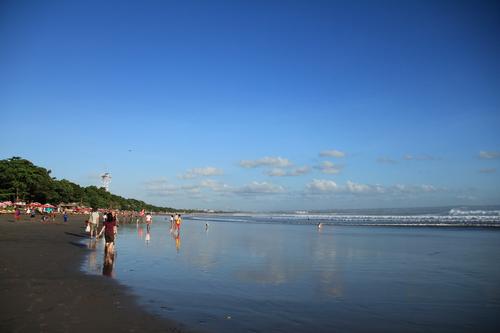 Bali Kuta beachPhoto: Cameron Kennedy CC 3.0 Unported no changes made
Bali, with its stable tropical climate, is one of the most popular Indonesian islands for tourism, although the island has suffered a number of tourist bombings in the 21st century that seriously damaged tourism. Nevertheless, the mainly Hindu Bali remains popular among tourists, partly because of its natural beauty with beautiful terraced rice fields (sawas) and volcanoes, the many medieval monuments, including the thousands of Balinese temples and the specific Balinese culture, such as the temple games, gamelan music and the art of dance.
The most famous beaches are located in the south of Bali, the east coast is the place for snorkeling. Kuta is Bali's main resort with a vibrant nightlife, Sanur is the oldest resort and, unlike Kuta, more suitable for tourists seeking tranquility. Balinese hospitality is famous, as is Balinese cuisine. Bali is a perfect holiday destination in both the dry period (March-November) and the rainy season (November-March)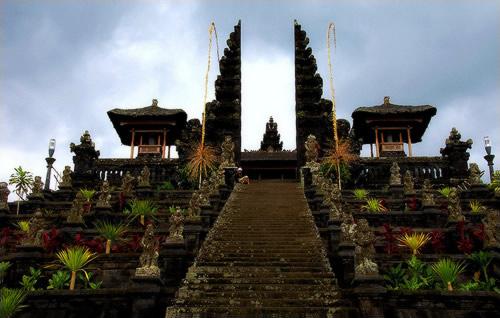 Pura Besakih BaliPhoto: Schnobby CC 3.0 Unported no changes made
The mother temple Pura Besakih, also the largest temple in Bali, is located in the center of the island, and consists of approximately 200 buildings spread over thirty complexes. One of the most visited temples and one of the six most important temples in Bali is Pura Tanah Lot, located off the west coast of Bali and built on top of a rock and therefore only accessible at low tide.
The Bali Museum consists of four buildings: Tabanan for musical instruments and masks, Karangasem for sculptures and paintings, Timur for archaeological finds and Buleleng for textiles. Taman Nasional Bali Barat is a national park in the northwest of Bali with a savanna, a mixed monsoon forest and a mangrove forest, which is home to about 160 animal species and many endangered plant species, including the Indian laburnum or drumstick tree and the sandalwood tree.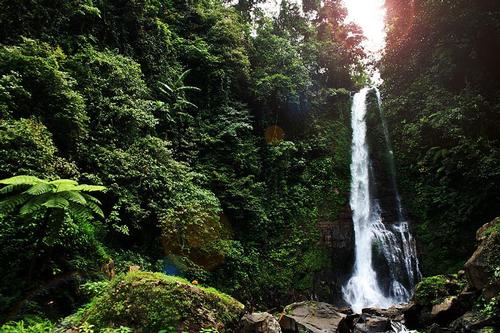 Gitgit Waterfall BaliPhoto: Rainhard Findling CC 3.0 Unported no changes made
The largest of the Gitgit waterfalls is 45 meters high, making it the highest waterfall in Bali
Gunung Kawi is a rock-carved complex of candis or stupas, Tulamben is a diving area with many shipwrecks, Goa Lawah is a sacred bat cave, Klungkung the remains of an 18th century royal palace, Doa Gajah or Elephant cave is an 11th century cave with Hindu and Buddhist elements, Danau Batur is the largest lake in Bali, Pantai Lovina or Lovina Beach has a black lava beach and is known as a dolphin spot, Ubud is a beautifully situated artists' village and is widely regarded as the cultural center of Bali, and also houses a protected area for long-tailed monkeys, 'Monkey Forest'.
---
Sources
Wikipedia
CIA - World Factbook
BBC - Country Profiles
Last updated May 2023
Copyright: Team
The World of Info