INDIA
Society


Cities in INDIA
Popular destinations INDIA
Society
State structure
India is a parliamentary democracy with a federal form of government; characteristic is the great power of the central government. The Indian constitution is in part a continuation of British colonial law and has been amended dozens of times since 1950 in various ways.
The highest governmental body is the elected representative body of which, in addition, all ministers are still members and are accountable for it. The parliament consists of two Houses: the directly elected House of Commons or Lok Sabha and the indirectly elected House of Lords or Rajya Sabha. This House of Lords is a permanent body. The same two-chamber system usually exists at state level.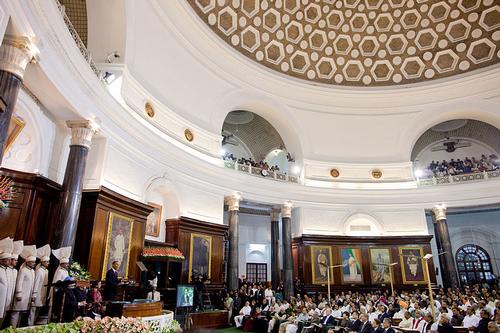 Obama in Indian ParliamentPhoto:Public Domain
The House of Commons has 545 members and is elected directly every five years according to a district system. Two members are appointed by the President. A further 79 seats are reserved in the House of Commons for representatives of the casteless and 40 for members of indigenous peoples.
The House of Lords has 245 members elected by the parliaments of the federal states. Elections are held every two years for a third of the seats of the House of Lords. The voting age is eighteen.
The formal head of state of India is the president, who is elected once every five years by an electoral college composed of the National Assembly and the state parliaments. The president is eligible for re-election; he or she has a mainly ceremonial and representative function, except in times of instability. Then the president can take on the power of government, dissolve the parliament and call interim elections. However, yhe president needs the approval of the majority of ministers to do so. From 1997 to 2002, Shri K.R. Narayanan President, became the first casteless man in the history of India.

The cabinet, consisting of twenty cabinet ministers, twenty 'regular' ministers and twenty deputy ministers, forms the cabinet and especially the small cabinet committees (of which the prime minister is always chairman) are in charge of daily decision-making. The actual key figure in the system is the Prime Minister, who acts as leader of the parliamentary majority and of the Council of Ministers; Parliament can offer little independent counterplay and can only exert some influence in the event of serious internal division within the government. The leader of the largest party becomes prime minister and assembles the council of ministers.The powers of the federal states are constitutionally laid down in the State list, the powers of the central government in the Union list. The Competitor list mentions those areas in which both levels are competent; in disputes regarding competence, the central government almost always prevails. For the current political situation see chapter history.
Administrative division
The Federative Republic of India is administratively divided into 28 states and 6 union territories. Furthermore, there is a subdivision into districts, talugs or tehsils (consisting of several hundred villages), towns and villages. Large cities are run by corporations, led by an elected mayor.
Union territories are administered directly from New Delhi and the President appoints an administrator for each territory; he also appoints the governors of the federal states. In certain cases, the central government may take over the administration of individual states (as has been the case in Punjab, Jammu and Kashmir, and Assam). The federal states have administrative autonomy in the areas of agriculture, welfare, police and local transport. The federal government is responsible for matters such as defense, foreign policy, railways and postal services. Financially, the federal states are very dependent on the federal government.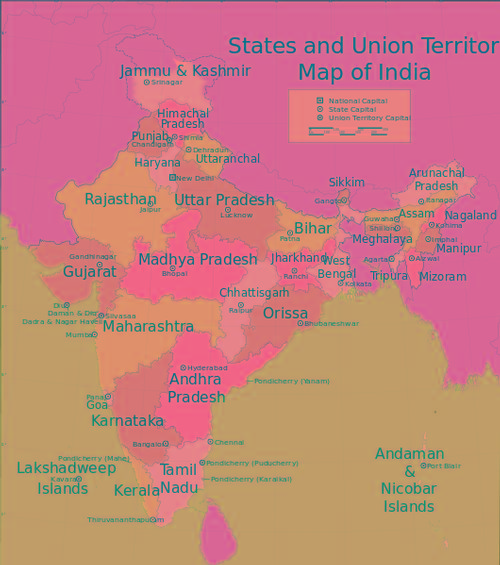 India StatesPhoto: Planemad CC 3.0 Unported no changes made
Finally, new government organizations (community development and panchayati raj) have been set up at local level, which must involve the population more strongly in the socio-economic construction of the country.
Since June 1, 2014, India gained a new state following the split of the southern state of Andhra Pradesh, bringing it to 29 states. The new state is called Telangana and the people of Telangana wanted to split from Andhra Pradesh because they live in an economically less developed area and felt disadvantaged. The new state had about 35 million inhabitants in 2014 and the current capital Hyderabad will become the capital of Telangana and Andhra Pradesh until 2024.
Unie-territoria
Capital City
inhabitants
Adamanen en Nicobaren
Port Blair
365.000
Chandigarh
Chandigarh
905.000
Dadra en Nagar Haveli
Silvassa
225.000
Daman en Diu
Daman en Diu
160.000
Lakshadsweep
Kavaratti
61.000
Pondicherry
Pondicherry
990.000
States
Capital City
Andhra Pradesh
Hyderabad
76.000.000
Arunachal Pradesh
Itanagar
1.115.000
Assam
Dispur
27.000.000
Bihar
Patna
84.000.000
Chhattisgarh
Raipur
21.000.000
Delhi
New Delhi
14.000.000
Goa
Panaji
1.350.000
Gujarat
Gandhinagar
51.000.000
Haryana
Chandigarh
22.000.000
Himachal Pradesh
Shimla
6.500.000
Jammu en Kasjmir
Srinagar
11.000.000
Jharkhand
Ranchi
27.000.000
Karnataka
Bangalore
53.000.000
Kerala
Thiruvananthapuram
32.000.000
Madhya Pradesh
Bhopal
61.000.000
Maharashtra
Mumbai (Bombay)
98.000.000
Manipur
Imphal
2.500.000
Meghalaya
Shillong
2.500.000
Mizoram
Aizawi
900.000
Nagaland
Kohima
2.000.000
Orissa
Bhubaneswar
38.000.000
Punjab
Chandigarh
25.000.000
Rajasthan
Jaipur
58.000.000
Sikkim
Gangtok
550.000
Tamil Ndu
Chennai (Madras)
63.000.000
Tripura
Agartala
3.500.000
Uttar Pradesh
Lucknow
170.000.000
Uttaranchal
Dehra Dun
9.000.000
West-Bengal
Calcutta
81.000.000
Education
The education system is very similar to the Western model. It consists of seven years of primary education, three years of middle school, two years of higher education and three years of university.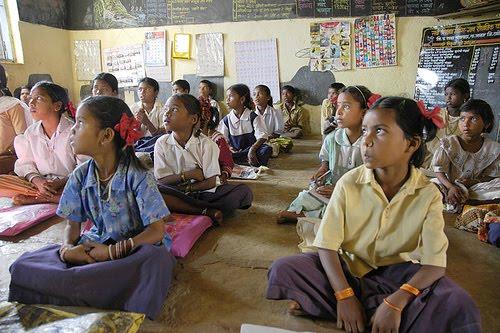 India school classPhoto: Shimin k sam: CC 3.0 Unported no changes made
Primary and secondary education are public and compulsory. However, not all children go to school. The parents have to pay for pens and uniforms themselves, and many simply do not have the money to do so. Often the children also have to help on the land or in the household. Approx. half of all children of school age leave primary school after four years. The number of illiterates is therefore still very high. About 40% of all people aged 15 years and older are illiterate. The differences between regions and between men and women are alarming. In states such as Rajasthan, Madhya Pradesh and Bihar, more than half of the population is illiterate, in Kerala; 20% of the population. Across India, about 30% of men are illiterate and more than 50% of women. In Rajasthan, there are almost no women who can read and write. Higher education is well developed with hundreds of universities and thousands of other higher education schools. Higher education education is practically only reserved for the wealthier.New Delhi has two major universities, Delhi University and Jawaharlal Nehru University.
Typical India
Caste System
Hinduism gives the caste system its ground for existence. Hinduism is in fact based on the Vedas, including hymns, but also rules for everyday life. Hinduism then assumes a fundamental inequality and Indian society is therefore divided into "better" and "lesser" Indians. In addition, two Hindu concepts are very important: karma and dharma. The concept of kharma explains that the Hindu was born in a certain caste because of his actions in a previous life. The concept of Dharma emphasizes that the Hindu should accept this place without protest and make the best of it.
India Caste SystemPhoto: Giveaway 285 CC 4.0 International no changes made
Approx. 1500 years BC. Aryan tribes invaded northern India. In order to continue to function as rulers, they wanted to keep their race pure and separate themselves from the original population. The Aryans differed in three main castes:
-Brahmanas, priests
-skatrias, warriors and princes
-vaisyas, merchants
Below that were the shudras, workers and peasants, and pariahs who were not members of any caste. Pariahs included slaves and prisoners of war and are also known as harijans or untouchables. Over time, this subdivision became increasingly divided into many subcases. After independence in 1947, untouchability was officially lifted by the Legislative Assembly. However, the practice is very different. Due to the economic dependence on large landowners, the pariahs often work for nothing or for very low wages. In fact, they mainly have duties and hardly any rights. Otherwise, the caste system is becoming less important, especially in the big cities. The division into classes is increasingly based on economic relations and economic ownership. In the countryside, the division into castes is still prominent and will continue to be so for the time being.
Bollywood
Films were already shown in Mumbai (then Bombay) as early as 1896, and the film industry developed rapidly during the twentieth century. Since the 1950s, Mumbai has been the largest film city in the world with around 300 films a year, more than in Hollywood.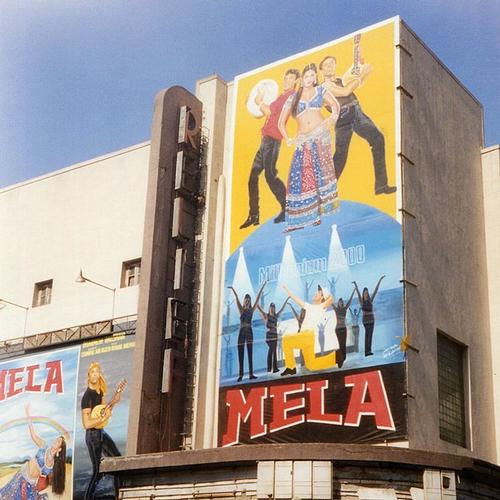 Filmposter Bollywood IndiaPhoto: Ryan CC 2.0 Generic no changes made
Mostly popular Hindi films are made that attract large crowds. They are often hours-long spectacles with an emphasis on song, dance, romance, drama and action. The Hindi films are generally very stereotyped with a clear distinction between good and bad, with good always triumphing.
The movie stars earn ditches with money and live in the Beverly Hills of Munbai, Bandra. Some of them have gone into politics and even made it to prime minister of a state.
Quality films are mainly made in the film studios of Calcutta. Asia's largest film studio complex, MGR Film City, is located on the outskirts of Chennai. Here are 36 movie sets ready, and the movies are recorded and dubbed in Malajalam, Telugu and Hindi as well, but the Tamilcinema produces most of the movies.
---
Sources
Boon, H. / India : mensen, politiek, economie, cultuur
Koninklijk Instituut voor de Tropen/Novib
Caldwell, J.C. / India
Chelsea House
Chatterjee, M. / India
Dorling Kindersley
Dunlop, F. / India
Van Reemst
Nicholson, L. / India
Kosmos-Z&K
Peterse, L. / India
Gottmer/Becht
Srinivasan, T. / India
Times Books
Te gast in India
Informatie Verre reizen
CIA - World Factbook
BBC - Country Profiles
Last updated November 2023
Copyright: Team
The World of Info