INDIA
Climate and Weather


Cities in INDIA
Popular destinations INDIA
Climate and Landscape
The climate of India is mainly determined by the dry northeast monsoon and the wet southwest monsoon, each of which is divided into two seasons, the former in the cold season and the hot season; the second in the rainy season and the retreating monsoon season. The cold season falls in January and February and is characterized by dry, sunny and fresh weather, with generally little wind. Only in the far north will there be some precipitation. The hot season falls from March to about mid-June. In central India, the average temperature in May is 35 °C, while temperatures above 50 °C are common. In the south it is cooler. The highest temperatures generally occur just before these rains take on a more general character at the onset of the rainy season. This happens on the west coast at the beginning of June and further inland gradually later, until it also rains in the northwest in July. The transition of the seasons is especially abrupt along the west coast. The wind picks up and it rains abundantly for a week.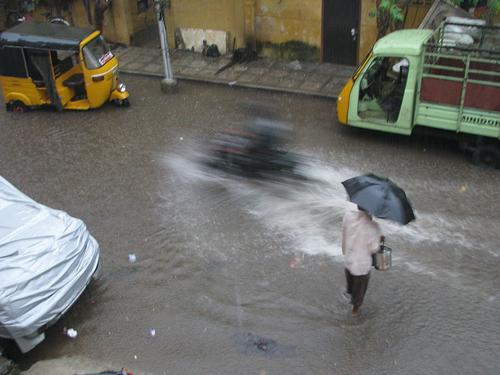 Monsoon Rain IndiaPhoto: McKay Savage CC 2.0 Genericno changes made
Precipitation is especially strong in windy conditions and on the windward side of hills and mountains, often with annual totals above 2000mm up to the incredible annual precipitation of approx. 11m at Cherrapunji in the northeastern state of Meghalaya; the highest annual rainfall ever is nearly 23 meters in 1861! This is one of the wettest areas on Earth. From mid-September to late October, the monsoon first retreats to the north and northwest, last to the south and Bengal. Southwestern winds are gradually being replaced by northeasterly winds. Although the temperature sometimes rises after the rains have ended, it soon starts to drop until the next cold season arrives.
Precipitation varies widely from year to year. Tropical cyclones (approx. Ten per year) also contribute to the precipitation, especially along the east coast. They mainly occur during the transition period between southwest and northeast monsoons.
Snow falls in the Himalayas, and temperatures of -50 °C are measured in Ladakh, which is almost completely closed off from the outside by the snowfall.
Sources
Boon, H. / India : mensen, politiek, economie, cultuur
Koninklijk Instituut voor de Tropen/Novib
Caldwell, J.C. / India
Chelsea House
Chatterjee, M. / India
Dorling Kindersley
Dunlop, F. / India
Van Reemst
Nicholson, L. / India
Kosmos-Z&K
Peterse, L. / India
Gottmer/Becht
Srinivasan, T. / India
Times Books
Te gast in India
Informatie Verre reizen
CIA - World Factbook
BBC - Country Profiles
Last updated February 2023
Copyright: Team
The World of Info