FAROE ISLANDS
Geography and Landscape

Basic information
Official language
Faeroese, Danish
Capital
Tórshavn
Area
1.399 km²
Population
49,172 (2021)
Currency
Faroese króna (FOK)
Web
.fo
Code.
FO
Tel.
+298

Cities in FAROE ISLANDS
Geography and Landscape
Geography
The Faroe Islands or Färöer (Faeroes: Föroyar; Danish: Færøerne, = literally: sheep islands), is a group of islands in the Atlantic Ocean belonging to Denmark. The Faroe Islands are located about 300 km north of Scotland and about 450 km south-east of Iceland and consist of 21 islands with a total area of 1399 km2.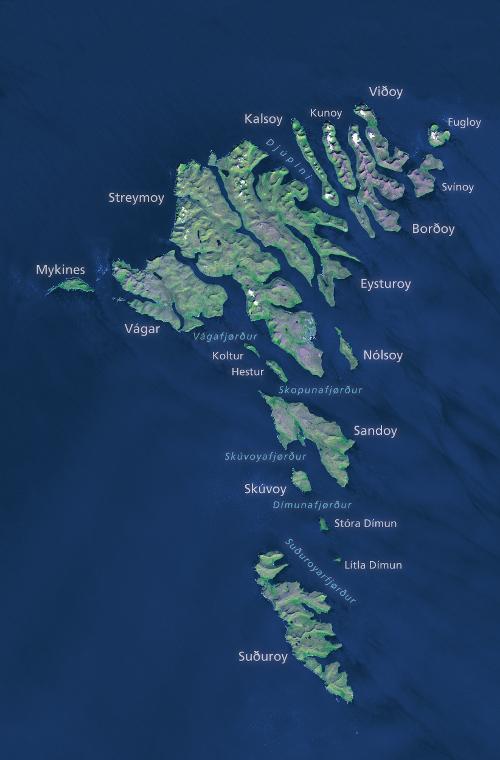 Faeroe Islands Satellite PhotoPhoto: Redgegraphics CC 4.0 International no changes made
The capital is Tórshavn (Danish: Thorshavn), on the island of Streymoy. The largest islands are Streymoy (Danish: Strømø, 392 km2), Eysturoy (Østerø; 286 km2), Vágar (Vågø; 188 km2), Suðuroy (Syderø; 167 km2) and Sandoy (Sandø; 125 km2). The islands can be roughly divided into four geographical areas. In the centre of the archipelago are Streymoy and Eysturoy, the two most densely populated islands. To the west of Streymoy are Vágar and the beautiful Mykines, the westernmost island known for its diverse bird population.

Northeast of Eysturoy are the rugged islands of Kalsoy, Kunoy, Borðoy, Viðoy, Svínoy and Fugloy. Borðoy is home to the second largest town in the Faroe Islands, Klaksvík. The southern group of islands consists of Suðuroy, Sandoy, Skúvoy, Stóra, Dímun and Lítla Dímun. Lítla Dímun is the only uninhabited island in the Faroe Islands. During the Ice Age, the Faroe Islands were covered in ice. Towards the end of the ice age, after the ice began to melt, the cirques, straits and fjords that characterise the landscape were formed.
Landscape
The north and west coasts are characterised by steep cliffs up to 750 metres high at Enniberg on the island of Viðoy. The east and south coasts have a more rolling landscape. The highest point in the Faroe Islands is Slættaratindur at 882 metres. The soil consists of basalt and tuff layers and has acquired a very varying relief (up to 862 m high) due to the strong abrasion of the soil by weathering, ice and wind, among other things. The islands are separated in some places only by narrow straits and are strongly influenced by the tides. There is very little forest, partly due to centuries of sheep farming.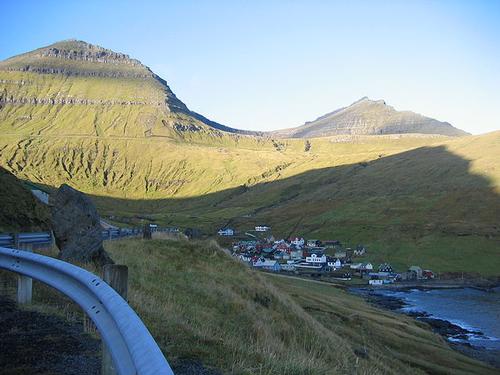 Funningur village at the foot of Slættaretindur (left) and Gráfeli (right), Faroe IslandsPhoto: Mulder1982 in the public domain

---
Sources
Cornwallis, G. / Iceland, Greenland & the Faroe Islands
Lonely Planet

CIA - World Factbook

BBC - Country Profiles
Last updated November 2023
Copyright: Team
The World of Info