CAYMAN ISLANDS
Society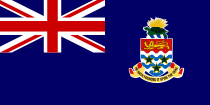 Society
State structure and politics
Until 1962, the Cayman Islands formed an administrative unit with neighbouring Jamaica, which then gained its independence. The inhabitants of the Cayman Islands chose to remain part of the British Kingdom. They were granted crown colony status, headed by a governor and an Executive Council consisting of three appointed and five elected members.
The Cayman Islands are a British overseas territory. The British Queen is represented by a Governor. This is currently Duncan Taylor (since 15 January 2010). The people elect a 15-member parliament every four years. Of the MPs, 5 are elected to serve as ministers in the Cabinet. The leader of the government since 6 November 2009 is McKeeva Bush. Alan Mclaughlin took over on 29 May 2013.
Economy
An important source of income is banking, in which many residents work. There are many so-called letterbox companies on the islands. They have settled here because of the attractive tax climate that has prevailed since 1966. The Cayman Islands are especially known as one of the largest tax havens in the world. More than 70,000 companies (2005) are located on the islands for tax reasons.
The United States is the Cayman Islands' largest trading partner. With an average income of $43,800 (2017), the islands have the highest standard of living in the Caribbean. Economic growth was 1.7% in 2017. The Cayman Islands have their own currency, the Cayman dollar.
---
Sources
Elmar Landeninformatie

CIA - World Factbook

BBC - Country Profiles
Last updated May 2023
Copyright: Team
The World of Info