BOTSWANA
Vacations and Sightseeing

Basic information
Official language
English
Capital
Gaborone
Area
581.730 km²
Population
2,397,241 (2021)
Currency
pula (BWP)
Web
.bw
Code.
BWN
Tel.
+276

Vacations and Sightseeing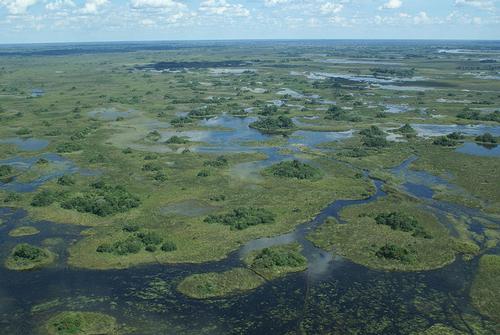 Botswana Okavanga DeltaPhoto: Justin Hall CC 2.0 Generic no changes made
Botswana has a varied landscape, although the majority of the country consists of the Kalahari Desert. The safari opportunities in Botswana are endless and the country's wildlife density is very high.
The Okavango Delta, the largest inland river delta in the world, consists of a labyrinth of thousands of large and small rivers, creeks and islands, and can therefore mainly be visited with a traditional 'mokoro', a wooden canoe. The small Moremi Game Reserve is a highly sought after safari destination due to the wide variety of animals, especially about 500 bird species, and mopane forests. The Tsodilo Hills in the Kalahari Desert are one of the holiest sites of the Bushmen, where about 4000 ancient rock paintings depicting dances, animals and hunting scenes are included in the UNESCO World Heritage List. The Central Kalahari Game Reserve is the second largest game park in the world.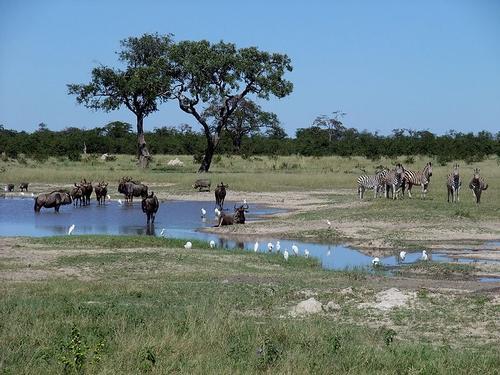 Chobe National park BotswanaPhoto: Gorgo in the public domain
Most safaris are organized from the town of Maun to the national parks and reserves. Those looking for wildlife will find what they want in the Chobe National Park (1200 km2), the most visited park in Botswana where, in addition to about 460 bird species, almost all the large mammals of southern Africa are found, except for the rhinoceros. Among other things, large herds of elephants (approx. 120,000) migrate to the Chobe River.
The enormous Makgadikgadi salt pans, the largest in the world, are a paradise for animal lovers in both the dry and wet periods, where the second largest zebra migration takes place in Africa. Other nature reserves are the Nata Bird Sanctuary (birds), the Nxai Pan National Park (including sand dunes and large herds of springbok, giraffes and zebras), the Linyati Wetlands (including elephants and wild dogs), the watery private reserve Kwando Concession (including herds of elephants and buffaloes), the Selinda Concession (including many wild dogs), the Khutse Game Reserve, Khama Rhino Sanctuary (rhinoceroses), Savute Game Reserve, Northern Tuli Game Reserve (including lions, elephants, leopards, cheetahs) and the Mashatu Game Reserve, where even a mountain bike safari is possible.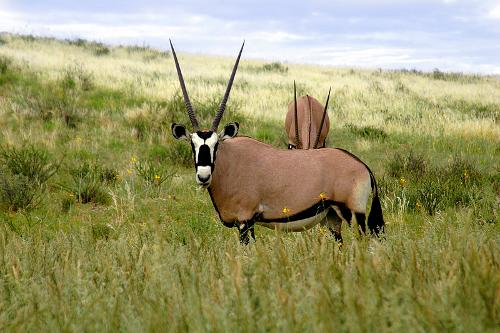 Botswana Kgalagadi Transfrontier ParkPhoto: Amada44 CC 3.0 Unported no changes made
The Kgalagadi Transfrontier Park is a relatively new game park, with large herds of wildebeest and other antelopes, and includes the former Kalahari Gemsbok National Park (South Africa) and Gemsbok National Park (Botswana). Mokolodi Game Reserve is an educational private game reserve where white rhinos still live and a successful breeding program of this rare animal has been set up.
---
Sources
Elmar Landeninformatie

CIA - World Factbook

BBC - Country Profiles
Last updated April 2023
Copyright: Team
The World of Info