BOTSWANA
History


History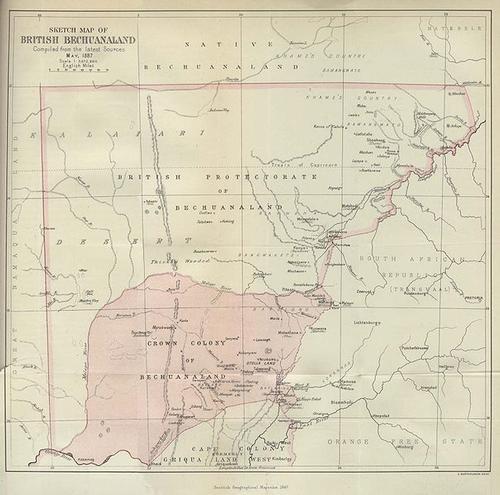 Botswana Map 1887Photo: John George Bartholomew in the public domeain
Botswana was inhabited by the Khoi and San peoples for thousands of years before Christ. In the north-west, traces of about 17,000 years B.C. A few centuries later, Bantu speakers also settled in this area. Around 1200-1400 a number of powerful Sotho dynasties spread from the Transvaal. These Tswana (Central Sotho) dynasties strengthened around the 16th century and organized themselves into states around the 19th century. During the 17th and 18th centuries, present-day Botswana was inhabited by a predominantly Setswana-speaking population. Europeans also reached this region from the beginning of the 19th century. At the end of the 19th century, Khama III (aka Khama the Great) was the foremost and most important indigenous leader with a powerful army. Persistent threat from the Afrikaners of South Africa, reinforced by the discovery of gold in Botswana, prompted Khama III to seek protection from the British. Although Khama III continued to exert enormous influence on the area and its incorporation into South Africa succeeded, the country, then called Bechuanaland, became a British protectorate from 1885.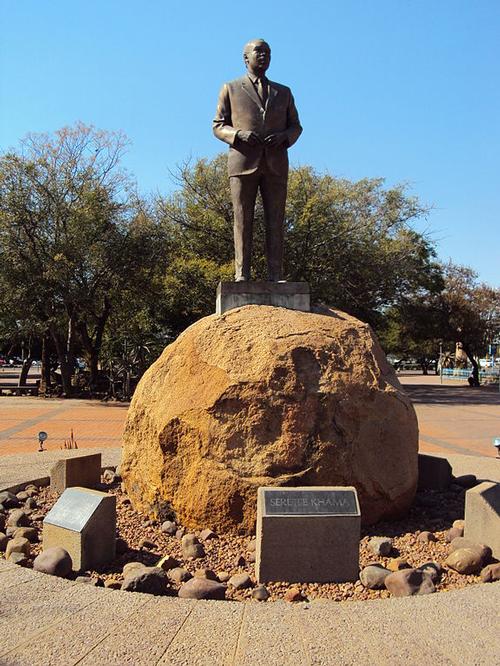 Statue Seretse Khama BotswanaPhoto: Shosholoza CC 3.0 Unported no changes made
In 1962, the Bechuanaland Democratic Party (BDP) was founded by a grandson of Khama III, Seretse Khama. Already in the elections prior to independence, in 1965, the BDP won the most votes and a year later Seretse Khama became the first president of the independent republic of Botswana. The BDP has always been the ruling party in Botswana. After his death in July 1980, Khama was succeeded by his Vice President Quett Ketumile Masire (later Sir Ketumile Masire). Masire, co-founder of the BDP, remained president until April 1998 and was succeeded by then Vice President Festus Mogae, who was re-elected as president after elections in 2004. In April 2008, Seretse Khama Ian Khama is elected president. Festus Mogae will be awarded a $ 5 million prize in October 2008 for good African policy. In April 2009, Botswana decided to halve diamond production due to stagnating prices. In October 2009, the ruling BDP wins elections and Khama starts a new five-year term as president. In January 2012, the three main opposition parties met in hopes of bringing about the fall of the government. The conversations did not have the desired result. In November 2013, the diamond wholesaler De Beers decided to move the sale of rough diamonds to Botswana. Khama is re-elected for a second term in October 2014.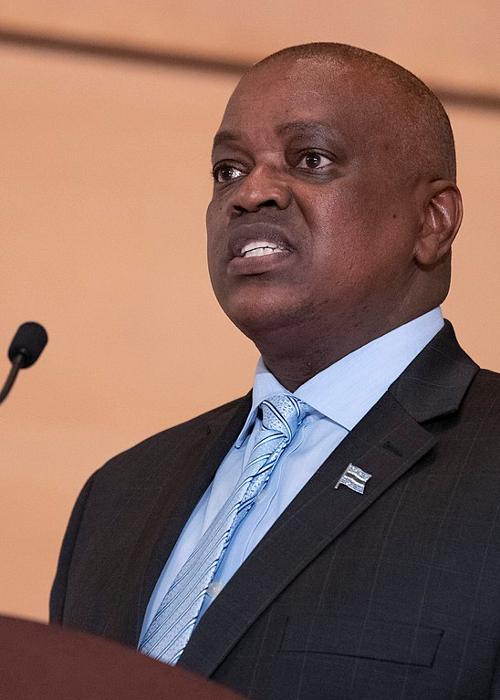 Mokgweetsie Masisi, President of BotswanaPhoto: UNCTAD CC 2.0 Generic no changes made
Mokgweetie Masisi is elected president and new leader of the BDP in 2018. He wins by a wide margin in the October 2019 elections.
Sources
Elmar Landeninformatie

CIA - World Factbook

BBC - Country Profiles
Last updated February 2023
Copyright: Team
The World of Info