UNITED ARAB EMIRATES
Geography and Landscape

Basic information
Official language
Arabic
Capital
Abu Dhabi
Area
83.600 km²
Population
10,100,872 (2021)
Currency
VAE-dirham (AED)
Web
.ae
Code.
ARE
Tel.
+971

Geography and Landscape
Geography
The United Arab Emirates are located in the Middle East. The U.A.E. consists of seven emirates: Abu Dhabi, Dubai, Sharjah, Ajman, Ras al-Khaimah, Umm al-Qaiwain and Fujairah. The Emirates border the Gulf of Oman and the Persian Gulf and lie between Oman and Saudi Arabia.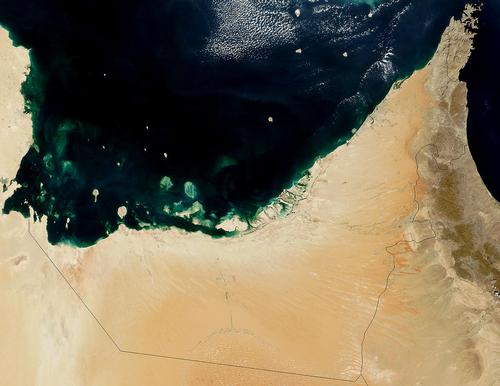 United Arab Emirates Satellite PhotoPhoto:Public Domain
The area of the United Arab Emirates is about 80,000 square kilometres.
Landscape
The largest part of the United Arab Emirates consists of desert. In the centre and south of the country, only windblown dunes provide some relief in the otherwise flat desert. This landscape is part of the world's largest sandy desert Rub al-Khali desert (The Empty Quarter), most of which lies in Saudi Arabia.
In the north and north-east of the country are foothills of the Hajar Mountains. The highest peaks are around 2000 metres. There are no rivers in the country that carry water all year round. The only significant wadis run a short distance between the Hajar Mountains and the Persian Gulf.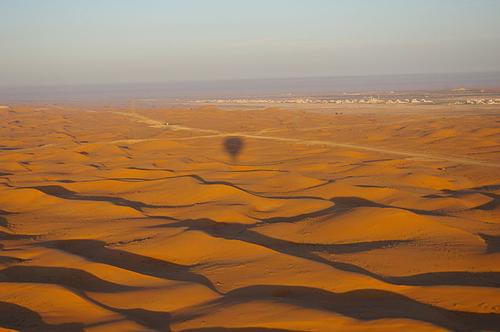 Desert landscape near Al Ain, Abu Dhabi emirate, part of the United Arab EmiratesPhoto:Rokaszil CC 3.0 Unportedno changes made
Climate and Weather
The United Arab Emirates has a desert climate, with somewhat cooler weather in the mountains in the east. The summer runs from May to September. Temperatures can reach 35 to 45 °C then. In the winter, from October to April, daytime temperatures are between 20 and 30 °C. The sun makes long days everywhere. Occasionally the shimal, the north wind blowing from Siberia, provides a cool or cloudy day. Given the heat, it is best to visit the Emirates from October to April.
Plants and Animals
Plants
The largest part of the country consists of uncultivated desert. Vegetation found in the United Arab Emirates include date palm (national tree of the United Arab Emirates), eucalyptus, barley, millet, alfalfa, mango and mangrove.
Animals
Local animal species include gazelles, wolves, leopards, the Arabian oryx, the lynx, porcupines, owls, mammals, mice, rodents, and various reptile species. The Arabian leopard is threatened with extinction. The most common animals are camels and wild goats.
The national bird of the United Arab Emirates is the peregrine falcon, the national animals are the camel and the Arabian horse.
---
Sources
Elmar Landeninformatie

CIA - World Factbook

BBC - Country Profiles
Last updated November 2023
Copyright: Team
The World of Info