OMAN



Geography and Landscape
Geography
The Sultanate of Oman (Arabic: Sultanah 'Oeman) is located in the southeast of the Arabian Peninsula. It borders the United Arab Emirates to the west and Yemen to the south. The 1700 kilometre long coastline borders the Arabian Sea to the east and the Gulf of Oman to the north. To the north is the Musandam Peninsula, which is separated from Oman by a 70-kilometre-wide strip of land forming part of the United Arab Emirates. The total area of Oman is just over 300,000 km2.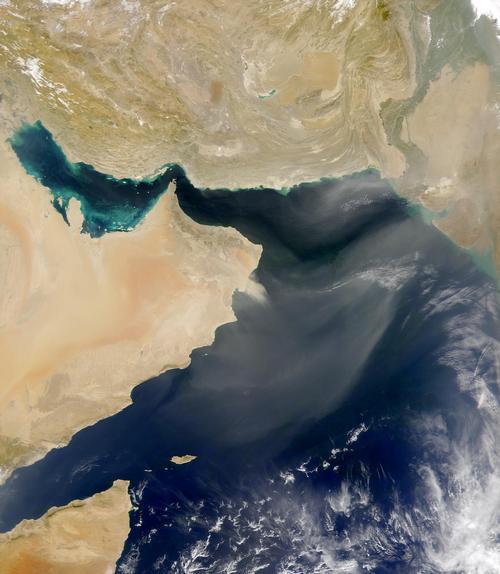 Oman Satellite PhotoPhoto: Public domain
Landscape
The Musandam Peninsula is dominated by the northern peaks of the Hajjar Mountains, a limestone massif. The highest peak is Jebel Harim (2087 metres). The foothills of these mountains run 130 km inland and the highest peak of the mountain range and of Oman as a whole is Jebel Shams (3009 metres). The north of Oman is mountainous with many valleys, oases and small villages. Between the western Hajjar Mountains and the Gulf of Oman lies the fertile Batinah coastal plain. The eastern coastline consists for a large part of steep mountain ridges, incised by bays that have often been developed into harbours. Towards the east, the coastal strip widens and is incised by wadis (riverbeds that only temporarily hold water). The southern foothills of the Hajjar Mountains give way to a 500-kilometre-long gravel plain, the Jiddat al-Harasis.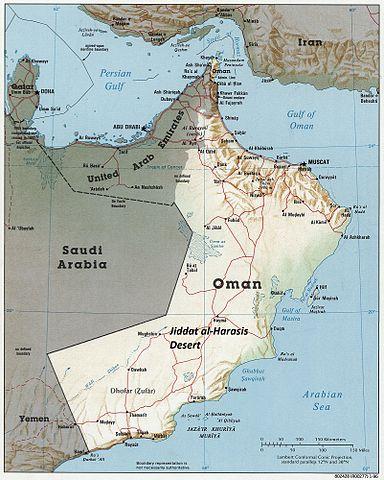 Location of Jiddat al-Harasis desertPhoto: United States Central Intelligence Agency in the public domain
To the east lies the Wahiba sand desert. To the west is the Rub al-Khali desert, with 800,000 km2 the largest continuous desert area in the world.
Due to the chemical weathering of the limestone, a labyrinth of caves run through Oman's landscape. The second largest cave in the world is in Oman. This cave is more than 300 metres long, 225 metres wide and up to 120 metres high!
Oman also has the Masirah Island with a military base, the uninhabited Daymaniyat Islands and the Kuria-Muria Islands. In the emirate of Fujairah there is the Omani exclave of Madha.
---
Sources
Callan, L. / Oman & United Arab Emirates
Lonely Planet
Foster, L.M. / Oman
Children's Press
Medani Elsayed, M. / Reishandboek Oman en de Verenigde Arabische Emiraten
Elmar
Van Deuren, G. / Oman, Verenigde Arabische Emiraten
Gottmer/Becht

CIA - World Factbook

BBC - Country Profiles
Last updated November 2023
Copyright: Team
The World of Info