MALI
Climate and Weather


Climate and Weather
Due to the size of the country, Mali is located in different climate zones. The north has a desert climate, the south has a steppe climate and in between the Sahel has a steppe climate. The year is made up of three seasons in all climate zones.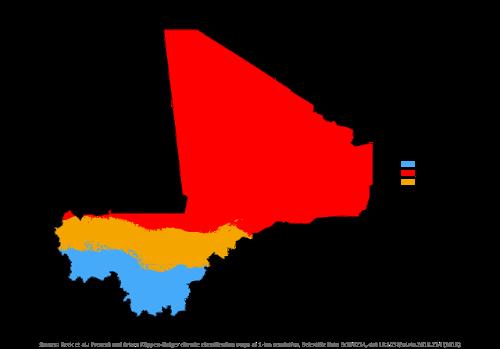 Climate zones of MaliPhoto: Public domain
The rainy season runs from June to September, which is particularly noticeable in the far south. There is an average of 1200 mm of rain. The humidity rises to 100% during this period. Further north, the amount of precipitation decreases sharply and the rainy season is also becoming shorter. In the capital Bamako there is about 1000 mm per year and north of the line Mopti-Timbuktu-Gao falls on average less than 200 mm per year. During this period it is often very hot in Mali. The maximum temperature is then between 30 and 35°C in Bamako and between 35 and 40°C in Timbuktu. In the Sahel zone, falls between 300 and 600 mm per year. However, these amounts can vary greatly from year to year.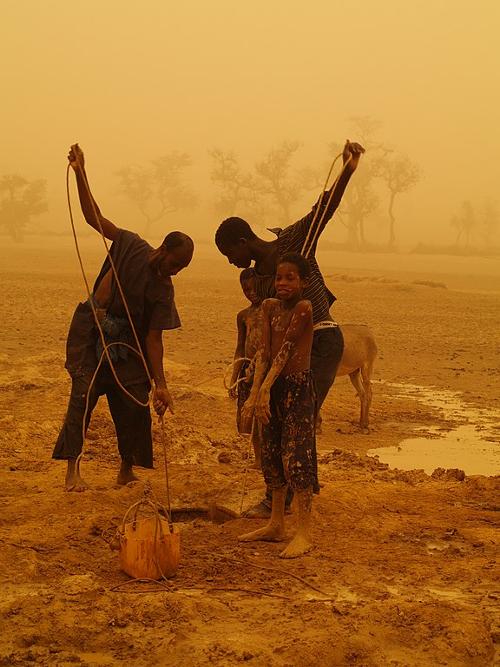 Harmattan, MaliPhoto: Velio Coviello CC 3.0 Unported no changes made
After the rainy season follows the Malian "winter", as the Malians call it themselves. This period lasts from October to February and especially in the north it is noticeably cooler with "only" 30 to 35°C. At night it can even cool down to around freezing in the north. In December, January and February there is not a drop of rain in Mali.
The period from March to May is the warm season with temperatures in Bamako reaching 40°C and in Timbuktu up to 45°C. The Malian Sahara is home to some of the hottest areas in the world, with temperatures above 50°C. The town of Kayes in Western Mali has the dubious distinction of being the hottest city in Africa, with temperatures regularly exceeding 40°C.
Especially when the scorching desert wind, the "harmattan", blows from the northeast, it is hard to bear outside. In addition, these winds are accompanied by dust storms that can shut down public life altogether. The harmattan mainly blows from December to March.
---
Sources
Te gast in Mali
Verre Reizen
Velton, R. / Mali
Bradt
Vlugt, B. / Mali
Gottmer
Westen, G. van / Mali : mensen, politiek, economie, cultuur
Koninklijk Instituut voor de Tropen

CIA - World Factbook

BBC - Country Profiles
Last updated November 2023
Copyright: Team
The World of Info