LITHUANIA



Cities in LITHUANIA
Geography and Landscape
Geography
Lithuania (Lithuanian: Lietuva; official: Lietuvos Respublika) is a republic in north-eastern Europe and the southernmost of the three Baltic republics. Lithuania has a surface area of 65,200 km2, making it the largest Baltic state. Lithuania borders Latvia to the north, Belarus to the south-east and Poland and the Russian enclave of Kaliningrad to the south-west.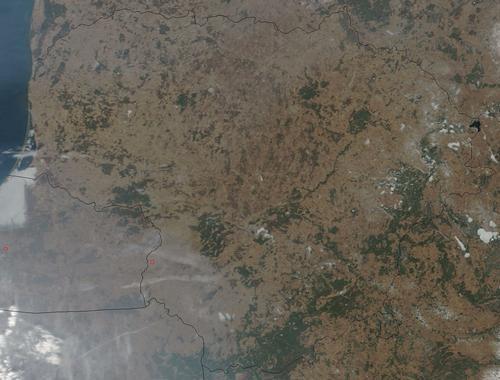 Lithuania Satellite photoPhoto:Public domain
Landscape
The coast along the Baltic Sea is about 100 km long, of which about half runs along the Kuršiu Nerija. This is a kind of sandbank 98 km long and up to 66 metres high, but nowhere wider than 4 kilometres. It is Lithuania's most remarkable piece of land. Behind the Kuršiu Nerija are a number of lagoons. Lithuania is also a fairly flat country with two high plains that average 150 metres in height. One of these plateaus is located to the east along the border with Belarus. This plain is divided into the Medininku plateau in the south-east where Lithuania's two highest hills are found, the Aukštojas with 294 metres and the Juozapine with 293 metres; and the Švencioniu plateau in the north-east.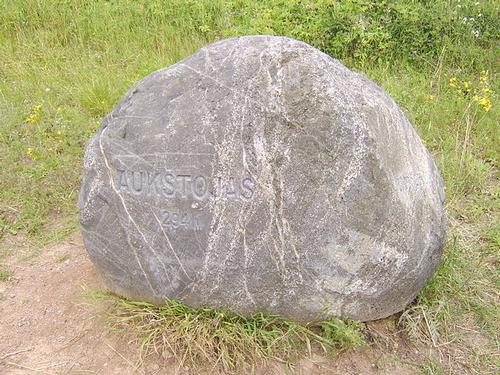 Stone at the top of Aukštojas, LithuaniaPhoto: Tomaš Staševskij / Resutas in the public domain
In the northwest is the Žemaitija plateau with a maximum height of 234 metres. Approximately 25% of Lithuania is forested and 3% is covered by swamps. Lithuania has around 3000 lakes, which cover 2% of the surface area and are mostly located in the north-east of the country. The Kaunas Sea is the largest inland water body, but it is artificially created. The largest natural lake is Drukšiai.
Lithuania has 750 rivers that are longer than 10 kilometres. The most important river is the Nemunas, 973 km long, 425 km of which flow through Lithuania.
---
Sources
Estonia, Latvia, and Lithuania : country studies
Federal Research Division, Library of Congress
McLachlan, G. / Lithuania
Bradt Publications
Williams, N. / Estonia, Latvia & Lithuania
Lonely Planet,

CIA - World Factbook

BBC - Country Profiles
Last updated November 2023
Copyright: Team
The World of Info