LATVIA



Cities in LATVIA
Geography and Landscape
Geography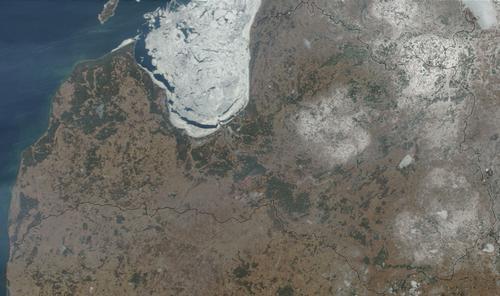 Latvia Satellite photoPhoto: Public domain
Latvia (officially Republika Latvija) is one of the Baltic republics, together with Estonia and Lithuania. To the west of Latvia, across the Baltic Sea, lies Sweden. To the west, Latvia borders the Baltic Sea and the Gulf of Riga, which penetrates deep into the country from the northwest. To the north it borders Estonia, to the south Lithuania and to the east Russia and Belarus.

The capital Riga is located on the Gulf of Riga in the centre of the country. The surface area of Latvia is 64,600 km2.
Landscape
Latvia is generally flat or slightly hilly. Latvia is very densely forested (42% of the country), has many lakes and rivers, an unspoilt coast, many meadows and agricultural areas. Apart from Riga there are no large cities. Latvia has approximately 1000 rivers. The longest river is the Daugava, 1020 km long of which 370 km flows through Latvia. Other large rivers are the Gauja, the Lielupe, the Venta and the Aiviekste. Approximately 10% of the country consists of low moorland, swampy areas and bogs. Latvia has about 5000 relatively small lakes. The largest lake is Razna (55 km2). Most lakes are fairly shallow and frozen for several months in winter.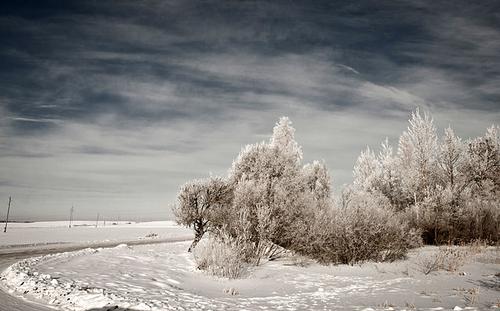 Winter landscape in LatviaPhoto: Simka CC 3.0 Unported no changes made
Latvia can be divided into four regions:
Kurzeme in the west of Latvia is very rural and sparsely populated. The northern part of Kurzeme is very densely forested, quite hilly, and is therefore also called the "Switzerland" of Kurzeme.
Zemgale, centrally located, is flat and the most fertile area of the country. The River Lielupe and its many tributaries criss-cross the landscape.
Latgale in the south-east is still the most Russian-oriented and also the poorest part of Latvia. The Daugava river flows through Latgale towards the Gulf of Riga. Latgale has many lakes and small rivers. Latgale is still hardly visited by tourists.
Vizdeme in the north is very hilly with the Gaizinškalns (310 metres) as its highest point. The Gauja River flows through this region and Gauja National Park is also found here.
Sources
Baister, S. / Latvia
Bradt Publications
Estonia, Latvia and Lithuania : country studies
Federal Research Division, Library of Congress,
Williams, N. / Estonia, Latvia & Lithuania
Lonely Planet

CIA - World Factbook

BBC - Country Profiles
Last updated May 2022
Copyright: Team
The World of Info