LATVIA
Plants and Animals


Cities in LATVIA
Plants and Animals
Plants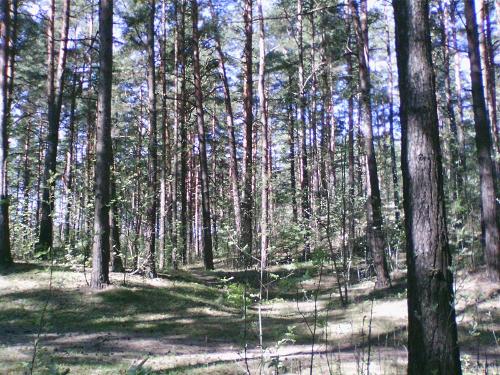 Pine forest, LatviaPhoto: Dimaniznik CC 3.0 no changes made
Today, about 40% of Latvia is covered with forests. Two thirds of the trees are Scots pines. Some of these trees are more than 500 years old. Inland forests are more varied with beech and spruce. Other common trees are oak, ash, lime, juniper and yew. It is noteworthy that there is little undergrowth in the Latvian forests. However, blueberry and raspberry bushes grow between the trees and at the edges of the forests. The population likes to make use of this and picking these fruits is a national hobby.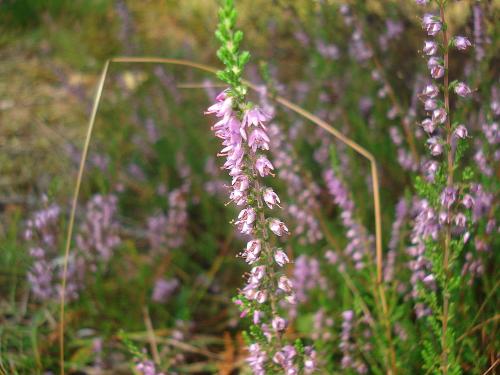 Heather, LatviaPhoto: Sanja565658 CC 3.0 no changes made
The forests are also home to many species of mushrooms, such as boletus, cep and chanterelle. A quarter of the land is pasture land, which in summer is covered with clover, caraway, yarrow, Timothy grass and foxtail. Ten percent of the land is marshland, mostly covered with moss, but heather and rosemary are also common.
Animals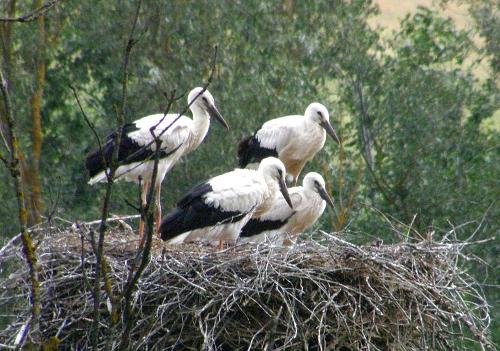 Stork family, LatviaPhoto: Paul Berzinn CC 3.0 no changes made
The best-known bird in Latvia is the stork, of which there are at present about 7,000 breeding pairs, about six times as many as in the whole of Western Europe. The black stork is much less common, about 1000 pairs. The many forests form an excellent habitat for seven species of woodpeckers. A special water bird is the Mute Swan, which is also a protected bird. Other water birds are the rare grey heron, cranes, bitterns, grebes, oystercatchers and various species of gull. Inland, there are buzzards, kestrels and owls. In villages and towns we find many crows and book finches, sometimes with hundreds of specimens together. Kemer National Park attracts many eagles, short-eared owls and whimbrels.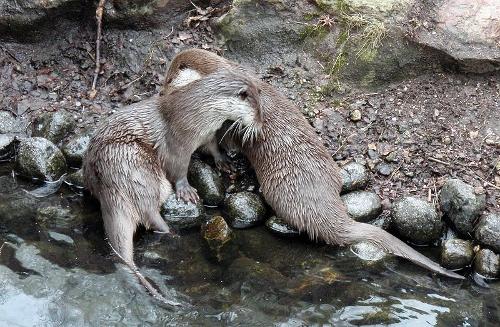 Eurasian Otters, LatviaPhoto: Kallerna in the public domain
Latvia, like the other Baltic states, has many large mammals on its territory such as deer, wild boar, wolves, martens, moose, lynx and brown bears. Many of these animals, compared to other European countries, are still found in large numbers in Latvia. Not special but common are squirrels, mice, rabbits, foxes, weasels, bats, hedgehogs and moles. Not so long ago, the American mink and the Norwegian rat were introduced. Latvia also has a large population of otters (approx. 4000 specimens). In the countryside there are many grass snakes, vipers, lizards, newts, frogs and toads.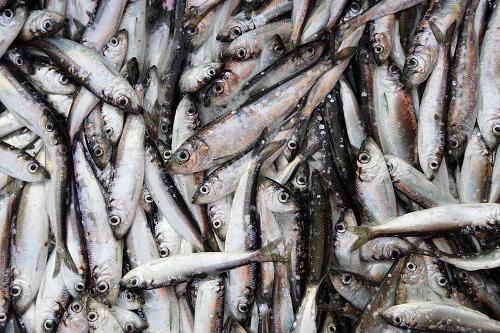 Baltic Herring, LatviaPhoto: Olev Mihkelmaa at Wikipedia CC 3.0 no changes made
There are plenty of freshwater fish such as bream, pike, perch, trout, eel and carp. The best-known sea fish is the Baltic herring. Cod, plaice and salmon are also common.
---
Sources
Baister, S. / Latvia
Bradt Publications
Estonia, Latvia and Lithuania : country studies
Federal Research Division, Library of Congress,
Williams, N. / Estonia, Latvia & Lithuania
Lonely Planet

CIA - World Factbook

BBC - Country Profiles
Last updated November 2023
Copyright: Team
The World of Info