GEORGIA
Geography and Landscape

Basic information
Official language
Georgian
Capital
Tbilisi
Area
69.700 km²
Population
3,976,387 (2021)
Currency
lari (GEL)
Web
.ge
Code.
GEO
Tel.
+995

Cities in GEORGIA
Geography and Landscape
Geography
Georgia (Georgian: Sakartvelo and officially: Sakartvelos Respublica), is a republic in the Caucasus and a former republic of the Soviet Union. The Caucasus, like the Himalayas, is a young mountain range only 25 million years old. The mountain range stretches for about 1200 km and contains more than 2000 glaciers with a total area of 1780 km2.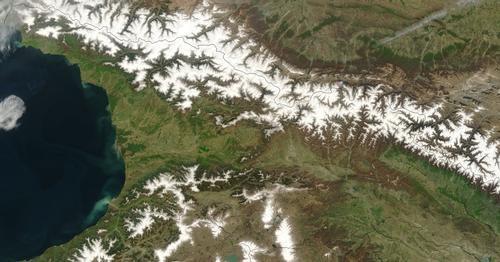 Georgia Satellite PhotoPhoto: Public domain
Georgia's total area is 69,700 km2 and its capital is Tbilisi or Tiflis. Georgia is bordered to the north by Russia (723 km), to the east by Azerbaijan (322 km), to the south by Turkey (252 km) and to the south-east by Armenia (164 km).
Landscape
For a relatively small country, Georgia has a very varied landscape. In the north of the country, the main chain of the Great Caucasus extends from the Black Sea to the north-eastern borders with Dagestan and Azerbaijan. The highest mountains here are over 5000 metres high, the highest mountain being the Shkhara at 5068 metres. The two other mountains above 5000 metres are the Janga with 5059 metres and the Mkinvartsveri with 5033 metres. Another mountain range, the Likhi, more or less divides the country in half. More than half of the country lies above 900 metres and about 40% of the area is covered with forests. Around Poti on the Black Sea coast there is a wet flat area and to the north and south of this the hills slowly give way to the mountains of the interior. South Georgia consists of the lava plateaus of the Lesser Caucasus with ancient volcanic cones.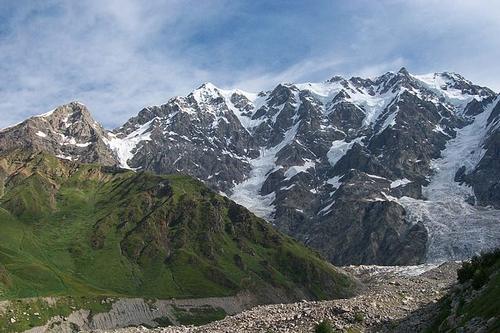 Shkhra, highest mountain in GeorgiaPhoto: Pawel Pienkowski CC 3.0 Unported no changes made
In the east, all the rivers converge on the Mtkvari (1364 km in total), which originates in Turkey and flows into the Caspian Sea via Azerbaijan. The rivers west of the Likhi Mountains, such as the Rioni (327 km) and the Enguri (213 km), flow into the Black Sea. Georgia has more than 850 lakes, of which Lake Paravani is the largest at 37.5 km2.
Georgia has about 2000 mineral water springs that produce 130 million litres of water per day. There are more than 500 types of spring water.
At least 15% of Georgia's soil is limestone, so it is not surprising that there are many caves. The Pantiukhin Cave is considered the second deepest in the world with a depth of 1540 metres.
---
Sources
Bronnen
Burford, T. / Georgia
Bradt Publications
Georgia, Armenia & Azerbaijan
Lonely Planet
Rosen, R. / Georgia
Odyssey Publications
Spilling, M. / Georgia
Marshall Cavendish

CIA - World Factbook

BBC - Country Profiles
Last updated August 2023
Copyright: Team
The World of Info