GALAPAGOS ISLANDS
Geography and Landscape

Basic information
Official language
Spanish
Capital
Puerto Baquerizo Moreno
Area
7.880 km²
Population
ca. 32,000 (2019)
Currency
U.S. dollar (USD)
Web
.ec
Code.
ECU
Tel.
+593

Popular destinations ECUADOR
Geography and Landscape
Geography
Galápagos Islands (literally translated: Turtle Islands;officially: Archipiélago de Colón), is a province of Ecuador and consists of thirteen large and more than forty small islands, five of which are inhabited.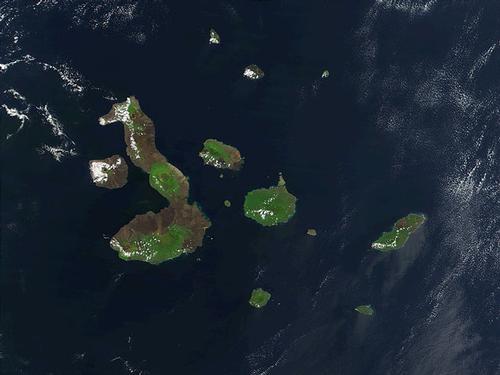 Satellite photo Galapagos IslandsPhoto: Public domain
The archipelago is located 970 km west of the coast of Ecuador in the Pacific Ocean. Costa Rica is located 1100 km northeast of the archipelago. The total land area is approximately 7800 km2 and the entire archipelago extends over an area of approximately 60,000 km2. The largest island is Isabela (formerly: Albemarle;50% of the total province).
Landscape
The islands are of volcanic origin and hundreds of volcanoes determine the landscape. The oldest peaks are 4-5 million years old and the area is one of the most active volcanic regions in the world. On the islands of Isabela, Fernandina and Marchena there are still frequent eruptions, the last of the volcano La Cumbre on the island of Fernandina in 1995 and the Cerro Azul on Isabela in October 1998. The islands have never been connected to the mainland and therefore a unique area has emerged from a biological point of view.
The coastal regions of the islands are often desert or steppe-like. Tropical forest is only found on the highest parts of the slopes of the volcanoes. In 1959 the archipelago was declared a national park.
The highest point is the Cerro Azul on the island of Isabela and measures 1,689 meters. Measured from the seabed, the volcano is about 4500 meters high. On the island of San Cristóbal is the capital Puerto Baquerizo Moreno where about half of the population lives.
The inhabitants of the Galápagos live from the cultivation of sugar cane, cotton, vegetables and fruits and further from fishing. and livestock and of course from tourism.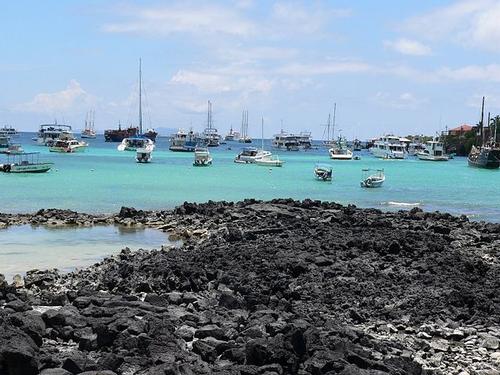 Puerta Ayora on the island of Santa cruz, Galapagos IslandsPhoto: A Flores Lopez CC 3.0 Unported no changes made
---
Sources
Ecuador
Cambium
Luft, A. / Reishandboek Ecuador en de Galápagoseilanden
Elmar
Rachowiecki, R. / Ecuador & the Galápagos islands
Lonely Planet
Renterghem, O. van / Ecuador : mensen, politiek, economie, cultuur
Koninklijk Instituut voor de Tropen/Novib
Vries, W. de / Ecuador, Galápagos
Gottmer

CIA - World Factbook

BBC - Country Profiles
Last updated November 2023
Copyright: Team
The World of Info