ESTONIA
Geography and Landscape

Basic information
Official language
Estonian
Capital
Tallinn
Area
45.228 km²
Population
1,328,024 (2021)
Currency
euro (EUR)
Web
.ee
Code.
EST
Tel.
+372

Cities in ESTONIA
Geography and Landscape
Geography
The Republic of Estonia (officially Eesti Vabariik) is the most northerly and least densely populated of the Baltic countries (Estonia, Latvia and Lithuania). Its surface area is 45,226 km2.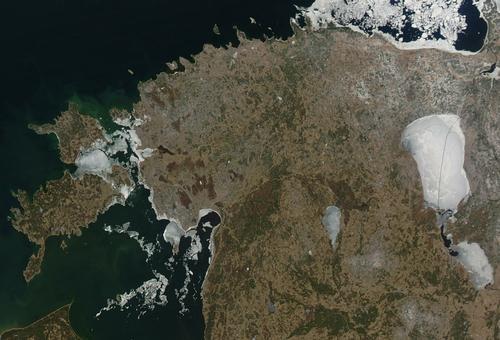 Estonia Satellite PhotoPhoto: Public domain
Estonia is bordered to the west by the Baltic Sea and to the north by the Gulf of Finland. To the south, Estonia borders Latvia. The eastern border is formed by the Narva River and Lake Peipus, which separate Estonia from Russia. Although Estonia belongs geographically to Eastern Europe, in character and appearance it is more like a Scandinavian country. Estonia's capital, Tallinn, is only 84 km from Finland's capital Helsinki by water. St Petersburg in Russia is 320 km away.
Landscape
Estonia can be divided into two geographical zones: the coastal region in the north and west with peat bogs, lakes and islands. The northern and western regions have become fairly flat as a result of erosion during various ice ages. The average height there is ± 50 metres above sea level. The east and south of the country consist of a sandstone plateau that is slightly higher than the rest of Estonia. The highest point in Estonia is Suur Munamägi at 317 meter.
Forested hills around Estonia's highest point; Suur MunamägiPhoto: Hannu in the public domain

Estonia has approximately 1400 lakes and 1500 islands. These islands together make up about 10% of the land area. The offshore islands are remnants of an old coast. The islands of some size are Saaremaa (2670 km2) and Hiiumaa (990 km2). On Saaremaa is the Kali crater, formed after the impact of a meteorite ± 800 years B.C. Lake Peipus is the fifth largest lake in Europe and measures 3500 km2. Estonia has about 7000 rivers, streams and ditches, of which nine are longer than 100 km. The Väïke-Emajogi is the longest river with 209 km. One fifth of the country is covered with swamps and especially the north of Estonia is covered with large stones, which have remained after the various ice ages.
---
Sources
Estonia, Latvia, and Lithuania: country studies
Federal Research Division, Library of Congres

Spilling, M. / Estonia
Marshall Cavendish Corporation

Taylor, N. / Estonia
Bradt Publications

Williams, N. / Estonia, Latvia & Lithuania
Lonely Planet

CIA - World Factbook

BBC - Country Profiles
Last updated May 2023
Copyright: Team
The World of Info