CYPRUS
Geography and Landscape

Basic information
Official language
Greek, Turkish
Capital
Nicosia
Area
9.251 km²
Population
1,222,002 (2021)
Currency
euro (EUR)
Web
.cy
Code.
CYP
Tel.
+357

Cities in CYPRUS
Geography and Landscape
Geography
Cyprus (in Greek: Kypriaki Dimokrata, in Turkish: Kibris Cumhuriyeti) is the easternmost island in the Mediterranean. Turkey is at 72 km, Egypt at 350 km. After Sicily and Sardinia, Cyprus is the largest island in the Mediterranean Sea.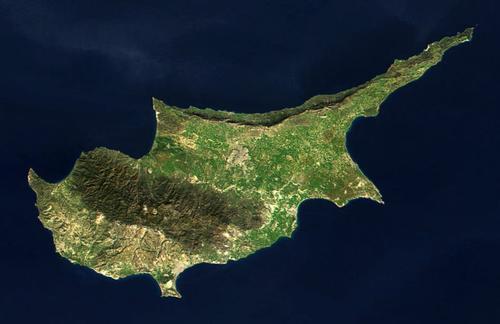 Cyprus Satellite PhotoPhoto: Public domain
The surface area of Cyprus is 9250 km2. The Kyrenia Mountains are located in the north and consist mainly of limestone. The highest altitude is about 1000 metres and the mountain range is notable for its jagged edges and sharp peaks. Apart from Kyrenia, there are no other harbours here.
Landscape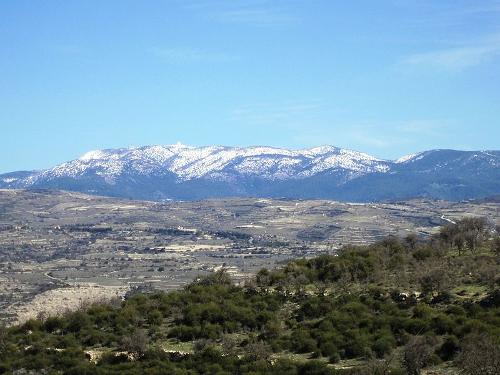 Mount Olympus, CyprusPhoto: Dickelbers, CC BY-SA 3.0 no changes made
In the south-west are the Troödos Mountains with Olympus (1953 m) as the highest peak on the island. This mountain range is much more undulating and climbs gradually to almost 2000 metres. Between these two mountain massifs lies the Mesaoria, a very fertile plain. The south and east coasts have wide bays and several harbours can be found here: Famagusta, Paphos, Larnaka and Limassol. Cyprus has no real rivers. Most of them are mountain streams that only have water in the spring.

In ancient times Cyprus was densely forested, but at the beginning of this century the mountain slopes were almost bare due to deforestation and forest fires. Reforestation has restored almost one fifth of the island. Cyprus got its name from the copper trade in ancient times. Kypros means copper in Greek.
---
Sources
Bulmer, R. / Cyprus Kosmos-Z&K
Cyprus
Het Spectrum
Haan-van de Wiel, W.H. de / Cyprus Gottmer

CIA - World Factbook

BBC - Country Profiles
Last updated November 2023
Copyright: Team
The World of Info