COLOMBIA



Geography and Landscape
Geography
The total surface area of Colombia is 1,138,910 square kilometres. Colombia is therefore approximately twenty-eight times larger than the Netherlands. Colombia borders the following countries: Brazil, Ecuador, Panama, Peru and Venezuela. The coast of Colombia borders the Pacific Ocean and the Caribbean Sea.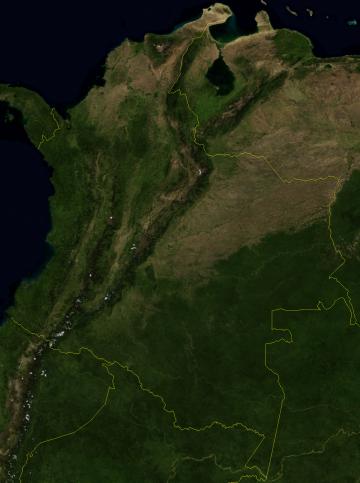 Colombia on satellite photoPhoto: Public domain
Landscape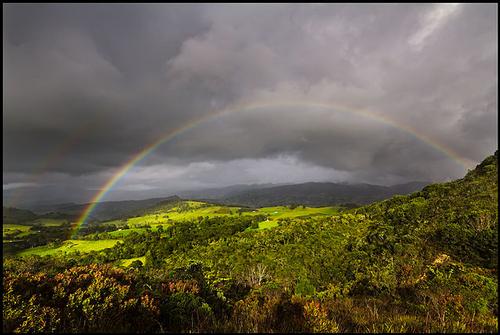 Colombia LandscapePhoto: Pedro Szekel CC 2.0 Generic no changes made
The landscape of Colombia is dominated by high Andean peaks. There is also a central plateau and lowlands on the coast and in the east of the country. The country has three major Andes mountain ranges (cordilleras), with the highest point Pico Cristobal (5775 metres). The Andes Mountains form the heart of the country. This is where the majority of the population lives. Also, the largest part of the coffee plantations can be found here. Colombia also has a large jungle area, the tropical rainforest.
Climate and Weather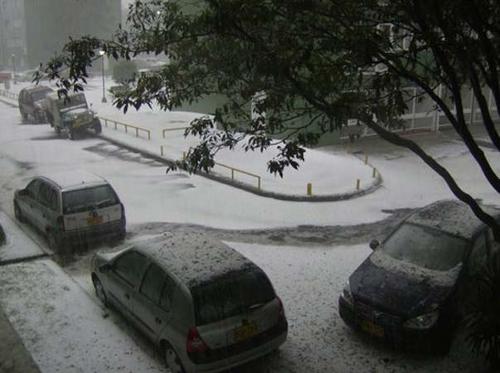 Unusual hailstorm ravages the capital BogotáPhoto: Rubashkyn CC 3.0 Unported no changes made
Colombia has a tropical rain climate with a savannah climate in the east. In the Andes and on the plateau it is considerably cooler.
Plants and Animals
Plants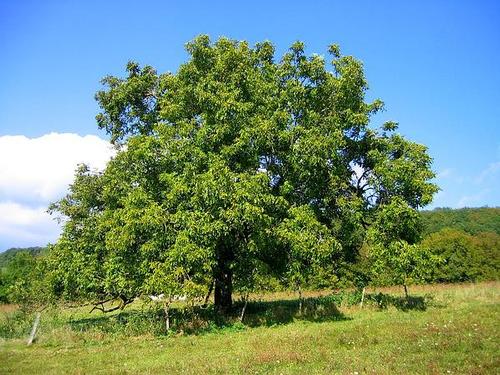 Colombia Walnut Tree Photo: Thesupermat CC 3.0 Unported no changes made
Mangroves and palm trees grow along the coast. The tropical rainforest covers no less than 51,000,000 hectares and has many different trees and plants. A few species: oaks, walnut trees, pines, mahogany, rubber plants, vanilla bushes, and ginger.
Animals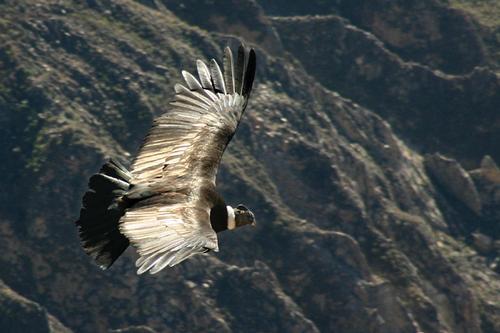 Colombia CondorPhoto: Abehm-de CC 3.0 Unported no changes made
The animal kingdom has many species. In Colombia, there are, among others, jaguars, pumas, tapirs, armadillos, deer and several species of monkeys. In the past there were also many alligators. However, these animals have been hunted a lot so they have become quite rare. There are many snakes. Characteristic birds are condors, vultures, toucans, parrots, cockatoos, storks and cranes.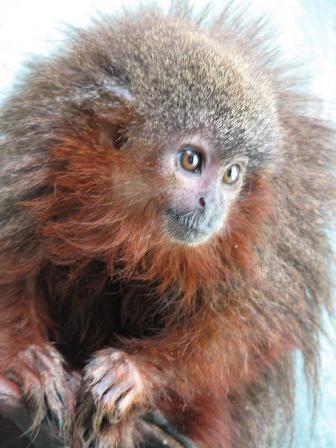 Colombia Callicebus CaquetensisPhoto: TheActorStar CC 4.0 International no changes made
Researchers discovered a new species of monkey in Colombia in 2010, but it is seriously threatened by logging. The new species belongs to the leaping monkeys and has been given the scientific name Callicebus caquetensis because it was found in the southern state of Caquetá. The researchers estimate that there are only about 250 specimens left alive.
Callicebus caquetensis is about the size of a cat and has grey-brown hair. It distinguishes itself from other species within its genus by not having a white stripe on its forehead.
---
Sources
Elmar Landeninformatie
CIA - World Factbook
BBC - Country Profiles
Last updated October 2023
Copyright: Team
The World of Info